About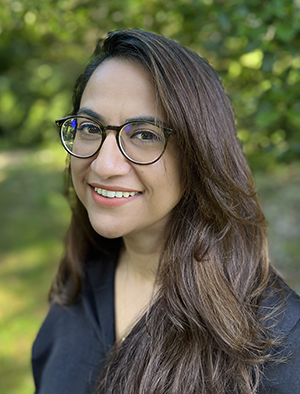 Shradda Dhungel
High Meadows Climate Science Postdoctoral Fellow
Work
Areas of expertise:
Climate change science, global climate modeling, short-lived climate forcers, greenhouse gas emissions, methane mitigation, regional pollution transport and climate science communication
Description
Dr. Shradda Dhungel is an environmental scientist who focuses on the interactions between climate, air pollution, and human activities. Through a combination of global climate modeling and empirical analysis, she aims to address questions related to greenhouse gases and short-lived climate pollutants, examining their impact on the climate and humanity. Dr. Dhungel is motivated by the societal applications of scientific research and the potential it holds for achieving pragmatic solutions.
Dr. Dhungel is trained as both an observation scientist and a climate modeler. She has extensive research experience in field observations of short-lived climate pollutants transport – namely black carbon and ozone – in South Asia. Prior to EDF, Dr. Dhungel was a NASA Postdoctoral Fellow at Goddard Institute for Space Studies where she examined the linkages between agriculture, climate and agriculture in South Asia using one of NASA's global climate models.
Education
Ph.D., Environmental Sciences (with a focus on Atmospheric Sciences), University of Virginia
Dhungel S, Kathayat B, Mahata K, Panday A (2018) Transport of regional pollutants through a remote trans-Himalayan valley in Nepal. Atmos. Chem. Phys. 18, 1203-1216, https://doi.org/10.5194/acp-18-1203-2018, 2018.