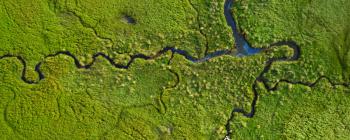 Harnessing nature to capture and store carbon
Carbon in the air harms us. Nature can pull carbon out of the air and sink it underground and underwater.
That makes it a powerful climate stabilizer. Consider this:
Living ecosystems such as tropical forests store more than 100 gigatons of carbon that, once lost, can't be recovered in time to reduce warming in the next decade.
Conserving and restoring our natural areas can provide more than 20% of the greenhouse gas emissions reductions we need to stabilize our climate by 2030.
By 2030, EDF aims to halt all global tropical deforestation.
We're helping governments, companies, and the communities most affected by extreme weather harness natural climate solutions. Want to join us?
Our work
We're finding innovative ways to protect tropical forests and researching how much carbon our oceans and farms can store. And have you heard about the climate magic of whale poop?
Our experts
We bring a wide range of perspectives and skills to advancing natural climate solutions. Here are a few experts leading key parts of this work.
Staff perspective
Rewarding climate-smart farming practices is essential to sustain agricultural production, rural communities and food security in the face of climate change.
Emily Oldfield
Agricultural Soil Carbon Scientist
Media contact
Julie Benson
(415) 293-6069 (office)
(310) 699-6959 (mobile)