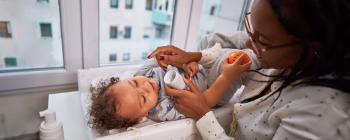 Moving from toxic chemicals to safer alternatives
The problem: Millions of people are exposed to harmful chemicals in food, personal care products and other consumer goods — many of which are made using fossil fuels. People who live or work near chemical facilities are also at much higher risk of illness or death, and 6-10 million U.S. households get their drinking water through toxic lead pipes.
What we're doing about it: We're working with communities, scientists, governments and industry to reduce the risks from toxic chemicals by changing how manufacturers make and use them and moving toward the safest possible alternatives. Our goal is to drive demand for safer products and ensure access to safer drinking water by replacing lead pipes. 
Our work reducing people's risk from toxic chemicals
Updates
Read the latest articles, blogs and press releases on safer chemicals.
Safer chemicals resources
Dig deeper into our work with these resources for researchers, policymakers, journalists and communities.
Overview

Solutions

Collection

Solutions
Our chemical safety experts
We bring wide-ranging perspectives and skills to our work on chemical safety. Meet some of the people who make it happen.
Partner perspective
EDF uses its scientific expertise to expose critical flaws in America's chemicals policy.
Beth Jordan, M.D.
Medical director, Association of Reproductive Health Professionals
Media contact
Cecile Brown
(202) 271-6534 (office)