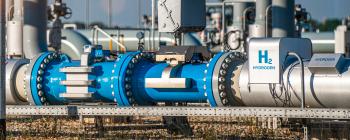 Helping the world get hydrogen right
The problem: Hydrogen holds important promise as a source of clean energy, but it also takes a lot of energy to produce. And the gas leaks easily, contributing to global warming. For hydrogen to be an effective climate solution, we must produce it cleanly and use it wisely.
What we're doing about it: We're helping make sure hydrogen infrastructure is built the right way, benefiting the climate, communities and people's health. We're working to prevent leaks and raising awareness that the best uses of hydrogen are in places where clean electricity from renewable sources can't do the job alone.
Watch now: Hydrogen, clean or dirty?
Our work ensuring the smart use of hydrogen
Updates
Read the latest articles, blogs and press releases on hydrogen.
Hydrogen resources
Dig deeper into our work with these resources for researchers, policymakers, journalists and communities.
Our hydrogen experts
We bring wide-ranging perspectives and skills to our work on hydrogen. Meet some of the people who make it happen.
Staff perspective
We need to be careful not to build out an extensive hydrogen system that is as leaky as our current natural gas system.
Ilissa Ocko
EDF Senior Climate Scientist
Media contact
Jon Coifman
(212) 616-1325 (office)
(917) 575-1885 (mobile)