About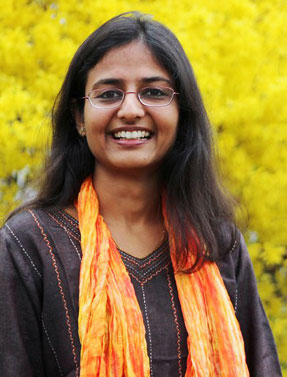 Kritee K
Senior Scientist
Work
Areas of expertise:
Climate smart agriculture, Soil carbon, Soil Health, Rice, Methane and nitrous oxide emissions, Nitrogen & Water use efficiency, Environmental microbiology, Stable isotope biogeochemistry, and Mercury pollution
Description
Kritee has close to twenty years of cross-disciplinary research experience. At EDF, she is a part of EDF's climate team that is helping accelerate rural poverty alleviation, strengthen adaptation to the effects of climate change and promote climate mitigation in Asia. Her work is laying the groundwork for landscape level agricultural carbon offset protocols for small land holdings. Between 2011-2016, she directed a multi-partner research team working on "Climate smart agriculture" at six labs across five states in rural India and examined the effectiveness of different farming practices for rice and other regional crops in increasing yields, improving farm economics and soil quality as well as decreasing greenhouse gas emissions.
Kritee is also helping lay the groundwork for jurisdictional level government action on land use change in India such that triple win (i.e., food security, economic prosperity, and climate adaptation and mitigation) can be achieved. She supports EDF's engagement with Fair Climate Network (FCN), a network of NGOs in India that have worked together to test scalable climate smart rural development approaches such as deploying clean cooking systems and climate smart agriculture.
She also provides scientific input to EDF's domestic legal teams' efforts to improve government policies related to the energy sector, with a focus on mercury pollution from electric generation units.
Kritee gained postdoctoral experience on nitrogen cycling in the environment as a Camille and Henry Dreyfus post-doctoral fellow in Environmental Chemistry at Princeton University. Kritee also served as a Governor's Executive Fellow at Eagleton Institute of Politics.
Education
Ph.D., Department of Biochemistry and Microbiology, Rutgers University, 2008
B.Tech., M.Tech., Department of Biochemical Engineering & Biotechnology, Indian Institute of Technology, New Delhi (IITD), India, 1996-2001
Selected publications:
Kritee K. et al., Reply to Wassmann et al. (2019): More data at high sampling intensity from medium- and intense-intermittently flooded rice farms is crucial. Proceedings of National Academy of Sciences 116 (5) 1466-1467
Kritee K., et al., (2018) High nitrous oxide fluxes from rice indicate the need to manage water for both long- and short-term climate impacts. Proceedings of National Academy of Sciences 115 (39) 9720-9725
Kritee, K., et al., (2018) Photomicrobial Visible Light-Induced Magnetic Mass Independent Fractionation of Mercury in a Marine Microalga. ACS Earth and Space Chemistry, 2 (5) 432-440
Kritee K. et al. (2015) Groundnut cultivation in semi-arid peninsular India for yield scaled nitrous oxide emission reduction. Nutrient cycling in Agro-ecosystems 103: 115-129
Kritee K., et al. (2015) Identifying, monitoring and implementing "sustainable" agricultural practices for smallholder farmers over large geographic areas in India and Vietnam Eos Trans. AGU Fall Meet. Suppl.,Abstract GC12C-05
Tiwari R., Kritee K, et al. (2015) Optimization of sampling and analytical methodology for measurement of greenhouse gas emissions from small-scale rainfed cropping systems of peninsular India Carbon Management 6: 169-184
K. Kritee, et al. (2014), Creating rigorous pathways to monetize methane & nitrous oxide emission reductions at small rice farms in semi-arid peninsular India Eos Trans. AGU Fall Meet. Suppl., Abstract GC11E-0597
Kritee, K., Joel D. Blum, et al. (2013) "Microbial stable isotope fractionation of mercury: A synthesis of present understanding and future directions." Chemical Geology 336: 13-25
Kritee, K., Daniel M. Sigman, et al. (2012) Reduced isotope fractionation by denitrification under conditions relevant to the ocean. Geochimica et Cosmochimica Acta 92: 243-259.
Tamar Barkay, Kritee K., et al. (2010), A thermophilic bacterial origin of the microbial mercuric reductase and subsequent constraints on its evolution by redox, light, and salinity, Environmental Microbiology. 12 (11): 2904-2917
Kritee K., et al (2009), Mass dependent stable isotope fractionation of mercury during mer mediated microbial degradation of monomethylmercury Geochimica et Cosmochimica Acta. 73 (5): 1285-1296
Kritee K., et al (2007), Mercury stable isotope fractionation during reduction of Hg(II) to Hg(0) by mercury resistant microorganisms. Environmental Science and Technology. 41:1889-1895.
Source

,

November 30, 2018

Source

,

November 30, 2018

Source

,

September 10, 2018