About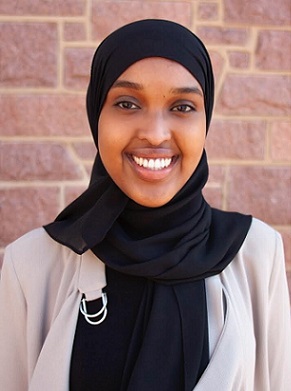 Ugbaad Ali
Community Environmental Health Tom Graff Fellow
Work
Areas of expertise:
Environmental health, environmental justice, community engagement, children's health
Description
Ugbaad Ali is passionate about bridging the gaps between environmental health research and local communities. As the Community Environmental Health Tom Graff Fellow, Ugbaad leads the Organizational Capacity, Toxics & Health Advocacy Assistance Initiative. The program provides technical support to environmental justice organizations working on issues related to reducing toxic chemical exposures and pollution.
MPH, Global Health, Washington University in St. Louis 
BA, Geography & Public Health, University of Minnesota
Before joining EDF's Healthy Communities Program, Ugbaad earned her Master's in Public Health degree in Global Health from Washington University in St. Louis. At WASHU, Ugbaad worked in various research and leadership positions. As a student consultant with the Interdisciplinary Environmental Law Clinic, she engaged with community members on environmental justice disparities in asthma rates faced by Black residents in the St. Louis region. Before pursuing her Master's, Ugbaad served as a Community Health Worker, focusing on women's reproductive care. She also recently served as a Graduate Intern with the EPA's Office of Enforcement and Compliance Assurance.
Health Blog

,

December 15, 2021