About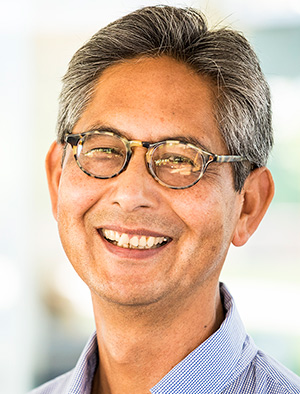 Rod Fujita
Associate Vice President, Research & Development, Lead Senior Scientist II
Work
Areas of expertise:
Oceans Program, marine ecology, aquaculture, fisheries science, fisheries management, catch shares, marine protected areas, resilience, climate change
Description
Rod co-founded EDF's Oceans Program and is a leader in the theory and practice of finding solutions that improve the well-being of society and marine ecosystems. His career at EDF has spanned over three decades during which he has worked on a wide variety of environmental issues including climate change, acid rain, nitrogen deposition, pollution, ecosystem restoration, overfishing, aquaculture, and resilience.
As the Director of Research & Development for EDF's Oceans Program, Rod supervises a talented group of scientists and policy experts who develop tools to diagnose marine conservation problems, design better management programs, and participate in capacity-building efforts. He has extensive experience working with fishing communities, regulators, conservation practitioners, and business leaders in many countries, including the U.S., Europe, Canada, Mexico, Belize, Cuba, Brazil, Chile, Indonesia, the Philippines, Myanmar, Japan, and China.
As a scientist and consensus-builder, Rod has served as a member of a number of state and federal advisory bodies, National Academy of Sciences and other academic panels, and as an expert in public forums. He has written numerous scientific and popular pieces, including the book Heal the Ocean, which explores solutions for protecting the world's oceans, and the forthcoming book Making Shift Happen about applying behavioral scientific insights to develop more effective conservation strategies. Rod received his Ph.D. in Marine Ecology at the Marine Biological Laboratory in Woods Hole, Massachusetts and holds a B.A. in Biology from Pitzer College. In his free time, he enjoys kayaking, scuba diving, reading, cycling, camping, hiking, wildlife watching, and playing music with friends.
Ph.D., Marine Biology, Boston University Marine Program, Marine Biological Laboratory, Woods Hole.

Pew Fellowship in Marine Conservation (2000)
Postdoctoral fellow, Harbor Branch Oceanographic Institution (1987-1988)
Research associate, Oregon State University College of Oceanography and Marine Science Center (1985-1987)
Guest investigator, Woods Hole Oceanographic Institution
Thomas J. Watson Fellowship to study mariculture in Japan (1978-1979)
Co-founder, Florida Keys Water Quality Joint Action Group, an alliance of marine resource user groups and environmentalists concerned with degradation of water quality in Florida Bay and the Florida Keys
Member, Technical Advisory Committee for the Florida Keys National Marine Sanctuary
Consultant to the Science Advisory Board on Bioremediation of Oil Spills, U.S. Environmental Protection Agency
Participant in several National Academy of Sciences panels
Science consultant to the joint American Museum of Natural History/Environmental Defense Fund traveling climate change exhibition
Author, Heal the Oceans: Solutions for Saving Our Seas (New Society, 2003)