About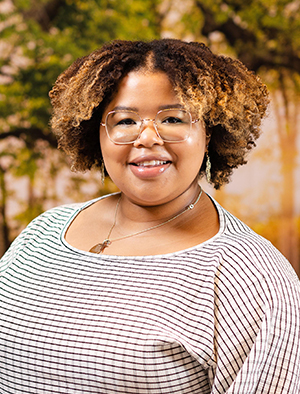 Lauren Johnson, MPH
Senior Analyst, Equity and Climate Justice
Work
Areas of expertise:
Net zero, environmental and climate justice, qualitative and critical research methods, qualitative data analysis, geospatial analysis, strategic visioning/planning, curriculum design, environmental health, climate and health
Description
Lauren leads qualitative research on net zero and environmental and climate justice and translates its findings to inform EDF+Business strategy. She also leads the development and execution of community training for EDF's Climate Vulnerability Index.
A former high school chemistry teacher for Teach For America, Lauren published on the health co-benefits of climate mitigation and organized a health and air quality applied sciences team for NASA during graduate school. She founded and presided over George Washington University's first environmental justice student organization and won several accolades for her student leadership, academic excellence, master's thesis and impact, which culminated in receiving the highest award in her department. 
She began her journey at EDF as an EDF Climate Corps fellow before joining the Justice & Equity team as a subject matter expert working to advance environmental and climate justice.
Lauren is from and resides in Northern Virginia. 
Education 
Master of Public Health in Environmental Health Science and Policy, George Washington University, Milken Institute School of Public Health 
B.A., Earth and Planetary Sciences: Geochemistry, Washington University in St. Louis 
Johnson et al. 2022. Environmental, health, and equity co-benefits in urban climate action plans: A descriptive analysis for 27 C40 member cities. Accepted for publication in Frontiers in Sustainable Cities, Health, and Cities Section. 
Castillo et al. 2021. Quantifying the health benefits of urban climate mitigation actions: Current state of the epidemiological evidence and application in health impact assessments. Published in Frontiers in Sustainable Cities.