President Trump is trying to protect coal CEOs from competition by blaming clean air rules. But here's the reality: The market is choosing cleaner energy.
Let's start telling consumers and workers the truth.
3 key factors are weakening coal
A recent report confirms conclusions by multiple studies that show three main factors have led coal to decline:
Increased competition from cheap natural gas – accounting for 49 percent of the decline
Reduced demand for electricity – accounting for 26 percent
Increased growth in renewable energy – accounting for 18 percent
Meanwhile, as a 2016 analysis shows, the coal industry made misplaced bets that left it with over-burdened balance sheets and facing bankruptcy.
The result: American coal has been in decline for decades, and nothing the Trump administration can do will reverse that long-term trend.
Coal jobs drop, clean energy jobs grow
Coal mining is tough and dangerous work, with disastrous health effects. On top of those risks, workers have seen decades of job cuts as the energy market has shifted away from coal and as coal companies have automated the mining process.
Autonomous haul trucks and loaders can already produce 15 to 20 percent more coal output per dollar invested, needing fewer workers. That's another unstoppable trend.
The U.S. coal industry now employs 160,000 workers, less than a quarter as many as the renewable energy industry, at 770,000. Wind and solar energy jobs are steadily growing, outnumbering coal and gas industry jobs in 30 states, including the District of Columbia.
Where wind and solar jobs exceed coal and gas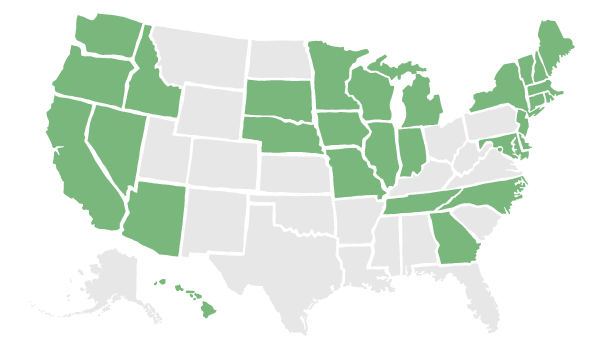 Market conditions and shifting policies – such as President Trump's 30-percent tariff on imported solar panels – will continue to influence the renewable energy industry. But long-term projections still suggest a strong future.
This trend might be of little comfort to coal workers, many of whom consider coal mining a family tradition and never thought about working in another field.
Retraining programs are springing up for energy industry workers, including miners, who have valuable technical skills. Wind turbine manufacturer Goldwind Americas, for example, created a free training program for out-of-work coal miners to become wind farm technicians in Wyoming.
Backing coal won't shrink clean energy
As the Trump administration works to unravel environmental protections, states, cities and power companies are keeping ambitious goals to slash carbon pollution and expand the clean energy economy.
Duke Energy, the nation's largest power producer, in 2017 announced plans to reduce carbon emissions to 40 percent below 2005 levels by 2030. The company reported that retiring more than 40 older, less-efficient coal units, coupled with adding clean natural gas plants and renewables, is driving the emissions reductions.
Our next major investment platform focuses on generating cleaner energy.

Lynn Good, CEO, Duke Energy
And there's been a wave of public goals and commitments around climate resilience, greenhouse gas emissions reductions and renewable energy. For example, 455 U.S. cities and 15 states, and 1,780 businesses have committed to the Paris climate agreement goals under the We Are Still In pledge.
Meanwhile, renewable energy procured by corporations grew 93 percent from 2016 to 2017, bringing with it jobs.
If President Trump truly wants to get struggling coal workers back in business, he should look to the industry of the future, not the past.