A basic principle of ecology is that diversity in an ecosystem fosters strength and resilience.
At Environmental Defense Fund, we believe that by creating a culture of diversity, equity and inclusion, we will similarly foster greater strength and resilience within and beyond the organization.
We are committed to diversity and inclusion of our staff, board and supporters, and the people, groups and partners with whom we work.
We welcome, value and respect the differences of all and believe that by tapping into a broad array of perspectives, skills and ideas we can be even more effective in securing meaningful and durable solutions to the world's most urgent environmental challenges.
EDF's staff Diversity Committee
EDF's Diversity Committee, established in 2007, is a volunteer group of EDF staff. The committee promotes diversity and inclusion as a core strategy throughout the organization by catalyzing and nurturing a culture where diversity is intrinsic to all of our work.
The committee promotes the incorporation of diversity and inclusion into all of EDF's programmatic, operational and administrative strategies. The committee manages fellowships and grants, maintains a pipeline of informational resources to staff, and celebrates diversity successes both internally and externally.
Sharing diversity data
In 2017, EDF answered the call by Green 2.0 to share our diversity data and commit towards improving diversity at all levels of our organization. Our data can be found in our latest report on EDF's Guidestar page. More information about environmental advocacy organizations that are sharing diversity data can be found here.
Diversity and inclusion programs
Tom Graff Fellowship Program
The Tom Graff Diversity Fellowship Program looks for diverse candidates who are seeking a professional experience in environmental advocacy.
The Fellowship is a full-time, one-year position focused on a project that is integral to EDF's work in Oceans, Ecosystems, Climate, Health or Corporate Partnerships. If project work continues after the year, fellows may be hired beyond their one-year fellowship commitments.
The program is named after Tom Graff, the legendary and beloved founder of EDF's West Coast office. Tom transformed environmental politics and water policies in California and inspired many over the 35-plus years he worked at EDF. Tom passed away in 2009, and to honor his memory, the Diversity Committee named this fellowship after him.
RAY Marine Conservation Diversity Fellowship
The RAY Fellows program started in 2016 and is a response to the call for mainstream environmental organizations to provide supported career pathways for people of color within the field.
The program is a yearlong paid fellowship designed to equip recent college graduates with the tools and support systems they need to become leaders in the ocean conservation field – one that fully represents the rich and diverse communities within the United States.
In the inaugural year of the fellowship, EDF welcomed two fellows. More about the program can be found on the RAY Conservation Fellows site.
Diversity & Justice Grants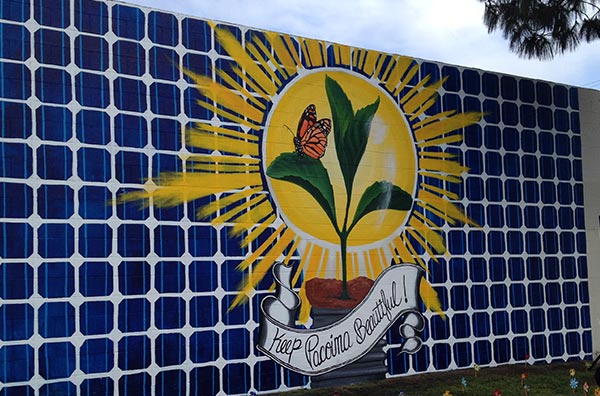 One key way EDF has expanded the reach of our work is through our internal Diversity & Justice Grants program. These grants are given to EDF projects focused on incorporating diversity into program and department's mission and goals.
Recipients use them to develop lasting partnerships with outside organizations and underserved communities, which often suffer disproportionately from environmental degradation. Two to five projects are awarded grants each year. The Diversity Committee coordinates these grants and the review process for applicants. Award winners are chosen by members of subcommittees within our Diversity Committee.
The Diversity & Justice Grants have been used to support a mix of activities, including partnering with local artists, storytellers and community leaders to facilitate a dialogue on clean energy and climate change, empowering people living near oil and gas fields on how to identify and respond effectively to potential fracking pollution, or translating important health information into another language.