At 4 am on Friday, Nov. 9, I got the emergency alert I'd been dreading: We were under a mandatory evacuation order.
I live in Thousand Oaks, a city that until last week was known for its low crime rate and expansive space – until a tragic mass shooting and destructive wildfires hit our area within the span of 24 hours.
Emergency officials were projecting that the extremely dry Santa Ana winds, which cause so much destruction during California fires, would push the catastrophic Woolsey Fire our way. These winds, coupled with a seven-year drought linked to climate change, have turned much of our state into a tinderbox.
Just three miles away, my family's neighborhood had been ordered to evacuate due to a separate wildfire, the Hill Fire.
Because the winds ended up shifting, we got very lucky: The fire moved toward Malibu, sparing much of our city. When our evacuation orders were lifted later the next day, I connected with my coworkers to let them know I was safe and back home – and to get back to working on California's biggest opportunity to address climate change.
Our team is laser focused on the state's effort to help protect tropical forests, which absorb climate pollution. Keeping forests such as the Amazon standing is critical for preventing catastrophic global warming.
California's proposed standard for carbon credits to preserve tropical forests may also help slow climate change where I live. It's coming not a day too soon.
This is what climate change looks like
Even as we're safe from the fires, for now, the air outside smells like smoke when the winds blow in a certain direction. The hills surrounding my Thousand Oaks neighborhood are draped in red fire retardant to prevent both the Woolsey and the Hill fires from advancing.
My house is on the flightpath between the helicopter central command and the active fires, so we're constantly hearing the hum of air support. And while on my 10-minute drive to the doctor, I passed heavy smoke right off the freeway – in what turned out to be a short-lived fire, thankfully. The doctor's office was handing out N95 respirator masks to protect us against smoke.
We all know that wildfires, particularly during periods of strong winds, can change in an instant. It takes just a spark and entire communities could be overtaken by flames. Everyone's on edge.
"The new abnormal"
I've been lucky, but so many Californians nearby and in communities up north have faced devastating losses of loved ones and homes from the fires this past week. It's heartbreaking to see the damage and to know it's not the last time something like this will happen. Nobody deserves such tragedy.
Over the past few days, state officials have been talking about the unprecedented nature of these fires.
"The fact of the matter is, if you look at the state of California, climate challenge is happening statewide," said Los Angeles Fire Chief Daryl Osby.
"This is not the new normal, this is the new abnormal," noted Gov. Jerry Brown. "Things like this will be a part of our future."
To illustrate that point: Last year, my husband, a teacher, got more days off because of harmful smoke from the massive Thomas Fire than he did for snow days during the six years he lived in Washington, DC.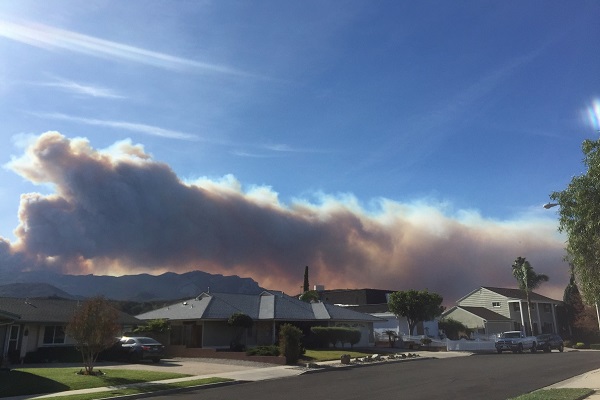 All this brings me back to California's opportunity to protect tropical forests. Having witnessed the destruction of wildfires up close and having lived through the fear of us, our family and friends possibly losing our homes, I feel even more urgency to address the climate crisis.
California's horrific wildfires are proof: The fight against climate change is one we cannot afford to lose.

Tell the Golden State to protect tropical forests and our climate