President Trump's decision to initiate the multibillion-dollar wall project along the U.S.-Mexico border is triggering complex questions about immigration and national priorities – but also about environmental and land ownership law.
If the history of wall building in America is any indication, the Trump administration may be wading into a another legal mess that could, potentially, tangle up the project for years to come – even if the White House invokes a 2005 law that gives the U.S. Department of Homeland Security sweeping power to push through such a wall.
It would certainly add another layer of complexity to Trump's controversial immigration policies – which critics say do little to address America's domestic problems while criminalizing millions of men and women who came here in search of a better life.
In the case of the wall, the impacts on the quality of life for communities on both sides of the 2,000-mile border are real, with consequences that need careful consideration.
30+ federal laws could be waived
The Trump team is expected to use language in the REAL ID Act to try to fast-track construction of the wall. The 2005 law includes a provision that gives unprecedented power to the Secretary of Homeland Security to waive all local, state and federal laws deemed to be an obstacle to defending our national security.
The act allowed the agency to waive more than 30 federal laws "in their entirety" when former Homeland Security Secretary Michael Chertoff invoked it in 2007 and 2008 to construct fence segments along portions of our southern border.
Except, that wall project didn't work out quite like Homeland Security had envisioned: Most, but not all, of the 700 miles of planned fencing was constructed in the end, but only after lengthy delays and cost overruns – and border fence construction hasn't gotten easier since.
Wall must "minimize impact" on nature, people
A 2008 amendment to the REAL ID law requires the Secretary of Homeland Security to consult with the U.S. departments of Agriculture and Interior as well as state and local governments, Indian tribes and property owners to "minimize the impact on the environment, culture, commerce and quality of life."
This opens up a door for further scrutiny of how the existing fence segments have affected wildlife and communities in the border area, along with possible new litigation.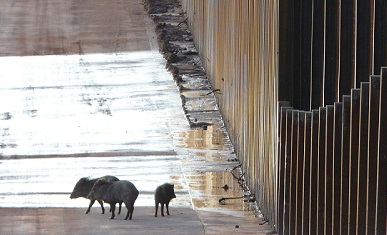 The existing border fence has already resulted in significant habitat fragmentation, causing distress for mountain lions and bobcats, and inhibiting movement for low-flying birds such as the pygmy owl and land-loving roadrunner.
Such concerns have some groups, along with the State of California, saying they're willing to use whatever avenue they can find to stall or delay President Trump's wall project. There are also economic interests at stake.
Property owners may have stronger case
The federal government had to negotiate land purchases with nearly 500 landowners, most of them in Texas, to build the sections of fencing that exist today. A flurry of lawsuits during the Bush presidency showed that the project resulted in a loss of property value for many.
This was especially true for landowners along the Rio Grande who may now have stronger claims – and who may file new court challenges.
Such disputes could delay the wall for "months and years," predicted one legal expert in Texas.
Then there's the Rio Grande…
The river traces the entire border region, supporting a critical shared ecosystem for animals and birds that move between North and South America. It also happens to fall under a 1970 treaty managed by the International Boundary and Water Commission, a U.S.-Mexican agency overseeing the flow of the river.
Under the treaty, structures built along the Rio Grande cannot disrupt the water's movement. As a result, some Texas property owners found their land split by the border fence. So what fence was built had to be constructed with coded gates to give these landowners access to their property on the other side.
Such headaches help explain why, to date, only 17 percent of the Rio Grande valley has been walled.
The question now is whether sanity will prevail and allow wildlife and local landowners to remain undisturbed. And whether the progress our two countries have made restoring the precious Colorado River Delta will continue.
Or whether we'll allow a short-sighted, $22-billion border wall project to cause irreparable harm.
What's at stake when facts are ignored? Here are 10 examples.