How do you make Congress pay attention to an urgent problem? Make it hit home.
To that effect, I recently grabbed some aluminum foil and a pair of scissors and set off for the Capitol to illustrate that nobody is safe from toxic chemicals – not even members of Congress.
Once inside, I unzipped the  cushions of six congressional couches, snipped off thumbnail-sized samples of foam from the inside, wrapped the pieces of foam in tin foil and sent them to scientists at Duke University for analysis.
A few weeks later, the scientists delivered the bad news: Three of the samples tested positive for the toxic chemical flame retardant Tris(1,3-dichloro-2-propyl)phosphate (TDCPP) – a chemical widely used in household and office furniture despite evidence that it's a carcinogen that can also impair  brain development. 
Think lobbyists are bad? Try toxic chemicals.
That result came as no surprise to scientists at Environmental Defense Fund or lawmakers like Sen. Tom Udall and Rep. Frank Pallone. Both are working to update the Toxic Substances Control Act of 1976, our nation's primary chemical safety law.
Sen. Udall's couch, along with couches in the Cannon and Rayburn House office buildings were those found to include TDCPP.
The New Mexico senator noted the irony of it all. "It's crazy to think that there are toxic chemicals in the very furniture we're sitting on while working [on this] law," he said.
Today, finding toxic chemicals in furniture is nearly as easy as spotting a lobbyist in the Capitol. Thanks to our badly broken chemical safety law, toxic chemicals are ubiquitous in America, even the marble halls of Congress.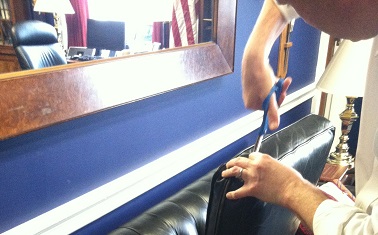 Indeed, chemicals surround us every day – they're in our clothes, our cleaning products and, yes, even in our couches.
Under today's toxic chemical law, no one can ensure that even widely-used chemicals are safe. Chemicals used as flame retardants, for example, do not need to be shown to be safe in order to be used in products.
Nor does the law allow the U.S. Environmental Protection Agency to effectively restrict the use of chemicals known to be dangerous. 
This failed system has a real impact on our health.
Scientists link exposures to certain chemicals like flame retardants to cancer, developmental disabilities and other serious health concerns. Studies show that flame retardant chemicals do not remain encased in furniture, but become part of the dust that accumulates in the homes and offices, where they can then be ingested or inhaled.
Small children are especially at risk, because they spend more time on the floor and are more likely to put their hands in their mouths.
Not a problem we can afford to sit on
Thankfully, efforts to reform America's broken chemical law are advancing in Congress.
Legislation awaiting floor action in the Senate would give the EPA new authority to require testing, restrict harmful chemicals and require a safety finding before a new chemical is allowed on the market. The House has already passed legislation and, with 52 cosponsors for the Senate bill, it is clear it has the support needed to pass, if the bill can get time on the floor.
The challenge now is making sure that senators make fixing this law a priority and bring the reform bill up for a vote. We hope our couch investigation will make it harder for them to just sit on this problem.