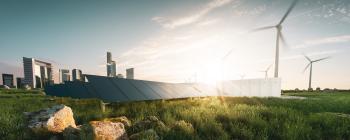 Driving U.S. climate innovation
Harnessing today's solutions to build a fair, clean and resilient economy will be essential to tackling climate change, but we can't stop there. To meet this challenge head-on and secure a safer future, we'll need new solutions too.
Driving climate innovation — the creation of new or enhanced climate solutions through technology, policy and investment models — can supercharge our progress. And with inclusive and proactive planning, it can create good-paying jobs, reduce harmful pollution and improve the quality of life for all communities.
Our work
We are advancing U.S. climate innovation through cutting-edge analyses, policy recommendations and advocacy.

Getting up to speed on climate innovation

Insights for innovation policy and priorities

Support and implementation of climate legislation

Ensuring climate innovation benefits all communities
Related media
Read the latest articles, blogs and press releases.
Our experts
We bring a wide range of perspectives and skills to advancing climate innovation in the U.S. Here are the experts leading this work.