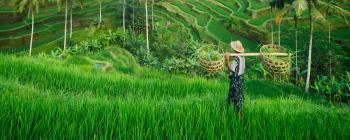 Protecting food supplies, nature and the climate
The problem: Climate change is disrupting our food supply — while food production causes an estimated 30% of climate pollution. This includes too much methane and nitrous oxide, greenhouse gases which contribute heavily to the most immediate impacts of global warming.
What we're doing about it: We're working with farmers, fishers and other partners to reduce climate pollution from food production. At the same time, we're pushing to rapidly diversify food supply and distribution systems, ensuring that everyone has reliable access to nutritious food.
Our work strengthening the global food supply system
Updates
Read the latest articles, blogs and press releases on food security.
Sustainable food resources
Dig deeper into our work with these resources for researchers, policymakers, journalists and communities.
Our sustainable food experts
We bring wide-ranging perspectives and skills to our sustainable food work. Meet some of the people who make it happen.