How a tech startup and nimble non-profit exposed toxic releases during the Houston flood
As Hurricane Harvey bore down on the Texas coast, Tony Miller, chief executive of a Silicon Valley startup, wondered how he could help.
His company, Entanglement Technologies, can measure levels of air pollution in real time, important information for emergency responders and people living near storm-damaged refineries and chemical plants.
On Aug. 31, 2017, Miller called Elena Craft, Environmental Defense Fund's Texas-based senior health scientist, and the two quickly came up with a plan to monitor neighborhoods near industrial facilities in and around Houston. Miller was on the road the next day.
By Sept. 4, his van equipped with sensor technology and an analyzer that provides laboratory-grade results was in a neighborhood where city officials had detected unusually high levels of harmful air pollution.
After a day of sample collections, some lasting as long as 5 minutes, the picture was clear: There was a plume of cancer-causing benzene in southeast Houston's Manchester neighborhood, home to some 4,000 people.
Mobile lab analyzes chemicals in real time
Entanglement's portable technology can produce a definitive analysis of hazardous chemicals to part per trillion concentrations. The company's clients include the U.S. Environmental Protection Agency and Department of Defense, oil companies and environmental consultants who need results in real time.
In Manchester, Miller's team rapidly detected a narrow plume of benzene – roughly as wide as a city block, but invisible to the naked eye. That indicated a nearby source.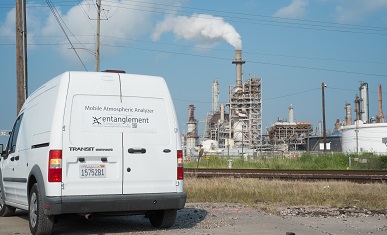 The results confirmed the City of Houston's earlier findings. City officials had used handheld air quality monitors that detected high benzene levels a couple of days earlier, prompting them to ask Craft to start her investigation in Manchester.
The likely source was Valero Energy Corp.'s Houston refinery, which towers over small houses in the neighborhood. More than 95 percent of residents are people of color and 90 percent low-income.
Residents could smell the benzene
On Aug. 27, Valero had reported to the state that heavy rains lowered the floating roof on one of its storage tanks, releasing volatile organic compounds and 6.7 pounds of benzene. In the filing, the company said it would fix the problem by the next day.
State regulators, however, had turned off the city's extensive network of air quality monitoring stations to protect the equipment from the heavy rains and winds. Without the monitors, there was no data showing what was really happening.
Even so, Manchester residents could tell something was wrong and complained to the city about strong odors. Benzene, a toxic, flammable chemical found in crude oil and gasoline, can cause central nervous system damage and bone marrow damage, and is carcinogenic.
Technology identifies urgent trouble spots
Our partnership with Entanglement Technologies provided the most robust monitoring of air quality in the Houston region after Harvey, exceeding the work of state and federal agencies. It showed that there is no reason to keep communities in harm's way – or to rely on unverified industry information during a time of crisis.
The levels of benzene found in Manchester far surpassed health-based guidelines set by most other states when Miller's team took measurements in early September. To ensure the accuracy of the findings, the company collected some samples at the same time and in the same locations as the City of Houston's mobile monitoring unit.
The toxic pollution in Manchester was soon national news.
The technology his company uses identifies situations that must be dealt with right away, and those that can wait, "so that resources aren't diverted unnecessarily," Miller told reporters covering the story.
The EPA, however, waited 10 days after the first high reading to say that Valero had "significantly underestimated" its air pollution during and after Harvey. The agency is now investigating the pollution event. 

Air pollution mapping is entering a new tech era