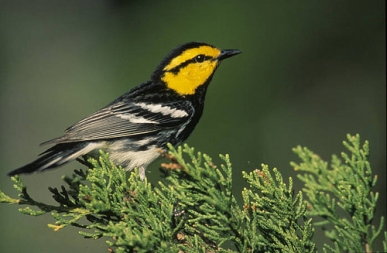 Image by USFWS Headquarters/Flickr
Late last month, some 160 people came to Austin, TX, for the fourth Golden-Cheeked Warbler Symposium.
All day, scientists, land managers and conservationists took to the podium to explain their work in saving this endangered little songbird. They  spoke of population and habitat modeling, improving management guidelines and new conservation tools for this species
I had initiated the first of these meetings in 2005 and continue to be the lead organizer, which is a lot of work. Why do I do it? Because this species, with its bright yellow cheeks and distinctive song, has had a profoundly positive impact on my life.
I saw and heard my first golden-cheeked warbler in the spring of 1993. It was my first few months of living in central Texas (having moved from the Atlanta area) and, to be honest, I was a little disappointed with the scrubby oak and juniper woodland that covered the hills west of Austin.
My colleagues at The Nature Conservancy, where I then worked as an ecologist, informed me that this was the primary vegetation over the roughly 25 million acres of central Texas' Hill Country. (Ecologist's digression: I soon learned that there is an ongoing debate about whether the pre-settlement vegetation of the Hill Country was primarily woodland or grassland. The grasslanders argue that frequent wildfires maintained grassland conditions, while the woodlanders maintain that wildfire was too infrequent and patchy   to allow expansive woodlands to develop.)
 Anyway, after having spent considerable time during the early years of my career in southern Appalachian forests (big trees! many plant species!) my initial thoughts when looking at the central Texas woodlands were "boring" and "biological desert."  And then I encountered my first golden-cheeked warbler.
 In April of 1993 I was helping a bird biologist with the Texas Parks and Wildlife Department conduct a survey of golden-cheeked warblers in a preserve on the west side of Austin. The biologist had surveyed the site before and knew where all of the birds could be found. So, early on a cool April morning, he and I walked toward our first warbler of the day.
We first heard the male warbler's call, and the biologist led me straight to the base of a magnificent Spanish Oak and pointed to a branch above his head. There, no more than eight feet above us, was the warbler singing at the top of his tiny lungs. I was captivated. The bird had the brightest yellow cheeks I'd ever seen — a vibrant splash of color against an otherwise drab green background.
My entire perception of the surrounding habitat, which I had found so boring, changed while I watched and listened to that bird.  It's vividness and vibrancy was like a window into the  diversity of animals and plans that inhabit these woodlands, which I would go on to discover in the years ahead.  The bird, of course, was heedless of me and my thoughts. It kept on singing its bright and hopeful sounding song. He seemed to have no fear of us. His goal was to find a girlfriend and he could care less if we stood below him all day while he tried to get a date.
Over the past 20 years, I have had the great good fortune to explore the Hill Country at least a few days each spring and see and hear golden-cheeked warblers. Every year, I get the same sense of wonder and joy at hearing the first of these birds that I got back I 1993. Indeed, I believe this yearly experience is essential to my sense of well-being. 
For me the return of the warbler from its wintering grounds in Central America is a sign that spring —always a wonderful time of year for a biologist— has arrived. Also, the little bird is to me an affirmation of the worth of our conservation efforts, which sustain this species and others. It makes me feel that my work has meaning.
I suppose that why, every few years, I put up with all the aggravation of organizing a warbler symposium. It's just my way of giving something back to this tiny songbird, which has done so much for me.