Air pollution along freeways is generally higher than in surrounding areas. Even so, the I-880 freeway in Oakland, Calif., has much higher levels of pollution than the nearby I-580.
Data shows that concentrations of black carbon along I-880 were roughly 80% higher than average concentrations along I-580, concentrations of NO2 were 60% higher, and concentrations of nitric oxide (NO) were more than double.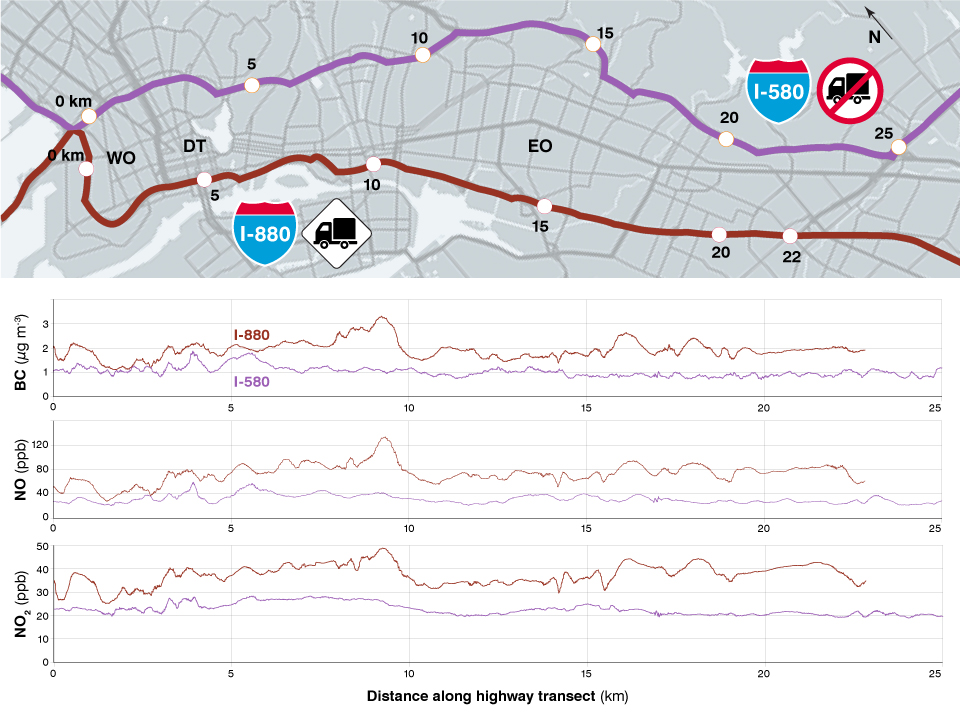 Why are they so different?
Two freeways serving the same area would not typically have such differing levels of pollution. What's the story here?
The answer goes back to 50-year-old decisions, and illustrates how the policy choices we make now can have big impacts on air pollution in the future.
Banning trucks on I-580
Oakland is an important logistics hub and the fifth-busiest container port in the country. That means a lot of diesel-powered ships, trucks and trains. Companies rely on freeways to move products from the Port of Oakland out to the California and U.S. markets.
When I-580 was built in 1963, Caltrans and the Federal Highway Administration banned all trucks weighing more than 4.5 tons. Because of the truck ban on I-580, the vast majority of Oakland's freight-related traffic runs along I-880. Largely protected from this diesel-fueled traffic, the I-580 enjoys substantially cleaner air.
In 1999, the California Trucking Association asked Caltrans to re-evaluate the ban because of increasing congestion on the I-880. In response to strong local opposition, Caltrans abandoned the study, and the ban continues to this day.
While supporters of the truck ban credit the policy for creating a better quality of life in communities near I-580, opponents point out that rerouting diesel truck traffic onto I-880 has led to congestion and a greater burden on other communities. As it happens, the majority of people who live near the I-880 are people of color and those who are poor and working class.
How air pollution affects health
People with higher levels of chronic exposure to air pollution have a higher risk of health problems, including asthma, cardiovascular diseases and certain types of cancer. Highways with lots of diesel traffic have higher levels of pollution like black carbon, which can increase the risk of heart attacks and stroke and cause hypertension, asthma, chronic obstructive pulmonary disease (COPD), bronchitis and various types of cancer.
Alameda County health data [PDF] shows that people who grow up near the I-880 freeway in Oakland live seven years less than people who grow up near the I-580 in the more affluent Oakland hills. Differing levels of air pollution can contribute to such differences in health indicators.
What can I do?
Everyone deserves to breathe clean air, and you can make a difference by advocating for common-sense solutions to reduce levels of harmful air pollution.
If you live in Oakland, connect with local groups like the West Oakland Environmental Indicators Project (WOEIP), who can help you take action on issues that affect Oakland air quality.

If you live elsewhere, find a group working near you. For example, Moms Clean Air Force, a national group of more than a million parents, organizes communities to protect clean air and our kids' health in 20 states.