About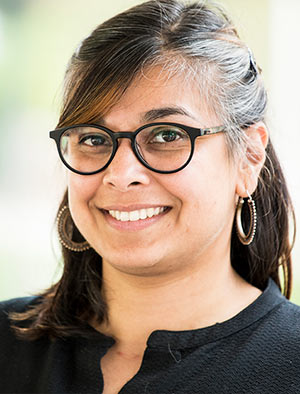 Ananya Roy
Senior Health Scientist
Work
Areas of expertise:
Air quality, lead, cardiovascular disease, neurodevelopment
Description
Ananya is an Environmental Epidemiologist with expertise in the health effects of air pollution and lead exposure. Her role at EDF is to provide balanced scientific evidence to inform policy and advocacy efforts to protect children, disadvantaged communities and other vulnerable populations from exposures that are harmful to their health and wellbeing.
She currently leads research on the health effects of ambient air pollution within neighborhoods and children's exposures to lead from paint and lead service lines.
Before EDF, Ananya was a research faculty at Yale School of Public Health and Environmental and Occupational Health Sciences Institute, NJ, where her work encompassed the effect of ambient and indoor air pollution on children's lung growth and cardiopulmonary effects, intergenerational transfer of lead, effects on neurodevelopment and associated genetic and nutritional susceptibility. She has also published on the neurodegenerative effects of persistent organic pesticides. Most of Ananya's work has been carried out in India and China.
Education
Sc.D. in Environmental Health from the Harvard School of Public Health
M.Sc., B.Sc. Dept. of Pharmacology at the All India Institute of Medical Sciences
Roy A, Gong J, Zhang J, Kipen HM, Rich DQ, Zhu T, Huang W, Hu M, Wang G, Wang Y, Ping Zhu, Lu S, Ohman-Strickland P, Diehl SR, Thomas D, Eckel SP. The cardiopulmonary effects of ambient air pollution and mechanistic pathways: A comparative hierarchical pathway analysis. PLOS One 2014 Dec 12; 9(12):e114913.
Abid Z, Roy A, Herbstman JB, Ettinger AS. Urinary polycyclic aromatic hydrocarbon metabolites and attention/deficit hyperactivity disorder, learning disability, and special education in U.S. children aged 6 to 15. J Environ Public Health. 2014; 2014:628508. doi: 10.1155/2014/628508. Epub 2014 Jan 30.
Richardson JR, Roy A, Shalat SL, von Stein RT, Hossain MM, Buckley B, Gearing M, Levey AI, German DC. Elevated serum pesticide levels and risk for Alzheimer disease. JAMA Neurol. 2014 Mar; 71(3):284-90. doi: 10.1001/jamaneurol.2013.6030.
Ettinger AS, Roy A, Amarasiriwardena CJ, Smith D, Lupoli N, Mercado-García A, Lamadrid-Figueroa H, Tellez-Rojo MM, Hu H, Hernández-Avila M. Maternal blood, plasma, and breast milk lead: lactational transfer and contribution to infant exposure. Environ Health Perspect. 2014 Jan; 122(1):87-92. doi: 10.1289/ehp.1307187. Epub 2013 Oct 30.
Roy A, Ettinger AS, Hu H, Bellinger D, Schwartz J, Modali R, Wright RO, Palaniappan K, Balakrishnan K.. Effect modification by transferrin C2 polymorphism on lead exposure, hemoglobin levels, and IQ. Neurotoxicology. 2013 Sep; 38:17-22. doi: 10.1016/j.neuro.2013.05.005. Epub 2013 May 31.
6. Lim SS, …., Roy A, …., Lopez AD, Murray CJ, Ezzati. M. A comparative risk assessment of burden of disease and injury attributable to 67 risk factors and risk factor clusters in 21 regions, 1990—2010: a systematic analysis for the Global Burden of Disease Study 2010. Lancet. 2012 Dec 15; 380(9859):2224-60
Roy A, Hi W, Wei F, Korn L, Chapman RS, Zhang J. Ambient particulate matter and lung function growth in children living in four Chinese cities. Epidemiology, 2012; 23(3):464-472
Roy A, Chapman RS, Hu W, Wei F, Liu X, Zhang J, Indoor air pollution and lung function growth among children in four Chinese cities. Indoor Air, 2012; 22 (1): 3–11
Richardson, JR, Roy A, Shalat SL, Buckley B, Winnik B, Gearing M, Levey AI, Factor SA, O'Suilleabhain P, German DC β-Hexachlorocyclohexane levels in serum and risk of Parkinson's disease. Neurotoxicology, 2011 Oct; 32 (5) 640-645.
Palaniappan K, Roy A, Balakrishnan K, Krishnan L, Mukherjee B, Hu H, Bellinger D. Lead exposure and visuo-motor abilities in children from Chennai, India. Neurotoxicology 2011 Apr 8; 32(4):465-470.
Roy A, Bellinger DC, Hu H, Modali R, Schwartz J, Wright RO, Ettinger A, Palaniappan K, Balakrishnan K. Hemoglobin, lead exposure, and intelligence quotient: effect modification by dopamine receptor D2 TaqIA polymorphism. Environmental Health Perspectives 2011 Jan; 119(1):144-9.
Roy A, Hu H, Bellinger D, Schwartz J, Wright RO, Palaniappan K, Balakrishnan K. Predictors of blood lead among 3-7 year old children in Chennai, India. International Journal of Occupational Environmental Health. 2009 Oct-Dec; 15(4):351-9.
Roy A, Bellinger DC, Hu H, Schwartz J, Ettinger AS, Wright RO, Bouchard M, Palaniappan K, Balakrishnan K. Lead exposure and behavior among young children in Chennai, India. Environment Health Perspectives. 2009 Oct; 117(10):1607-11
Atmospheric Environment

,

August 1, 2022

Health Blog

,

April 15, 2021