Date updated: September 27, 2020
Join us for Climate Week
Climate Week 2020 put green recovery on an international stage, and EDF is bringing the right experts to the table to explore lasting solutions.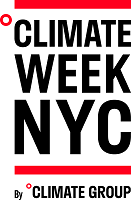 With the spotlight once again on climate, EDF will gather national and international experts to examine investing for a 100% clean economy, driving voter engagement in the U.S., and exploring global stimulus plans to rebuild better in the U.S., EU and China.
Rebuild Better: Making Climate Central to a Post-COVID Economy
Watch our conversation on greening the economic stimulus in a post COVID-19 world.
EDF's role in Climate Week 2020
Watch our Senior Vice President of Climate talk about partnering with The Climate Group
Interactive climate primer
Explore what is driving the climate crisis and what we can do about it with our interactive climate primer.
---
All Climate Week events
We're also hosting and participating in a number of panel discussions and talks.
Highlight indicates an EDF main event.
Monday, September 21
Tuesday, September 22
Wednesday, September 23
Thursday, September 24
Friday, September 25