When most of us think about air pollution, we envision coal-burning power plants and smokestacks puffing out dirty air.
In many cities, however, a large source of air pollution comes from both coastal and inland ports. Container ships, switcher locomotives, tugboats, cargo-handling equipment, and trucks collectively release vast amounts of pollution.
Clean air solutions start with understanding the pollution source. For example, at Port Houston, there were more than 2.1 million visits by truck to the 8 public terminals in 2013 that contribute more than 1,000 tons of smog-forming pollution each year.
Making it easy to upgrade
In a partnership with the Port of Houston Authority and the Houston-Galveston Area Council, EDF helped develop an innovative program that makes it easier for truck owners to buy new, cleaner trucks, to reduce air pollution at the Port. 
New drayage trucks are expensive, costing $150,000 or more. But through the Houston-Galveston Area Council Drayage Loan Program, independent truck owners and truck fleet managers working at Port Houston can now get grants to partially offset the cost of a new truck.
Why this program matters
Trucks account for 35% of nitrogen oxide emissions at the Port of Houston Authority. Nitrogen oxides are a primary precursor to ozone, a form of air pollution that aggravates asthma and other respiratory illnesses.
Over 3,000 trucks serve the port, 39% of which are model year 1997 or older.
Before the program began,only 6.5% of these 3,000 trucks had the most stringent emission controls.
In 2007, trucks servicing the Port covered 130 million miles on Houston roads and idled for nearly 4 million hours at Port facilities.
Goal: Replace hundreds of trucks
The remainder can be financed through low-interest loans. To date, the Drayage Loan Program has helped replace over 200 trucks in and around Port Houston. The grants and loans are funded primarily through the Texas Emission Reduction Program (TERP) combined with federal funding.
In addition to the Drayage Loan Program, EDF has facilitated hundreds of thousands of additional clean air dollars for the Houston region through the federal Diesel Emissions Reduction Act.
The combination of the grants (often paying half the cost of a new truck) and the loans has made this program a popular choice for drivers at the Port. The program has made a direct difference in emissions at the port and catalyzed even more air quality projects.
EDF's 2013 peer-reviewed paper analyzed the benefits of this program and found that it is particularly helpful in reducing a prevalent ozone precursor – especially important since Houston does not meet federal health-based air quality standards for ozone.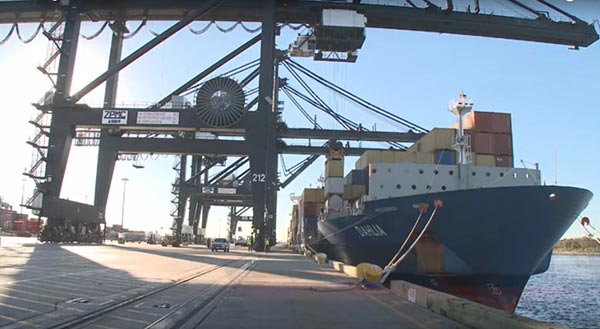 Video: More about the origins of the Drayage Loan Program
Related blog posts