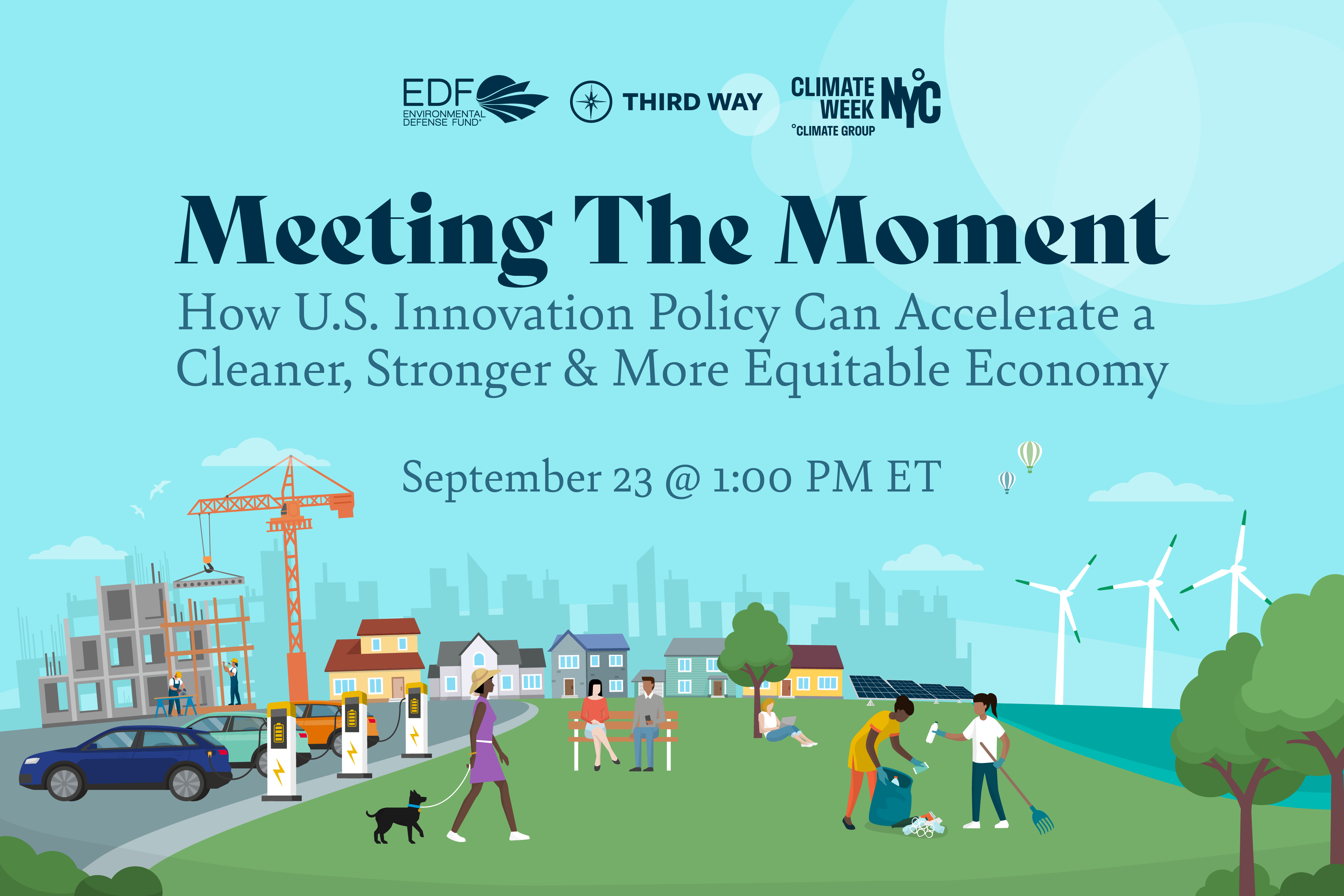 Federal investments in clean energy and climate innovation remain essential to tackling the unprecedented challenges presented by climate change. Climate innovation is a powerful tool that can create jobs, increase energy reliability and resilience, improve the quality of life for all communities, and catalyze both progress and the game-changing breakthroughs that we'll need to shift the U.S. economy to net-zero by 2050. Progress in the United States could also support other countries in achieving their climate goals more quickly and affordably.
How can we best shape climate innovation policy today so it achieves all these objectives?
Fireside chat:
Mandela Barnes, Lieutenant Governor, Wisconsin
Moderator: Josh Freed, Senior Vice President, Climate and Energy Program, Third Way
Panel:
Chris Deschene, Board Member, National InterTribal Energy Council
Jason Walsh, Executive Director, BlueGreen Alliance
Jetta Wong, Senior Fellow, Information Technology and Innovation Foundation, and President, JLW Advising
Moderator: Natasha Vidangos, Senior Director, Climate Innovation and Technology, Environmental Defense Fund
Mandela Barnes: Mandela Barnes serves as Wisconsin's 45th Lieutenant Governor. He was elected on November 8, 2018. He is the first African American to serve as a Lieutenant Governor in Wisconsin, and the second African American to ever hold statewide office. Born and raised in Milwaukee, Lt. Gov. Barnes is the son of a public-school teacher and a manufacturing assembly line worker—both union members to whom he credits with shaping his worldview. A proud product of Milwaukee Public Schools, he graduated from John Marshall High School in 2003. Lt. Gov. Barnes is a graduate of Alabama A&M University. After college, he worked for various political campaigns and in the city of Milwaukee mayor's office, and then as an organizer for Milwaukee Inner-City Congregations Allied for Hope, a Milwaukee-based interfaith coalition that advocates for social justice. In 2012, at the age of 25, Lt. Gov. Barnes was elected to the Wisconsin State Assembly, where he served two terms. His time in the State Assembly included serving as Chair of the Legislature's Black and Latino Caucus and becoming a recognized leader on progressive economic policies and gun violence prevention legislation. Within his current role, Lt. Gov. Barnes serves as the Chair of the Governor's Task Force on Climate Change and also serves on the Governor's Health Equity Council, Wisconsin Criminal Justice Coordinating Council, Wisconsin Missing and Murdered Indigenous Women Task Force, Governor's Council on Financial Literacy and Capability, and the statewide 2020 Census Complete Count Committee. The lieutenant governor uses a platform of sustainability and equity to fight for solutions that ​​invest in opportunities and fairness for every child, ​​​person, and family in Wisconsin, regardless of zip code.
Chris Deschene: Mr. Chris Deschene is a Senior Legal Professional and Executive well respected by his peers, tribal and business leaders within Indian Country. Mr. Deschene is the owner and founder of Deschene, PLLC, a national tribal energy and legal firm based out of Washington, D.C. He has completed a distinguished term as the Director of the Office of Indian Energy within the U.S. Department of Energy. His responsibilities included working with tribal communities in Alaska and the Lower 48. Mr. Deschene served as general counsel and advisor to tribes, tribal energy partnerships and non-Indian energy and business entities working in Indian Country. He has extensive federal, state, and tribal government and legislative experience with tribal energy projects. He served honorably within the U.S. Marine Corps as an infantry and reconnaissance officer and holds the rank of Major, U.S.M.C.R. (ret.).
Jason Walsh: Jason Walsh is the Executive Director of the BlueGreen Alliance. In that role, he provides overall leadership and management of the organization in accordance with the strategic direction set by the Board of Directors. Walsh has more than twenty years of experience at state and federal levels in policy development and advocacy in a range of issue areas—including climate, clean energy, and economic and workforce development—and as a coalition organizer and manager. Walsh previously served in the Obama administration, as the Director of the Office of Strategic Programs in the U.S. Department of Energy's Office of Energy Efficiency and Renewable Energy and as a Senior Policy Advisor in the White House Domestic Policy Council, where he led Obama administration's efforts to align and scale up federal investments in workers and communities impacted by the shift away from coal in the power sector. Walsh has also held leadership positions in a number of non-profit, policy-focused organizations, including as the Director of Policy and Strategic Partnerships at the BlueGreen Alliance, as well as positions at Green For All and the National Skills Coalition. Earlier in his career he was a union organizer, homeless shelter supervisor, and a policy fellow for the U.S. Senator Paul Wellstone of Minnesota. Jason holds Bachelor's degree from the University of Washington and a Masters degree in public policy from the University of Minnesota's Humphrey Institute. He is also a graduate of the AFL-CIO's Organizing Institute.
Jetta Wong: Jetta Wong is President of JLW Advising and Senior Fellow in the Clean Energy Innovation Program at ITIF. In her consulting practice, she advises clients on how to bring new clean energy technologies to the market. Previously, she worked at the Department of Energy, joining in July of 2012. Before joining the Department of Energy Jetta worked for the United States House of Representatives' Committee on Science, Space, and Technology. She worked on a wide range of energy and environment policy issues related to civilian research, development and demonstration programs at the Department of Energy and the Environmental Protection Agency. Before working for Congress, Jetta worked for the Clean Energy Program of the Union of Concerned Scientists (UCS) where she brought stakeholders together from southern states in support of clean energy policy. Prior to her work at UCS she served as the Senior Policy Associate on Sustainable Biomass for the Environmental and Energy Study Institute (EESI). There she testified twice for Congress on bioenergy and worked with congressional staffers and stakeholders to develop policies that promote cutting edge sustainable renewable energy technologies. Jetta's career in energy started in Uzbekistan where she was a natural resources consultant on an anaerobic digestion development project. Jetta holds a MPS in Legislative Affairs from George Washington University and B.S. in Natural Resources and the Environment from the University of Michigan.
Media contact
Chandler Green
Senior Communications Specialist, U.S. Climate
202-572-3535
Email