The National Climate Assessment (NCA) report, prepared by the U.S. Global Change Research Program, is essentially the U.S. equivalent of the Intergovernmental Panel on Climate Change (IPCC): Using the best available science, over 300 experts synthesized current understanding of observed and future climate changes and impacts, particularly in the U.S. The third ever NCA was released today, and concludes beyond a reasonable scientific doubt that Americans are being affected by climate change.
Among the findings:
U.S. average temperatures have increased by 1.3 to 1.9ºF since record-keeping began in 1895, and most of this warming has occurred since 1970
Heavy precipitation has increased in many parts of the country
Extremes such as heat waves, droughts, floods, and North Atlantic hurricanes are more frequent and/or intense
Summer sea ice in the Arctic has halved since record-keeping began in 1979
Sea level rise has increased coastal erosion and storm surge damage
These changing conditions produce a variety of tangible stresses on society by affecting human health, water resources, agriculture, energy, infrastructure, and natural ecosystems. The particular impacts vary by region, but no corner of the country is immune to the change.
So what's happening where you live?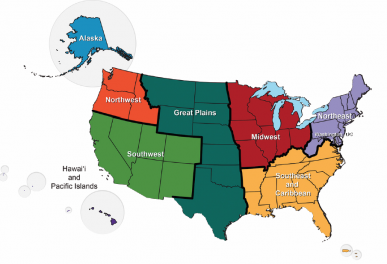 Image source: National Climate Assessment 2014
| | |
| --- | --- |
| NORTHEAST | Communities are affected by heat waves, coastal flooding due to sea level rise and storm surge, and river flooding due to more heavy rainfall events |
| SOUTHEAST | There is decreased water availability which is exacerbated by population growth and land-use change, and risks associated with hurricane extremes are increasing |
| MIDWEST | A longer growing season and rising CO2 levels are increasing yields of some crops, but these benefits have already been offset in some areas by the occurrence of extreme events such as heat waves, droughts, and flooding |
| GREAT PLAINS | Rising temperatures are leading to increased demand for water and energy, which is affecting agricultural practices |
| SOUTHWEST | Drought and increased warming are triggering and sustaining wildfires, and reducing water availability for people and ecosystems |
| NORTHWEST | Earlier snowmelt is changing the timing of streamflow and reducing water supply in summer |
| ALASKA | Summer sea ice is receding quickly, glaciers are shrinking, and permafrost is thawing, causing damage to infrastructure and changes to ecosystems |
| HAWAII | Increased temperatures and decreased freshwater supply is stressing people and ecosystems, and reducing food and water security |
| COASTS | Water supply infrastructure and evacuation routes are vulnerable to higher sea levels which increase the risk of destructive storm surges and inland flooding |
| OCEANS | Oceans are absorbing a quarter of human-emitted carbon dioxide and over 90% of the heat associated with global warming, causing ocean acidification and further stresses on marine ecosystems |
Unless we take immediate action to curb our emissions of heat-trapping gases, the foreseeable future will be plagued by further warming and worsening impacts. The good news is that because we know what the cause is, we also know what is needed in order to stabilize our planet. We must come together now—locally, nationally, and internationally—and work towards a better future.
Make your voice heard
You can make changes in your own life, but what drives the biggest change is joining a groundswell of people to influence policy and industry leaders. We'll send you urgent news updates and tell you when your voice is needed.