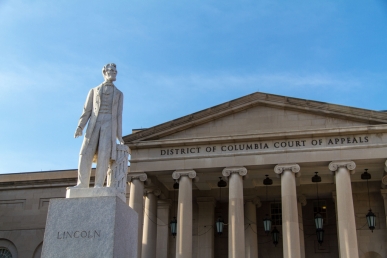 Another high-profile clean air case played out yesterday in the U.S. Court of Appeals for the District of Columbia Circuit.
A three-judge panel heard oral arguments in a lawsuit filed by the state of Texas and some industry petitioners.
The lawsuit challenges EPA's efforts to ensure smooth, uninterrupted permitting for large new industrial sources of climate pollution in Texas.
EDF was part of a coalition of clean air advocates that filed two briefs in the case. We filed in support of EPA, along with Conservation Law Foundation, Natural Resources Defense Council, and Sierra Club.
At issue in the case are State Implementation Plans, or SIPs as they're commonly known.
Here's some background on the case
U.S. clean air laws require that large new industrial sources obtain construction permits providing for cost-effective modern solutions to mitigate climate pollution. The states are empowered to provide those permits – through their SIPs.
In 2010, EPA found that 13 states, including Texas, lacked the ability to carry out that requirement.
All those states except Texas worked with EPA to ensure permitting authority was in place. That allowed large new industrial sources in those states to obtain the needed construction permits.
In an August 2, 2010 letter to EPA, Texas wrote that it:
"ha[d] neither the authority nor the intention of interpreting, ignoring, or amending its laws in order to compel the permitting of greenhouse gas emissions."
That brings us to the lawsuits.
Here's a look at what happened in court yesterday
Judges Judith Rogers, David Tatel, and Brett Kavanaugh heard oral arguments.
The judges closely questioned Texas and industry petitioners about the impact of the court's recent decision in another case that we've written about.
In that challenge to the Endangerment Finding, before the same court, judges upheld EPA's first-generation climate protections.  The decision in that case said that EPA's interpretation of the Clean Air Act was:
"unambiguously correct"
In light of that earlier ruling, EPA argued that its actions were necessary to ensure that sources in Texas could get permits.
That became one of the main points of discussion during oral arguments yesterday – as the judges pressed Texas and the industry petitioners to describe how EPA's actions caused them any injury.
What's at stake in the case
This case is part of an extensive suite of litigation Texas has mounted to oppose some of America's most important climate protections.
Those protections include:
EPA's finding that greenhouse gases endanger human health and the environment
EPA's Clean Cars standards, which will save consumers money, reduce pollution, and help protect our nation's energy security
EPA's requirement that large sources of greenhouse gas emissions deploy modern pollution controls
If successful in this case, the upshot of Texas's actions would be to eliminate any authorityfrom which new industrial sources in the state of Texas could obtain permits addressing their greenhouse gas emissions – permits which these sources need for lawful construction.
Texas is suing even though EPA has taken great pains to create a reasonable and fair process:
EPA has acted in the most limited, surgical fashion to ensure businesses in Texas can obtain permits consistent with the nation's clean air laws.
EPA has provided federal authority only for climate pollution, and Texas is administering the balance of the requirements.
Even with respect to greenhouse gases, EPA has urged Texas to take delegated authority over permitting.
Unfortunately, as Texas continues to devote scarce public resources to suing over the common-sense climate protections of U.S. clean air laws, communities in Texas are already suffering from the weird weather linked to climate change – like last year's debilitating drought.
And in an ironic twist, at the same time that Texas is using public resources to fight common-sense climate pollution standards, Texas leads the nation in wind power — a zero-emitting resource.
In 2012, wind power led the entire nation in the overall deployment of new electricity generating resources, with 13,124 megawatts.  Much of that came from the Heartland — Texas, Iowa, Oklahoma, Kansas and Colorado.
That means Texas is looking at a … well … Texas-sized economic opportunity – as well as an opportunity for climate progress.
What a shame they're choosing to waste their time and money in court instead.
This post first appeared on our Climate 411 blog.