Air pollution's unequal impacts in the Bay Area
Date published: March 31, 2021
Across the Bay Area, air pollution takes a massive toll on the health of communities. Analysis from EDF and our partners at George Washington University reveals how certain areas face a particularly large burden, where pollution magnifies existing health risks.
By combining air data from sensors and satellites with health information, we found that air pollution's impacts are large and vary dramatically across and within neighborhoods. Our results provide insights that can be incorporated into advocacy and policymaking to address air pollution in the communities most affected and target interventions where they will have the largest benefits to health and equity.
Harm from pollution felt across the Bay Area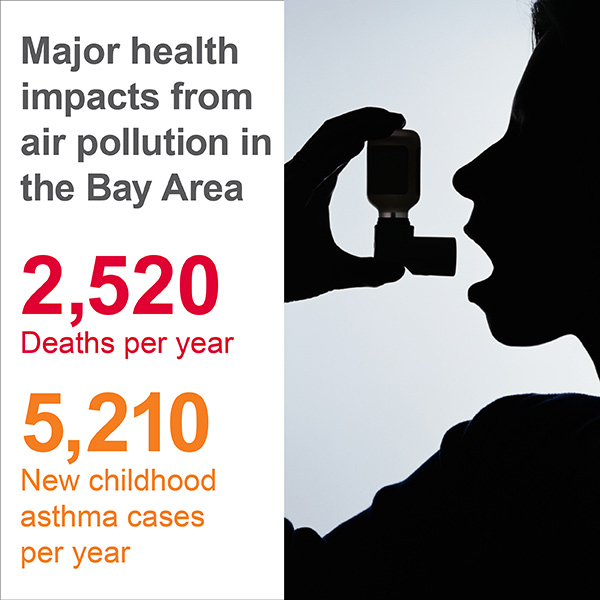 According to estimates from our study, more than 2,500 lives are lost and 5,200 children develop asthma every year due to traffic-related air pollution (nitrogen dioxide) exposure in the Bay Area.
Nitrogen dioxide forms from vehicle emissions, and heavy duty trucks are a major source—particularly in California. Exposure to this pollutant can result in the development and worsening of asthma and bronchitis, in addition to increased risk of heart disease.
Reducing traffic-related pollution could have major health benefits. We estimate that lowering Bay Area pollution levels to the current regional median (mid-point) could save more than 1,000 lives and prevent 2,000 new childhood asthma cases.
Communities of color face higher asthma rate from pollution
While everyone is impacted by air pollution, we found stark racial and ethnic disparities in the health burden. On average, neighborhoods with higher percentages of residents of color experienced double the rate of asthma from traffic-related air pollution compared with predominantly white neighborhoods.
This reflects the fact that communities of color often face higher air pollution levels, an environmental inequity stemming in part from decades of discriminatory housing and planning policies.
In West and Downtown Oakland, where more than 70% of the population is people of color, we found a high impact of air pollution on childhood asthma—up to 1 in 2 new childhood asthma cases were due to traffic-related air pollution. By contrast, in an Oakland Hills neighborhood where more than 70% of the population is white, the fraction of childhood asthma from pollution is lower—about 1 in every 5 cases.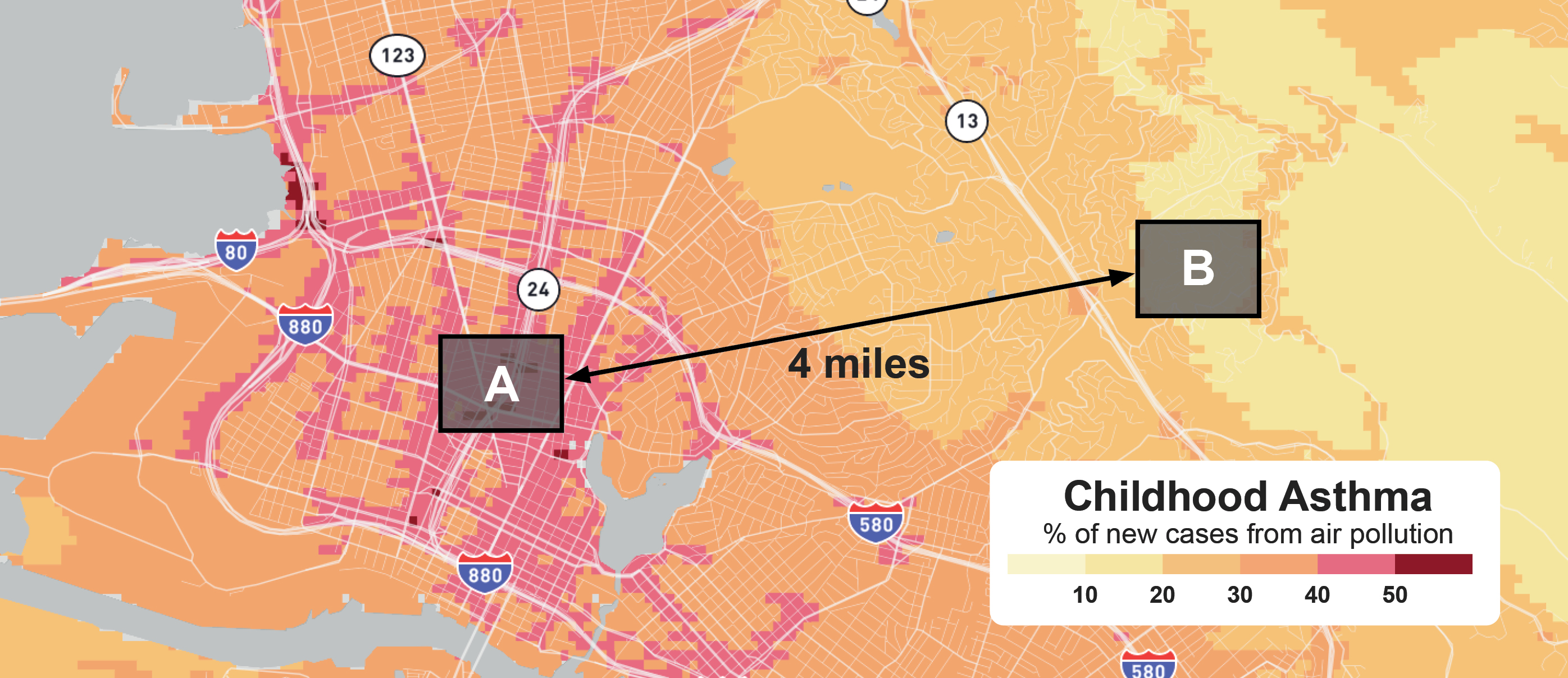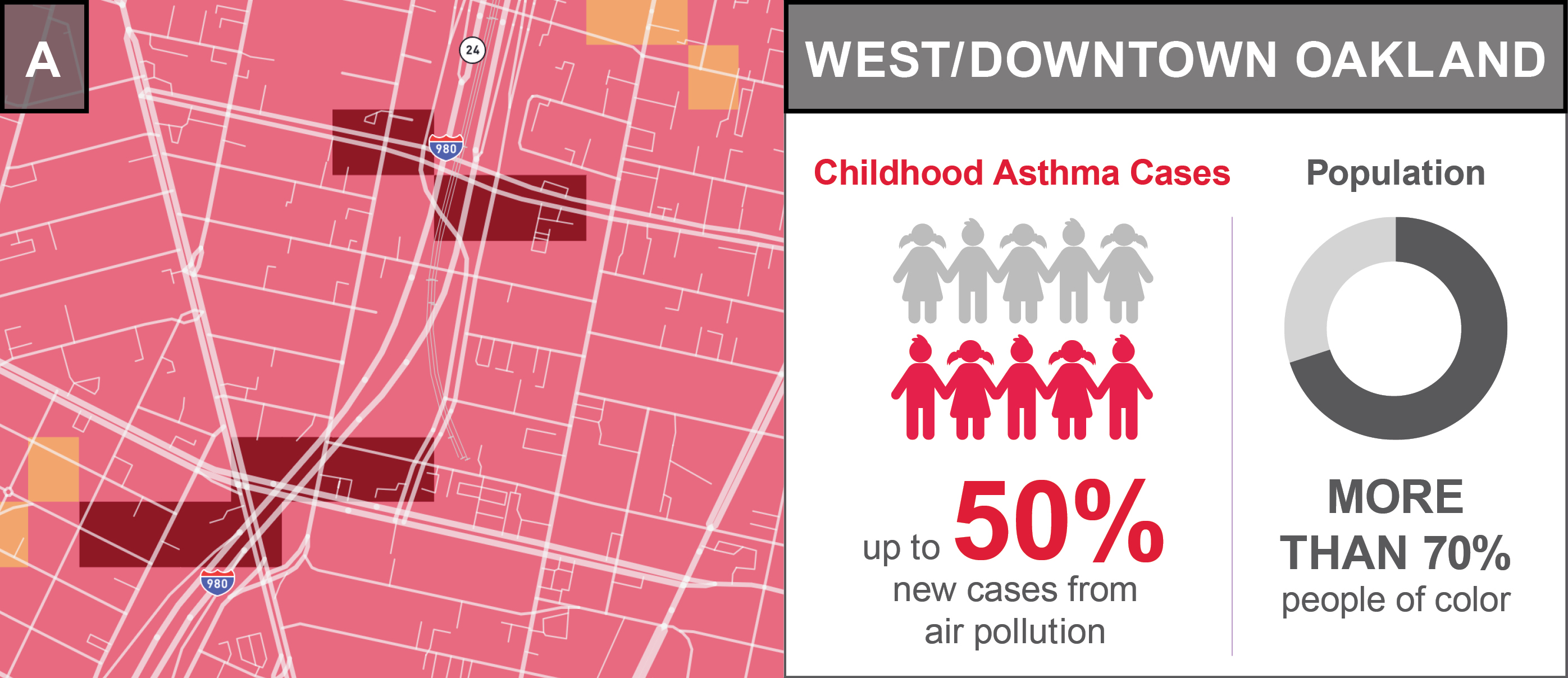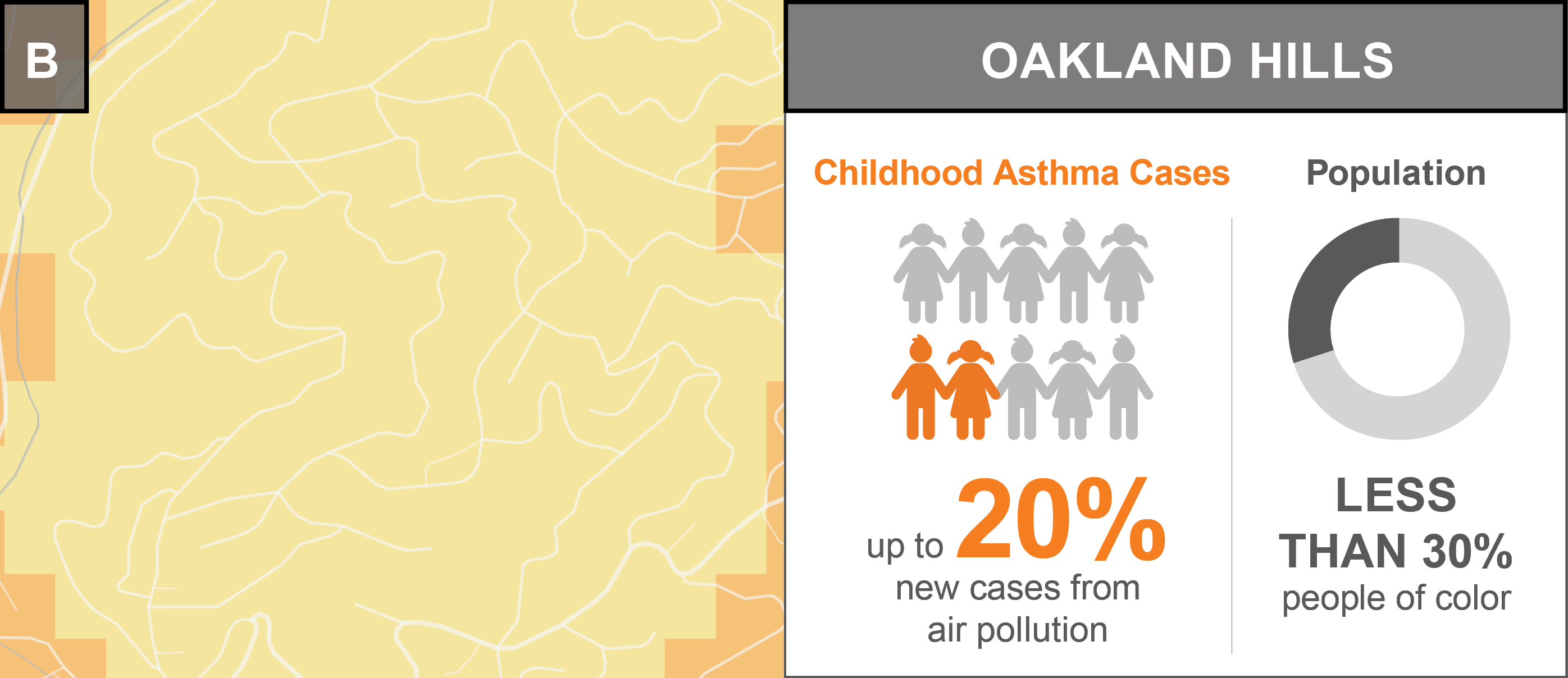 Across the Bay Area, impacts on childhood asthma are worst near highways and major roads — where pollution levels are highest. In Oakland, we know that nitrogen dioxide levels are nearly twice as high on roads that the city designates as truck routes.
Methods reveal the range in health harm
This study is a health impact assessment—a tool often used to incorporate public health into decision-making. For this assessment, researchers combined hyperlocal air data from Google Street View cars and satellites with information on the health effects of pollutants, population distribution, and underlying health problems.
More detailed information on our methods »
Typically, information on air pollution's health impacts is reported at a county, state, or country scale. By using local air and health data, our novel analysis pinpoints local—even street-level—differences in health harm that would otherwise be missed.
This type of analysis shines a light on pollution's disproportionate impact in neighborhoods where social and economic stressors make people more susceptible to the negative impacts of pollution.
Better data can drive more equitable policies
By understanding how air pollution impacts health at a local level, policymakers can focus mitigation efforts on areas with the highest burden. This data can inform solutions that reduce exposure and protect those that are most at risk.
While this assessment was the first-of-its kind to use local health and hyperlocal air data, similar methods can inform efforts in cities across California, the US, and the world to evaluate the impacts of air pollution and work to achieve cleaner air for all.
Acting now to protect health
The magnitude of these health impacts demonstrates the need for action, now, to reduce air pollution. Cutting pollution from the transportation sector, particularly trucks and buses, presents an enormous opportunity to protect health and the climate. EDF is working to accelerate the transition to vehicles that emit zero tailpipe pollution—calling for all new cars to have zero tailpipe emissions by 2035 and all new trucks and buses by 2040.
However, as our recent shows, pollution does not impact everyone equally, and efforts to speed this transition must prioritize the communities that face the greatest health burden from pollution.
You can call for action, too. Tell your elected officials you support electric vehicles! »