June 19, 2018
Stacy MacDiarmid, (512) 691-3439, smacdiarmid@edf.org
Cristina Mestre, (212) 616-1268, cmestre@edf.org
(Washington, D.C.) Environmental Defense Fund (EDF) today announced a new "find and fix" virtual reality (VR) experience that will debut at the World Gas Conference in Washington, D.C. next week. The "Methane CH4llenge" simulation, which was informed by peer-reviewed science and developed in collaboration with oil and gas experts, takes users into a digitally-simulated wellsite to show the ease and efficiency of controlling key sources of methane emissions, an increasingly important challenge for the oil and gas industry.
The Methane CH4llenge VR is the latest example of EDF's unique approach in working with businesses to find practical solutions to urgent environmental problems. For more than thirty years, EDF has collaborated with leaders across industries – including oil and gas – to help companies improve their environmental performance. EDF's goal is simple: zero in on the opportunities that offer the biggest benefit to the environment soonest. Reducing methane emissions across the global oil and gas supply chain is one such opportunity.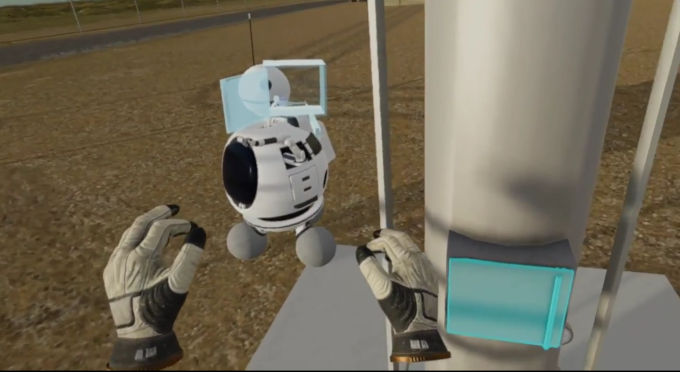 Video: EDF unveils "Methane CH4llenge" VR experience to showcase climate solutions.
Methane is a powerful greenhouse gas that is 84 times more potent than carbon dioxide in the first two decades after its release. It is also the main ingredient in natural gas and is a saleable product when captured. Methane emissions from human activity are responsible for 25 percent of the warming our planet is experiencing now. Worldwide, the oil and gas industry is one of the largest sources of these emissions. Yet, cutting oil and gas emissions is straightforward and inexpensive.
"Reducing methane across the oil and gas industry is one of the fastest, most cost effective ways to slow the rate of warming today," said Mark Brownstein, EDF Senior Vice President of Energy. "For industry, methane emissions are also a critical challenge – one that will only grow as policymakers and investors worldwide increasingly focus on methane's outsized climate effects, and as competitive threats from cleaner alternatives intensify."
Each year about 75 million metric tons of methane escapes from global oil and gas operations. Over $30 billion is lost or wasted through leaks, flaring or other emissions. Fortunately, there are many cost-effective technologies to detect and control these emissions to keep methane in the system and out of the atmosphere, several of which are featured in the Methane CH4llenge VR.
Working with FLIR Systems, Inc., SENSIT Technologies and Rebellion Photonics, EDF experts spent more than 1,000 hours designing and developing the simulated wellsite, and conducting extensive fieldwork to ensure accurate depictions of methane plumes.
"A Qatari oil and gas facility might be completely different than an American facility, but methane challenges are the same across all geographies," said Craig R. O'Neill, business development manager for FLIR Systems, Inc. "Our optical gas imagers are utilized worldwide because they give industry a sixth sense to see otherwise invisible gas leaks. Technology highlighted in the Methane CH4llenge empowers industry to protect the environment, meet regulatory compliance standards, improve worker safety, and capture potentially lost profits."
Methane CH4llenge users will be equipped with knowledge and technology widely available to industry today, including FLIR's infrared cameras. With guidance from "Bella" the EDF bot, they will have the opportunity to find and fix multiple methane leaks, affording them the unique experience to help industry avoid harmful methane emissions.
Taking Monitors on the Road, Into Space
"EDF is also working to accelerate the development and deployment of mobile methane detection solutions through the Mobile Monitoring Challenge, a joint effort between EDF and Stanford University with technical guidance from ExxonMobil, Schlumberger, Shell, and others. Previously, EDF worked with oil and gas companies, tech developers and entrepreneurs to advance the market for stationary, continuous methane monitors now being tested by Shell, Equinor (formerly Statoil), and Pacific Gas & Electric Company.
"In April, EDF announced it is building a satellite purpose-built to locate and measure methane emissions from human-made sources worldwide, starting with the oil and gas industry. Data from the satellite – available to everyone – will give both countries and companies robust information to spot problems, identify savings, and measure progress over time.
To experience the methane simulation, registration for the World Gas Conference exhibition is required (and free of charge): www.edf.org/wgc2018.
What Industry Leaders are Saying About Methane
Shell, ExxonMobil, Qatar Petroleum, and a host of other producers recently committed to continuously reduce methane emissions across the natural gas value chain. As investor pressure to improve methane performance and better manage long-term risk continues, and as leading companies like BP continue to announce stringent, quantitative methane reduction targets, industry leaders and entrepreneurs are speaking out about methane.
Baker Hughes, a GE Company (BHGE)
"Sensor technologies are going to be a very critical piece for the environmental and sustainability programs for industry in general and oil and gas in particular because it's the digital age and it's becoming more and more that information drives decisions – and that drives action."
Nasr Alkadi, Ph.D., Augmented Oilfield Leader, BHGE
BP
"With the expertise of the industry, a stable and encouraging policy environment – and constructive challenge from EDF and others – we can meet the methane challenge."
Paul Jefferiss, Head of Policy, BP
Equinor
"Cooperation with groups like EDF can help shape and take methane science and innovation to a very new level."
Bjorn Otto Sverdrup, Senior Vice President of Sustainability, Equinor (formerly Statoil)
Hermes Investment Management
""It is clear that companies are seeing advantages in managing methane – as well as cost savings and revenue increases. There are distinct benefits to being a responsible producer… such as greater credibility with stakeholders and reduced legal and reputational risks."
Tim Goodman, Director of Engagement, Hermes Investment Management
NEI
"But it seems evident methane might be a fairly significant blind spot for the industry. The more I talk to companies, the more clear it becomes that industry doesn't have a good feel for the full scope of the problem."
Jamie Bonham, Manager of Corporate Engagement at NEI
Rebellion
"Innovation in methane detection technology is instrumental to solving the challenge on a global scale. Showcasing these solutions through tools like virtual reality can help accelerate and globalize the message that solutions like our continuous and automated gas imaging systems are ready today to help oil and gas companies operate safely, responsibly, and efficiently."
Robert Kester, Chief Executive Officer at Rebellion Photonics
Robeco
"We see the methane issue more as a business opportunity than a risk. What we often say to companies is that methane is a potential revenue source. It would be a waste if companies do not use it."
Sylvia van Waveren, Senior Engagement Specialist, Robeco Institutional Asset Management
Schlumberger
"Studies by EDF scientists and others are showing that a significant fraction of upstream methane emissions arise from a small number of super-emitters, and airborne detectors may be the most effective way to detect those."
Drew Pomerantz, research scientist at Schlumberger
SeekOps, Inc.
"There's an enormous opportunity for utilization of unmanned aerial systems for detection and characterization of methane emissions in the oil and gas sector."
Andrew Aubrey, Ph.D., Founder and CEO at SeekOps, Inc.
Sensit
"Methane detection and quantification instruments are available today to help the oil and gas industry cost-effectively reduce emissions. Virtual reality simulations like this one allow everyone to experience our technology first hand and see for themselves that solutions like ours are easy to use and ready for global deployment now."
Scott Kleppe, President & CEO at SENSIT Technologies
Stanford University
"The oil and gas industry accounts for about a third of all methane emissions in the United States. Eliminating this especially in an era of low natural gas prices require mobile, low-cost and fast solutions to detect methane leaks."
Adam Brandt, assistant professor of energy resources engineering at Stanford University's Natural Gas Initiative
XTO Energy
"Developing innovative solutions will be instrumental in reducing methane emissions. The Mobile Monitoring Challenge lays the groundwork to leverage novel and cost-effective technologies that could help companies find and manage emissions in a faster, more efficient way.
Sara Ortwein, president of ExxonMobil affiliate XTO Energy