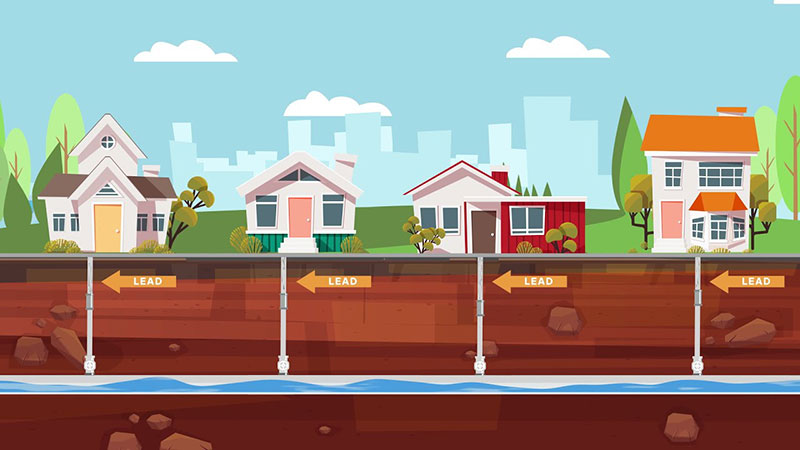 Up to ten million homes across the country get water through lead pipes.
"Every single American has a right to clean drinking water. It's just plain wrong that in the United States of America today, millions of children still receive their water through lead service pipes. It's long past time we fix that." That statement from President Biden makes clear the growing momentum to tackle the country's legacy of lead pipes.
9.2 millionU.S. homes have lead pipes2
More than nine million homes across the country still get water through lead pipes - called lead service lines - that connect the main drinking water line in the street to our homes. When present, lead service lines are the largest source of lead in water.
Corrosion control can help manage the risk of lead in water, but the only effective long-term fix is getting rid of the lead pipes. We need a strategy that addresses the root causes of lead exposure before a crisis hits, not after it.
A better approach
Accelerate replacement. Replacement of the entire lead service line must be prioritized to reduce lead in drinking water, rather than used as a last resort. Water utilities, public health, environmental, and consumer organizations must collaborate to develop the programs communities need to drive service line removal. EDF is working with 28 other national organizations as part of the Lead Service Line Replacement Collaborative to do just that.
Make replacement affordable and equitable. Replacing lead service lines can be cost-prohibitive for many families, which poses a major equity issue. We need to fund this work across the country so that everyone can get their lead pipe replaced, not just those who can afford it. President Biden's American Jobs Plan includes funding for replacing the country's lead service lines.
Update drinking water regulations. In January 2021, the Trump EPA published a long-overdue revision to the 1991 Lead and Copper Rule - the nation's main lead in drinking water rule. While a step forward in some ways, the rule has several serious flaws. Fortunately, the Biden administration is currently reviewing the rule.
Improve oversight of suppliers. Federal, state and local entities must also improve oversight to make sure utilities that supply water comply with the law.
Disclose hazards earlier. When people buy or rent a home, they need to be told clearly and definitively about any lead pipes so that they can factor replacement costs into their decision making.
Why replace lead pipes?
Aging water infrastructure in the United States requires constant investment to ensure residents can enjoy safe water. Regular infrastructure work – such as replacing a water main – can disturb service lines, which is an issue if the service line is made of lead because it can release the lead into the water.
The best long-term solution to upgrading our water infrastructure and protecting health is to fully replace the country's remaining lead service lines on both public and private property.
However, the standard approach to replacement puts the financial burden on residents – which can leave people of color and low-income behind. We need to make sure everyone can get their lead service line replaced, not just those who cannot afford it. Twenty years from now, we don't want to still be struggling with these failures.