Date updated: October 12, 2020
On October 9, Hurricane Delta made landfall along the northern U.S. Gulf Coast, a region still reeling from the damage caused by Hurricane Laura in late August. Setting records for the season, Hurricane Delta became the fourth named storm to hit Louisiana, and the 10th to make landfall in the U.S.
Delta is just the latest in a relentless Atlantic hurricane season that has ravaged the Gulf Coast with dangerous storm surges, damaging winds and severe flooding — leaving in its wake human casualties, severe destruction and hundreds of thousands of homes without power. It serves as further evidence that as the climate warms, storms are getting stronger.
Scientists have studied how human-caused climate change is affecting these massive storms, making them "stronger, wetter, slower, and [causing them to] intensify more rapidly." Combined with sea level rise, these storms are posing ever greater risks to people — particularly low-income communities and communities of color — and ecosystems throughout the Atlantic and Gulf coasts.
Storms that intensify quickly when they are close to land tend to cause greater damage, leaving little time for people to prepare for impact. And with storms arriving so close together, it's harder to recover.
What EDF is doing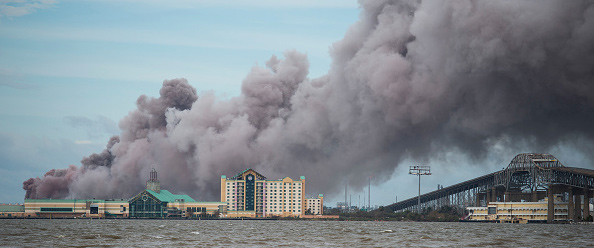 It's not only hurricanes
Extreme weather events like heat waves and wildfires are also worsening as a result of climate change.
In the days before the recent storms made landfall, EDF staff prepared for their impact. With offices in Louisiana, Texas and Mexico, EDF has many local partners throughout the region as well as in the Caribbean, and we reached out to our friends and contacts to offer our assistance with recovery efforts.
We continue to help monitor environmental impacts. The Louisiana-Texas coastal region is one of the most unique ecological systems in the world. It is also home to many oil and gas and chemical manufacturing facilities, and low-income communities and communities of color who have long suffered the worst impacts of industrial pollution, especially during repeated storms.
Some of the actions we're taking include:
Monitoring environmental impacts such as toxic air emissions, leaks, damage to natural systems and wetlands — and helping inform communities of these dangerous impacts.
Holding public officials accountable to ensure a proper response that helps people and cleans up the damage. For example, we are highlighting and opposing the reckless decision by the Trump administration to sign an Executive Order raiding up to $44 billion from the Federal Emergency Management Agency budget — well over half of FEMA's disaster relief funds.
Raising awareness of the science not just in the immediate response, but more broadly highlighting how climate change is increasing the frequency and intensity of these powerful storms.
Advocating for natural infrastructure and other coastal resilience solutions that can help better protect coastal communities from storms and sea level rise.
Mobilizing our members and activists to take action and offer their assistance to our most vulnerable communities. See how you can help below.
The costs of climate change
Delta struck just over six weeks after Hurricane Laura, which itself struck just days before the 15th anniversary of Hurricane Katrina — which claimed nearly 2,000 lives and resulted in $161 billion in damages.
Average annual costs of extreme weather have quadrupled since the 1980s, for a total of $1.75 trillion, with taxpayers footing much of the bill. As costs rise, federal, state and local governments are straining to provide relief and recovery assistance — especially when they have to deal with other challenges such as the COVID-19 pandemic and recession.
As our political leaders consider ways to help the economy recover from both extreme weather and COVID-19, they should make sure they're rebuilding our coastal communities to make them more resilient, healthier and safer than before.
For the safety of all local communities, they must require continuous monitoring for air pollution and sharing as much information as soon as possible. They must also strengthen chemical plants' prevention and preparedness requirements, and bolster community access to information about the chemical hazards near where they live and work.
And they must take steps to protect communities, particularly low-income communities and communities of color who often confront greater threats and face bigger burdens as they try to rebuild. This begins by engaging residents in a sustained dialog about what they want their futures to look like, and giving them a say in how local decisions are made.
How you can help
This season's storms have devastated parts of the Gulf Coast. The region needs not only our immediate help, but our ongoing attention.
In particular, we encourage you to support Black and people of color led organizations that are helping recovery efforts and contributing to the fight for a more equitable future:
The Mutual Aid Response Network is a group of Louisiana residents, led by Imagine Water Works, that activates during floods, storms, and other natural and manmade disasters. They are part of a larger network of organizers across the Deep South, connected through Project South and the Southern Movement Assembly.
Donate to the Mutual Aid Response Network
Foundation for Louisiana is a Black-led foundation established in the wake of Hurricane Katrina. They point out that disasters often have outsized effects on marginalized communities, and stand ready to support Louisiana communities facing the impacts of Hurricane Delta. Help them deliver support where it is most needed.
Donate to Foundation for Louisiana
You can also consider donating to other organizations responding on the ground in impacted communities:
Date updated: October 12, 2020