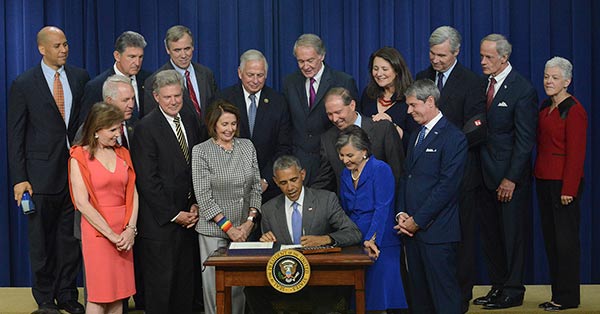 On June 22, 2016 President Obama signed the Lautenberg Act to fix America's badly outdated chemical safety law.
For decades, the Toxic Substances Control Act of 1976 (TSCA) had proven ineffective at ensuring the safety of the chemicals used in everything from household cleaners to clothing and couches. The Frank R. Lautenberg Chemical Safety for the 21st Century Act overhauled TSCA to better protect our health from untested or toxic chemicals used in everyday products and materials.
Unfortunately, the Trump administration is systematically weakening the EPA and working to dismantle chemical safety through its implementation of the new TSCA. Despite this, the law itself remains strong – and we are working to defend it at every step.
Notable improvements
A strong, health-only safety standard
The Lautenberg Act removes requirements that kept EPA from restricting harmful chemicals—eliminating the requirement to consider costs when determining safety, relying instead solely on health and environmental risks.

Explicit protections for vulnerable populations
The Lautenberg Act expressly requires the protection of those most exposed or susceptible to harm from chemicals.

A mandate to review chemicals in use today
The Lautenberg Act explicitly requires safety reviews for all chemicals currently in use, mandating EPA meet concrete deadlines for each step in the process.

A new, efficient testing authority
Under the Lautenberg Act, EPA can simply issue an order to require testing, without the Catch-22 of having to first have evidence of risk or high exposure. The law provides testing authority in reviewing new chemicals and in prioritizing and evaluating existing chemicals.

A safety finding for new chemicals before use is allowed
Under the Lautenberg Act, new chemicals are not allowed onto the market unless they clear a basic safety bar, and there is new authority to ensure EPA has sufficient information to make an informed decision.

Unprecedented transparency
Under the Lautenberg Act, strong new limits and checks are imposed on what can qualify as "Confidential Business Information" (CBI). The law ensures that state officials and health professionals have access to CBI and that the public has access to health and safety information on chemicals.

Time limits and justification requirements for trade secrets
Under the Lautenberg Act, most CBI claims must be fully justified when made, and will expire after 10 years if they're not re-substantiated.

A new, dedicated funding stream
Under the Lautenberg Act, EPA can collect fees for both new and existing chemicals, as well as high-priority chemicals. These fees can be used to help cover the costs of all chemical reviews, regulations, and information management. And instead of going to the general treasury, they go directly to EPA.
What's happening now
The Trump administration is stymieing or reversing progress made under the new law, setting back the bipartisan intent for stronger protections from toxic chemicals. EDF is fighting back.