Explore New Mexico's oil and gas pollution
Updated analysis reveals the scope of the state's methane emissions and needed solutions
Date updated: November 20, 2020
New analysis estimates that New Mexico's oil and gas companies emit over 1.1 million metric tons of methane annually. That's approximately 5 times more pollution than EPA data suggest and has the same near-term climate impact as 25 coal-fired power plants.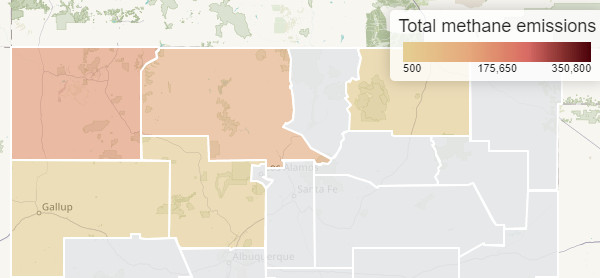 Click for emissions data and maps
This updated analysis applies the latest peer-reviewed methods and satellite measurements to examine the amount of climate-warming methane emitted from oil and gas sites, as well as harmful volatile organic compounds.
These emissions carry a heavy economic toll for New Mexico. EDF estimates the state wastes $271 million worth of natural gas annually and loses out on an additional $43 million in tax and royalty revenue every year due to methane waste.
The results of this analysis are available online and allow users to:
Explore oil and gas methane emission by county.
Discover which communities face the brunt of oilfield pollution.
Compare proposed policy solutions for reducing emissions.