EDF estimates that New Mexico's oil and gas companies emit approximately five times more methane pollution than EPA data suggest.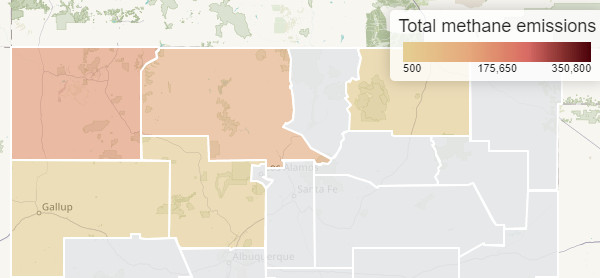 Click for emissions data and maps
The analysis, which applies the latest peer-reviewed methods and new empirical data from the Permian Basin, examines the amount of methane emitted from oil and gas sites, as well as harmful volatile organic compounds and finds that oil and gas operators in New Mexico emit approximately 1,000,000 metric tons of methane a year.
These emissions carry a heavy economic cost for New Mexico. EDF estimates the state is wasting $275 million worth of natural gas and losing out on an additional $43 million in tax and royalty revenue every year due to methane waste.
The results are available online and allow users to:
Explore oil and gas methane emission by county
Visualize locations and concentrations of flared gas
Discover the economic impact of wasted gas