How climate change threatens Floridians' futures
Date published: November 9, 2020
While Floridians are already experiencing the impacts of climate change — from floods to higher temperatures — a series of threats will compound over the next 20 years if climate change is left unchecked. These near-term climate costs range from higher electricity costs to lower tax revenues and will further strain the state and its residents as Florida seeks to recover from the COVID-19 pandemic, which has battered its economy and taken thousands of lives.
A combination of higher temperatures, sea level rise and persistent flooding will continue to hamper communities across the state. The greater Tampa Bay area and Southwest Florida will face some of the largest impacts, including declines in property tax revenue, higher electricity bills for energy costs such as life-saving air conditioning and an increase in heat-related deaths. Without immediate action, impacts from climate change already harming the state will become much worse. Low-income communities, for example, already spend a greater proportion of their household budgets on energy, will find air conditioning even more expensive.
EDF's examination of local data reveals just how damaging not acting on climate will be to Floridians in specific parts of the state.
Frequent flooding threatens critical funding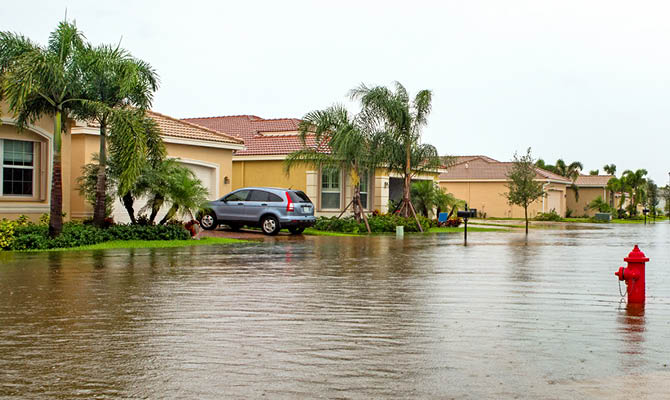 While Florida's hurricanes often grab headlines for their devastating damage, coastal — and even inland — flooding on sunny days is a huge concern. By as soon as 2030 the Union of Concerned Scientists warns that U.S. coastal counties could lose more than $100 million in property taxes from flooding linked to sea level rise, which causes higher tides. By 2045, that number jumps to almost $350 million. This revenue is critical to Florida's budget, as it does not collect state income taxes and instead relies on property taxes to fund schools, police departments and repairs to roads and bridges.
Counties in Western Florida will suffer particularly high losses due to chronic, disruptive flooding, which occurs more than 26 times per year. This kind of flooding has an economic domino effect. It damages and destroys homes, reducing their value and associated property tax revenue. Lower tax revenue will result in less funding for vital community services.
By 2045, both Lee and Manatee counties could each lose $22 million each in property tax revenue due to chronic flooding. And these estimates don't even account for the costs associated with flooding from hurricanes—which drive losses even higher, putting a greater strain on communities and local budgets.
Higher electricity prices on the horizon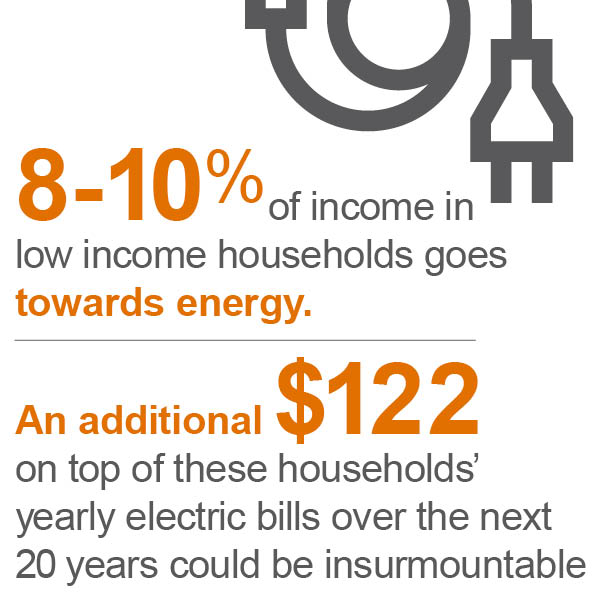 Residents of sunbelt states like Florida, where extreme heat waves are more frequent, rely on air conditioning not only for comfort but to remain healthy and safe on the hottest days. In the summer months of 2019 alone, close to 30 people died from heat-related causes in Florida. These kinds of numbers are expected to increase and are likely to disproportionately impact the elderly and most vulnerable groups. As it stands, more than a quarter of the state's energy use goes to operating air conditioners—more than four times the national average.
Paying for air conditioning will become more challenging for Floridians, who already pay 13% more than the national average for electricity. Without action on climate, they can expect to see increases of more than 5% annually, or $1.2 billion every year on their electric bills, according to a 2017 study led by Solomon Hsiang at the University of California at Berkeley.
Keeping homes cool during extreme heat waves will particularly impact low-income households, who already spend 8-10% of their income on electricity costs. That's three times what other households typically spend. Every year until 2040, Florida residents could pay an additional $122 in electricity. By 2040, on average, households could spend close to $2,500 each in avoidable costs.
These increases will hit businesses as well, costing them more than a projected—and potentially avoidable $7,500 in total electricity costs—by 2040.
Heat-related deaths expected to rise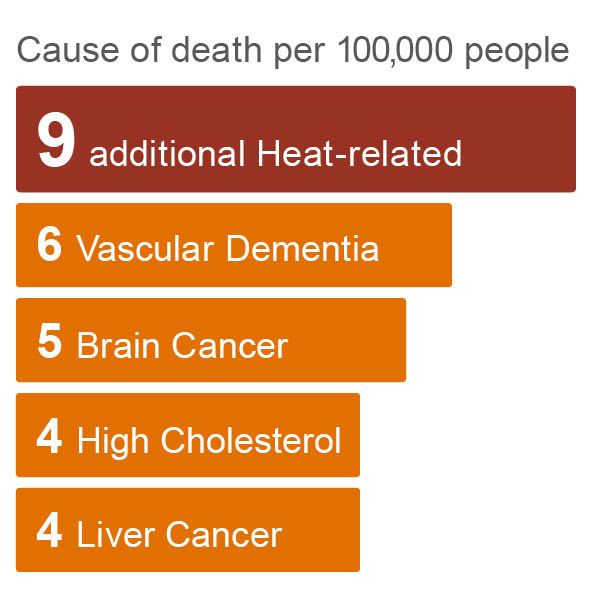 As temperatures rise, so does mortality. Heat-related deaths—the most caused by any weather-related phenomenon in the United States—are only projected to increase with climate change.
Florida will experience some of the largest increases in heat-related deaths—more than 9 per 100,000 residents, on par with the number of people who die from kidney disease in the state, and higher than the number of deaths associated with brain cancer or high cholesterol.
Elected officials must act
The costs of climate inaction over the 20 years make it clear: We need urgent action to stem the worst impacts on Floridians. These costs will only grow worse the longer we delay.
Elected officials in Florida need to take immediate action to curb climate-warming pollution, build resilience and protect the most vulnerable communities. They can start now by rebuilding a more sustainable and resilient economy for future generations.
Explore the county-level data
Learn more about what inaction on climate change will mean for communities across the state of Florida by exploring our map.