In this pivotal moment, when we see environmental challenges outside our windows and in our communities, we honor the women who launched the movement as well as those who are bringing diverse voices and perspectives to shape what's next.
Here are just a few of the amazing women we will be recognizing this month.
Rachel Carson, inspiring modern environmentalism
A pioneering marine biologist, Rachel Carson (pictured above) opened our eyes to the harm being done to the environment by the indiscriminate use of pesticides.
Her groundbreaking 1962 book, Silent Spring, drew a direct line from pesticides to the death of songbirds, and helped inspire EDF's first mission: to ban the pesticide DDT nationwide, which our founding scientists made happen in 1972. Her words and legacy galvanized public support for environmental and public health issues, shaping the movement as we know it today.
Marina Silva, defender of the rainforest
Marina Silva's childhood experiences making rubber and farming in the Brazilian Amazon to help support her family shaped her as an environmentalist. Illiterate until age 16, she persevered to earn a college degree, going on to become the country's youngest senator in 1995 at age 35.
A tireless and outspoken defender of the rainforest, Silva targeted illegal deforestation during her time as Brazil's environment minister — drastically reducing the rates of deforestation. As a presidential candidate, she made the environment a key issue.
Founder of Brazil's Sustainability Network political party, Silva has said: "Sustainability is perhaps the one chance we have of starting a new cycle of prosperity for humanity."
Greta Thunberg, inspiring a generation
Young climate activists like Greta Thunberg are bringing a new energy and perspective to the environmental movement. At 15, she famously held up a sign outside Swedish Parliament demanding action on climate change. What began as a "school strike for climate" by one girl grew into a global student movement that breathed life into activists of all ages.
As she publicly challenges world leaders to take immediate action on climate change, Greta proves that the next generation is not going to stand for half-measures or excuses.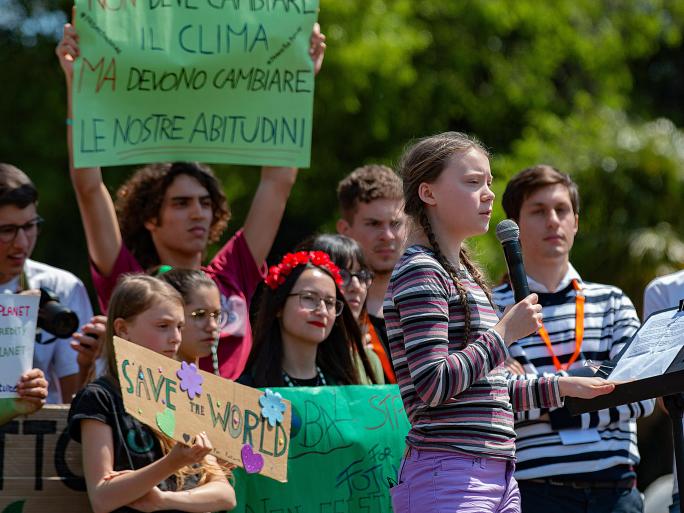 Peggy Shepard, environmental justice trailblazer
Peggy Shepard is co-founder and executive director of WE ACT for Environmental Justice and has been fighting for a clean, healthy and sustainable environment in Northern Manhattan since 1988.
Because many of the most polluted areas in the U.S. are where people of color live, work, play and pray, WE ACT pushes for community-driven political change and equitable policies that directly affect communities that have been neglected.
Shepard is a national leader in advancing environmental policy, serving on the executive committee of the National Black Environmental Justice Network. She was the first female chair of the National Environmental Justice Advisory Council to the U.S. Environmental Protection Agency, and we're proud that she serves as an EDF trustee.
Marjory Stoneman Douglas, fearless crusader
Known as the "Grandmother of the Glades," journalist and author Marjory Stoneman Douglas used her powerful voice to advance feminism, racial justice and conservation. Through her 1947 book, The Everglades: River of Grass, she galvanized public opinion in support of protecting our beautiful natural resources.
Largely because of her work fighting for the Florida Everglades — previously thought of as a worthless swamp — the area is now recognized not only as a complex network of ecosystems, but as a crown jewel of our natural world.
Vanessa Hauc, climate change correspondent
Emmy Award-winning journalist Vanessa Hauc has covered environmental issues for 15 years, focusing on those who are disproportionately affected by climate change. Her passion for this work inspired her to create the "Alerta Verde" segment on the Telemundo Network to inform and educate communities about the importance of protecting our planet. Today, she is leading the investigative unit on environmental issues on Telemundo's "Planeta Tierra."
Hauc is also the co-founder of Sachamama or "Mother Jungle," a nonprofit organization that works to inspire, empower and educate Latino communities on climate issues and sustainable living.
Rev. Sally Bingham, preaching on climate change
The Rev. Sally Bingham is an Episcopal priest who founded the nonprofit Regeneration Project and the Interfaith Power & Light campaign to promote renewable energy and energy efficiency.
Her work persuading diverse faith communities to eliminate energy waste in their buildings and preach about climate change has saved congregations hundreds of thousands of dollars in energy costs and reduced dangerous emissions. The campaign does its work through a network of more than 18,000 congregations with program affiliates in 40 states.
Bingham, a former EDF board member, was one of the first faith leaders to treat global warming as a core moral issue.
Wangari Maathai, conservation and human rights
Founder of the Green Belt Movement to tackle women's rights and other social, political and environmental issues in Kenya, Wangari Maathai was the first African woman to receive the Nobel Peace Prize. Her work has provided jobs for unemployed women to plant trees and restore degraded habitat. Since the movement's founding in 1977, more than 51 million trees have been planted and 30,000 women trained in trades that help them earn a living while protecting their lands.
Maathai's work in Kenya led to visits from representatives of 15 African countries who wanted to set up similar programs in their own countries. She survived state repression and physical threats in her work, and lit a beacon of hope and progress for the entire continent.
Let's celebrate these women together
We are proud to follow in the footsteps of these and other environmental heroes. And we celebrate those working now in the communities, courtrooms, farms, boats and businesses — women who are paving the way to a resilient, healthy and just future.
To learn about the many women we're featuring for Women's History Month, follow EDF on Twitter, Instagram or LinkedIn and please, pay it forward by calling out the women you admire with #WomenMakingHistory.