Methane leaks waste resources and money, as they damage the climate. It's a dilemma technology can solve.
That's why EDF brought together a diverse group of partners to find fresh ways to tackle leaks from the largest source of methane emissions: the oil and gas industry.
A drain on the planet and profit
Methane, a greenhouse gas, is 84 times more powerful than carbon dioxide in the first 20 years after it enters the atmosphere. It drives about 25 percent of today's global warming.
Natural gas wells, pipelines and storage facilities lose methane – a sellable product – through leaks and sometimes by design.
Those losses amount to roughly $30 billion of natural gas a year, $2 billion in the U.S.
Calling for new technology
To spot leaks, many oil and gas companies typically have relied on infrared cameras, which can perform periodic surveys at well sites and other facilities.
New technology, however, may enable companies to check continuously for leaks at even lower costs.
So we've invited innovators to develop less-expensive, commercially marketable ways to find and fix methane leaks faster.
We launched the Methane Detectors Challenge in 2014, partnering with oil and gas companies, technology developers and other experts to spur new ideas.
Major companies are embracing it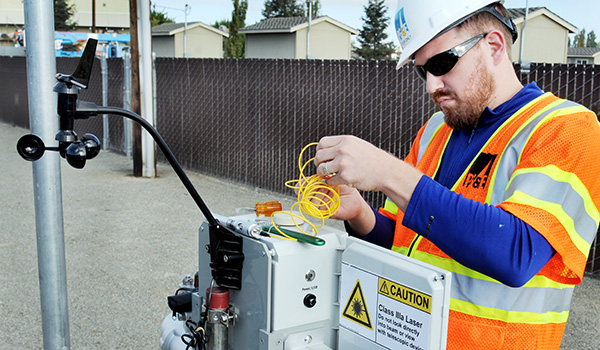 The competition has led to several cost-effective, state-of-the-art options – including sensor and laser technology – that oil and gas companies are already adopting.
Shell, for example, is deploying a solar-powered laser at a well site in Alberta, Canada.
The system will provide continuous monitoring for methane leaks, the same way your home's smoke detectors keep watch 24/7.
The Norwegian producer Statoil has a similar field test ongoing in Texas, and utility Pacific Gas & Electric Company initiated a pilot project in California.
The next level: Mobile technology
Entrepreneurs, innovators and academics now are going mobile to monitor methane leaks.
Whether by plane, helicopter, drone or truck, mobile monitoring focuses on surveying widely dispersed industrial facilities quickly and efficiently.
With approximately 1 million wells in the U.S. alone, the speed and breadth of monitoring matter.

Ben N. Ratner,

Director, EDF+Business
To accelerate this progress, EDF is hosting a new Mobile Monitoring Challenge with Stanford University. This new project aims to surface promising, commercially viable mobile technology that can quickly spot methane emissions.
Expanding the possibilities will lead to increasingly more efficient ways to track and fix wasteful leaks that pollute the atmosphere and industry's own reputation.