About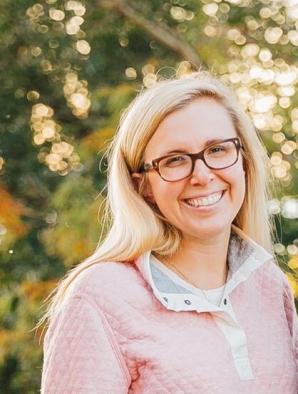 Emily Steinhilber
Director, Climate Resilient Coasts and Watersheds, Virginia
Work
Areas of expertise:
Coastal resilience, climate solutions, environmental law and policy, stakeholder engagement
Description
Emily is the Director, Climate Resilient Coasts and Watersheds, Virginia. She works within EDF's Coastal Resilience program to build and maintain collaborative partnerships to collectively advocate for comprehensive, research-based and equitable coastal planning and policies in Virginia, ensuring resilient communities and ecosystems as the Commonwealth adapts to a changing climate.
Most recently, Emily served in various roles at Old Dominion University including as the Director of Special Projects and Assistant Research Professor in the Office of Research at Old Dominion University in Norfolk, Virginia where, in addition to other resilience initiatives, she coordinated the ODU arm of the Commonwealth Center for Recurrent Flooding Resiliency (CCRFR), a partnership the Virginia Institute of Marine Science, William and Mary Law School's Virginia Coastal Policy Center, and ODU. Established by Virginia's General Assembly, the CCRFR launched in July of 2016 and provides coordinated and applied research and technical support for planners and decision makers in Virginia. She served as the Assistant Director for Coastal Resilience Research at ODU and facilitated the Hampton Roads Sea Level Rise Preparedness and Resilience Intergovernmental Planning Pilot Project. The Pilot Project sought to develop a "whole of government" and "whole of community" approach to sea level rise preparedness and resilience in the region.
Emily was previously the Executive Director at the Virginia Coastal Coalition, a non-profit based in Virginia Beach, Virginia dedicated to creating a collaborative forum for a solutions-based approach to sea level rise planning and preparedness in Hampton Roads that focused leveraging the work of academia, non-profits, and government to create a dialogue within the business community. A member of the Virginia State Bar, Emily is active within the Hampton Roads Community and serves on the WHRO Governing Board of Directors, the Lynnhaven River Now Board of Directors, the Virginia Beach Green Ribbon Committee, and the Virginia Beach Wetlands Board. She lives in Virginia Beach with her husband, daughter, and two golden retrievers and enjoys Virginia's trails, waterways, and beaches as much as possible.
Education:
BA, Economics and History, University of Virginia
JD, Vermont Law School
Masters of Environmental Law and Policy, Vermont Law School
"We Would Ride Safely in the Harbor of the Future": Historical Parallels between the Existential Threats of Yellow Fever and Sea Level Rise in New Orleans and Norfolk. Wea. Climate Soc., 12, 331–335, doi:10.1175/WCAS-D-18-0118.1.
Considine, C. Seek, M., Erten-Unal, McLeod, G., and Steinhilber, E. October 23, 2019. Old Dominion University – Commonwealth Center for Recurrent Flooding Resiliency. Recommendations for Freeboard Standards for State-Owned Buildings in the Commonwealth of Virginia, Version 1.5. https://www.naturalresources.virginia.gov/media/governorvirginiagov/secretary-of-natural-resources/images/ODU-Freeboard-Recommendations-Ver-1.5-10_31_19-FINAL.pdf
Behr, J. and E. Steinhilber, "Joshua G. Behr and Emily Steinhilber: growing Storm threat requires year-round readiness," The Virginian-Pilot, 20 Oct. 2019.E. Steinhilber, Expert Witness Testimony, Natural Resources Subcommittee Hearing: Water, Oceans and Wildlife Legislative Hearing H.R 335, H.R. 729, H.R 2185, H.R. 3115, H.R. 3237, H.R. 3510, H.R. 3541, H.R. 3596, H.R. 3723, 116 Cong. (July 25, 2019)
Considine, C., E. Steinhilber, 2018: Collaborative strategies for sea level rise adaptation in Hampton Roads, Virginia. Journal of Green Building 13, 193-214, doi: 10.3992/1943-4618.13.3.193.
Foster, M., J. O'Donnell, M. Luckenbach, E. Andrews, E. Steinhilber, J. Wells, M. Davis, 2018: Institutionalizing resilience in US universities: Prospects, opportunities, and models. Marine Technology Society Journal, 52, 106-110. doi:10.4031/MTSJ.52.2.10
C. Joyce, "New Report Predicts Rising Tides, More Flooding," National Public Radio, All Things Considered, March 5 2018, E. Steinhilber featured expert on new sea level rise projection impacts
E. Steinhilber, A. King, "Flooding Resilience in the Commonwealth" Virginia Lawyer, Vol. 65 No. 6, April 2017
E. Steinhilber, "Emily Steinhilber Column: Virginia's Leadership in Flood Resilience," Richmond Times Dispatch, Dec 26, 2016
Steinhilber, E., Boswell, M., Considine, C., and Mast, L., (Eds.), "Hampton Roads Sea Level Rise Preparedness and Resilience Intergovernmental Pilot Project. Phase 2 Report: Recommendations, Accomplishments and Lessons Learned", Prepared for Hampton Roads Intergovernmental Pilot Project Steering Committee
Coastal Resilience Initiatives and Partnerships, Plenary, Resiliency in Hampton Roads—A Regional Model for Resiliency Planning, 2016 Resilient Virginia Conference: Activating Communities and Businesses for a More Resilient Future; Richmond, VA, Mar 22-23, 2016.
Engagement Strategies in Hampton Roads, Community Engagement Strategies, 2015 Rising Seas Summit, Association of Climate Change Officers; Boston, MA, Nov 3-5, 2015.
Confronting the Legal and Policy Challenges of Climate Change, 26th Annual Environment Virginia Symposium: Making Connections: Environmental Quality, Health, and Prosperity, Center for Leadership and Ethics, Virginia Military Institute; Lexington, VA, Mar 31-Apr 2, 2015.Emily E. Steinhilber
A Whole of Government Approach in Hampton Roads, Plenary Panel, Planning and Implementation for Community Resilience, National Institute of Science and Technology, Disaster Resilience Workshop; San Diego, CA, Feb. 18-19, 2015.
Taxation and electricity transmission: bringing wind energy onto the grid, Green Taxation and Environmental Sustainability (2012), coauthor Jonathan R. Voegele.