Our solutions — rooted in science and economics — reward protecting the environment, not exploiting it.
---
Case study: More fish in the Gulf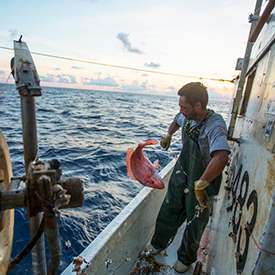 Problem: Red snapper stocks in the Gulf of Mexico were plummeting in the 1990s, due to overfishing.
Solution: In 2007, Gulf fishermen and fishery managers worked with EDF to start managing fishing sustainably, giving fishermen scientifically determined shares of what they could catch.
Results: The fish population started to rebound. By 2013, Gulf of Mexico red snapper was taken off the "avoid" list compiled by the Monterey Bay Aquarium.
Act when it matters most
Every day more than 60 people sign up for news and alerts, to find out when their support helps most. Will you join them? (Read our privacy policy.)
Donate to support this work