Our century-old power grid needs an upgrade.
By investing in it, we can lay the foundation for a clean energy future. A modern grid is more efficient, making better use of renewable sources of energy and harnessing many of the same digital tools we use to communicate.
Power outages in the U.S. cost customers billions of dollars each year. Weather – the main culprit – has increasingly affected the grid over the past 20 years, a trend that will likely continue.
New sensors, wireless technology and "set it and forget it" energy management tools – along with more access to energy data – enable utilities and the customers they serve to waste less energy and gain more control over their electricity use and costs.
The outdated grid vs. the modern grid
| | Outdated grid | Modern grid |
| --- | --- | --- |
| Flow of energy | One way, with energy flowing from power plants to homes and businesses. | Multiple ways, allowing people to make, move and sell their own energy. |
| Customer control | Next to none, other than manually turning lights and appliances on and off. | People can preset – and control via smartphones or tablets – how and when their homes or businesses use energy. Or they can consult a third party to do so for them. |
| Automation | Utility employees physically check meters monthly to measure usage. Utilities may only know of an outage if a customer reports it. | Sensors continuously track usage and can detect and resolve problems quickly. |
Here's what will lead to a modern grid
We're collaborating with a variety of partners to develop cost-effective ways that make the electric power system more efficient. They include:
Supplying the right voltage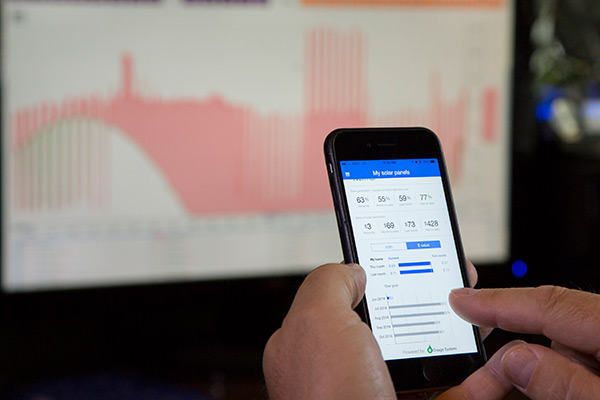 Many appliances work just as effectively with less electricity. Higher voltages generally waste energy, driving up electricity bills and air pollution.
Electric utilities can install technology, including sensors, to give people only the electricity they actually need, cutting down on energy waste.
Giving customers access to data
Nearly half of all U.S. households are outfitted with advanced, or "smart," meters, which can send readings digitally.
Such meters allow for two-way, real-time communication that gives households and utilities the data they need to cut waste and costs.
Residents of one Austin, Texas, community – who have solar panels on their roofs and use an app to track their energy use – are seeing the benefits of this kind of technology.
Their homes, part of a nationwide project studying energy efficiency in 1,200 households, need 38 percent less energy for air conditioning – compared with similar conventional houses in the city.
Measuring performance
As utilities begin to invest in smart meters and other grid-modernizing technology, they should measure success and demonstrate to customers and the public they are making the most out of these investments.
Tracking progress makes good business sense, such as monitoring:
Frequency of outages.
Level of greenhouse gas emissions.
Number of customers who can access their energy data.
Time it takes to connect renewable energy resources, such as solar power, to the electric grid.
How can we expand these changes?
Primarily, we must remove obsolete rules that govern how power companies operate – rules nearly as outdated as the power grid itself. We're working to fix these laws in places where we can have the greatest impact for people and the environment.
Get innovation updates
We'll send regular updates about developments in technology, science and the environment.