As we depend more on natural gas to produce electricity, wholesale markets where generators buy fuel to run their plants become an increasingly vital link in the energy system.
But a new analysis by a team of EDF and university economists shows these markets are out of sync.
The researchers estimate the disconnect costs families and businesses in New England an estimated $3.6 billion in artificially inflated bills over just three years.
Out-of-date, inefficient trading rules
are not only costly in themselves. They also risk saddling ratepayers with more new pipelines than they actually need, and stifle competition from cheaper, cleaner, more efficient solutions.
That's why EDF is proposing a series of important reforms to bring the market rules governing natural gas trading up to date with changes in the way we produce, supply and use electricity.
Discovering costly dysfunction
Studying more than 8 million data points along the Algonquin Pipeline, the economists discovered that utilities owned by two energy companies – Eversource and Avangrid – were routinely canceling large natural gas orders at the last possible minute, too late for that pipeline space to be resold.
In effect, they were booking tables at the hottest restaurant in town, then not showing up.
Tying up pipeline space that wasn't actually being used made supplies look tighter than they were. In fact, even in a record cold snap, there was still room to move more gas.
The appearance of a pipeline capacity crunch dramatically increased prices in the wholesale market where electric generators buy their natural gas, which in turn drove up electricity prices for millions of customers.
The companies appear to have broken no laws, and reasons for their actions are unclear. What is clear from the data is that canceling gas orders at the last minute needlessly cost electricity users an enormous amount of money.
The fact that it all seems perfectly legal is why regulations governing these markets need to be reformed.
A growing national challenge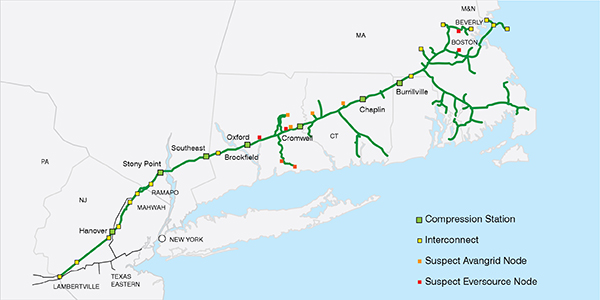 New England price spikes are a stark example of a nationwide challenge, as the share of the natural gas supply used for electricity grows.
In 2010, the share of U.S. natural gas used for electric generation was 20 percent. In 2016, it was about a third. And by 2020, it is expected to reach 40 percent.
In July, the National Academy of Sciences published a major report on grid resilience. In August, U.S. Secretary of Energy Rick Perry released a long-awaited report on electricity markets and reliability. Both documents talked about the need to study and improve the interface between gas and electricity markets.
That is why we need to address the rules governing the energy market, bring the markets up to date, and make them more transparent and more competitive at both regional and national levels.
Primary responsibility falls to the Federal Energy Regulatory Commission (FERC), which regulates both the interstate natural gas pipelines and most of the country's wholesale electricity markets.
FERC has made some changes to address the problem, but more needs to be done.
More transparent and competitive markets reduce costs and foster increased innovation. They'll also help ensure that costly pipeline capacity is used more efficiently.
EDF is proposing several reforms to make gas markets work better for all participants – pipelines and generators, as well as ratepayers. They include:
Pricing flexibility – Today's primary markets assume gas is delivered in steady 24-hour increments, scheduled a day ahead. But electricity needs fluctuate dramatically over the course of a day. Generators should be able to buy in hourly or even 15-minute blocks, in standardized markets, with transparent prices.
Better investment signals – Pricing data from this more efficient market design would also provide a better, more accurate picture of the true market need for new investment – whether in pipelines, gas storage or other solutions.
Aligning costs and benefits – Captive utility customers should not subsidize utility investors; public utility commissions must ensure utilities manage rate-based (regulated) contracts for natural gas and pipeline transportation in the interest of ratepayers who paid for them, rather than shareholders who didn't.
Mismatched market raises bills
Researchers found that most utilities make slight adjustments to their scheduled capacity over the course of the delivery day, around 5 to 15 percent in either direction.
But Eversource and Avangrid consistently over-ordered, making large, last-minute downward adjustments of 10 to 50 percent in the final hours of the trading day, when that pipeline capacity could not be reallocated.
There's no question the behavior occurred, and that it had a big effect on ratepayers, whether anybody intended it to or not.
In the end, the reason doesn't matter: If we had the rules right, it wouldn't have happened. And if we fix the rules, it won't happen again in the future.
Are more pipelines the answer?
The debate over new pipelines (and who should pay for them) is a growing issue in utility markets around the country.
Because gas and electricity markets are not better coordinated, we don't know what the true need is. Nor do we have any reliable way to know whether pipelines – which are expensive and take time to build – are the best, most cost-effective way to meet that need.
That's because the wholesale gas markets currently do not provide transparent and precise price signals.
In New England, companies including Eversource are asking electricity ratepayers, instead of investors, to bear the financial risks of building a new pipeline.
The reason: Electric generators are not signing long-term contracts for new pipeline capacity. This is a good indicator that the cost exceeds the benefits.
In practice, there might be any number of faster, cheaper, cleaner ways to meet demand, especially in cases where capacity is only genuinely constrained a few days a year, when demand for gas to heat homes and businesses is highest.
For example, it could be less expensive to pay people to lower their heat a few degrees, or to compensate businesses for scaling back their second or third shifts a few days a year.
It could be gas storage or liquid natural gas (LNG), or addressing peak demand on the electric side, or even new, utility-scale battery systems. Or energy efficiency and demand response.
Or it's possible that more pipeline capacity really does make economic and environmental sense.
A more competitive, transparent market will go a long way to sorting out those questions.
Energy technology is changing fast. Over-investment in expensive infrastructure designed to operate for decades can end up locking in fossil fuels longer than necessary, and locking out cleaner, more efficient energy solutions, too.
But without an efficiently functioning market, it's impossible to tell. And that's not how this country should be making long-term, multibillion-dollar infrastructure commitments.
Updated: November 2018