Leaks and intentional releases of methane pose an urgent problem.
Methane — the main component of natural gas — is a potent climate pollutant that warms the atmosphere. And if you're near a well or leak, toxins that escape at the same time contaminate the air you breathe.
That's why in 2016, the Environmental Protection Agency finalized rules that regulate methane emissions from a major source, the oil and gas industry.
But those safeguards are in jeopardy.
How is the EPA attacking the safeguards?
The EPA has proposed weakening requirements for finding and repairing methane leaks [PDF] at oil and gas facilities, even though the EPA found the current standards are more cost-effective than the agency expected.
Another proposal the EPA is pursuing could eliminate direct regulation of methane altogether from the oil and gas sector.
These moves would keep the vast majority of oil and gas facilities free from oversight for years, and move away from addressing the industry's ongoing damage to the climate.
Rollbacks would weaken standards for wells in these areas: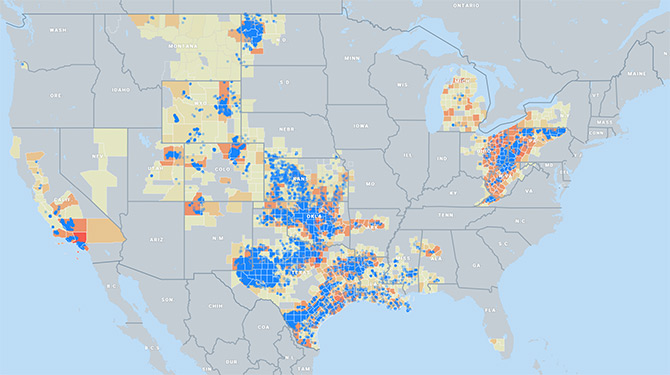 What's the harm?
The EPA is ignoring its own data, which estimates that without the safeguards far more pollutants would be released by 2025, including:
480,000 more tons of methane.
120,000 more tons of smog-forming compounds.
4,700 more tons of hazardous air pollutants, such as cancer-causing benzene.
New EDF-led science shows the oil and gas industry emits much more methane than we thought. If we want to avert the worst effects of warming, we need to tackle methane head-on.
Industry leaders oppose the rollbacks
Companies are increasingly realizing that reducing methane emissions is key for natural gas to have a role as we transition to a low-carbon economy.
Shell, ExxonMobil, BP and Equinor recently spoke out in support of nationwide direct methane regulation, with Shell even urging the EPA to tighten standards.
How else are we targeting methane?
Beyond defending the federal safeguards, our work in Colorado, Pennsylvania, Ohio and California is paying off as those states show what's possible.
We're also pioneering better ways to find leaks and encouraging cost-effective ways to contain them.
They include a partnership with Google Street View cars to map methane leaks in multiple cities and our Mobile Monitoring Challenge, which is bringing the next generation of sensors to market.
From multiple fronts, we're focused on tackling methane emissions to address climate change, cut waste and protect American families.
Act when it matters most
Every day more than 60 people sign up for news and alerts, to find out when their support helps most. Will you join them? (Read our privacy policy.)
Donate to support this work