Hurricane Sally made landfall on the Alabama-Florida border this week, delivering a deluge of 'historic' rainfall as it moved onshore. At present up to 30 inches have already fallen in several areas, with combined surge and rainfall causing flooding across the Eastern Gulf Coast and moving inland.
While storm surge from hurricanes is often a significant cause of devastating flooding, intense rainfall is increasing those risks, including for communities far beyond the coast. Scientists have found that hurricanes are moving more slowly, which leads to more rain dumped over one area. At the same time, climate change is increasing moisture in the atmosphere, creating greater downpours during hurricanes, thunderstorms and other heavy rain events. In the southeastern U.S., there is around 30% more rain falling today during heavy downpours than in the late 1950s, and the number of 2-day heavy rainfall events has increased by around 60% since the early 1900s.
According to a new Datu Research report commissioned by EDF, the cost of billion-dollar weather disasters, including hurricanes and floods, has quadrupled since 1980. And a recent analysis by First Street Foundation found that more properties in the U.S., approximately 14.6 million, are at risk of flooding than ever before.
As climate change drives more intense hurricanes and increases rainfall, we need bold action today on the climate crisis and to build greater resilience to protect people and property from the effects of extreme weather.
Hurricanes deliver historic rainfall and damages
In 2017, Hurricane Harvey caused $130 billion in damages, inundating Houston and communities across southeastern Texas with a record-breaking 70 inches of rain. Scientists note that this intense rainfall was worsened by climate change, finding "human-caused climate change made record rainfall over Houston around three times more likely to occur and 15 to 38 percent more intense."
North Carolina has also experienced more than its fair share of disasters, having been hit by 20 separate, billion-dollar hurricanes since 1980. Most recently, Hurricanes Matthew and Florence delivered a one-two punch to the state that extended far beyond the coastline. Extreme rainfall from the storms caused water to flow downriver destroying homes, livelihoods and communities.
Disasters like Harvey, Matthew and Florence almost always hit low-income areas and communities of color hardest, compounding existing social, racial and political inequities. These storms are an urgent call to action to build greater equity and resilience before disaster strikes.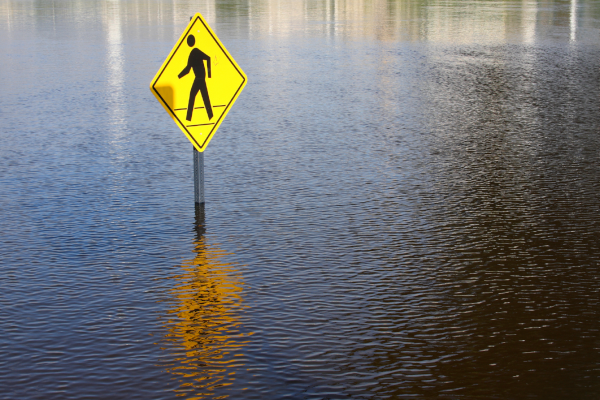 Heavy downpours are also an increasing threat
It's not just hurricanes that deliver excessive rainfall and cause massive flooding — non-tropical thunderstorms and other heavy rain events do as well.
Our nation's systems for draining and managing water are antiquated and ill-equipped to handle the new normal of these climate-driven, super-soaker rain events. Streams, rivers and creeks quickly reach capacity, overtopping their banks and flooding communities and businesses that were never previously flooded.
The Midwest has experienced several years of back-to-back floods that have devastated communities and crops. In 2019, floods inundated millions of acres of agricultural lands, causing $10.8 billion in direct damage and making it one of the costliest U.S. inland floods on record.
As the water flows downstream, it poses a grave threat to places like New Orleans. In response, the U.S. Army Corps of Engineers has operated the Bonnet Carré Spillway — a structure built after the Great Flood of 1927 to relieve pressure on Mississippi River levees — an unprecedented five times in the last five years. That includes for the first time doing so twice in back-to-back years and twice in the same year. What the Army Corps of Engineers designed as an occasional relief valve, climate change has made a near-annual necessity to protect 1 million people in Louisiana from these floods.
How can we handle all this water better?
We must act proactively and make investments that build greater resilience to extreme weather before disaster strikes, as every dollar invested before a disaster saves the country $6 dollars in recovery.
To build resilience and rebuild better, we must prioritize natural infrastructure for its ability to absorb water and limit flooding from riverine to coastal communities. In response to recent hurricanes, North Carolina enacted legislation that helps the private sector to move these projects forward more efficiently, to limit flooding to communities and farmlands. Louisiana is advancing diversion projects upriver from New Orleans that would take water off the Mississippi River, limiting use of the Bonnet Carré Spillway while also restoring vital wetlands. In the Midwest, farmers are using innovative techniques to limit runoff and better protect crops from the shocks of extreme weather.
Through all of this, the most vulnerable communities must remain a priority for action, particularly before disaster strikes. Since Harvey, EDF has worked with partners in Texas to develop an innovative database that has compiled the needs of more than 25,000 residents in order to mobilize action and advance policies that help communities with disasters ranging from hurricanes to air pollution to COVID-19. We still need to do more.
An urgent call for climate action and resilience
The sad irony is that while Sally dumps damaging amounts of rain on the eastern part of the country, drought-fueled wildfires ravage the western U.S. These inverse extremes represent the reality of climate change in our country and should mobilize us all to act on climate now.
That means moving the U.S. to a 100% clean economy no later than 2050. It also means making large-scale investments to adapt to the extreme weather already occurring. The cost of inaction is too great to bear any longer.