As the latest round of international climate talks takes place in Madrid, negotiators face an increasingly dire picture.
A United Nations report issued just last week said the world needs to cut greenhouse gas emissions 7.6% per year for the next 10 years to meet the goals countries agreed to in the 2015 Paris accord. That's compared to a 1.5% yearly growth rate over the past decade.
Climate change is now a present-tense problem: weather events of unprecedented intensity, average temperatures in the Arctic at record highs, raging wildfires.
It's no secret that the commitments the nations of the world made in Paris four years ago will not produce sufficient emissions reductions to avoid dangerous warming; the intent was always to increase ambition over time. But the U.N. report makes it painfully clear that countries need to be moving farther and faster.
Getting aggressive with carbon dioxide is only part of the job
The challenge is to stop putting carbon dioxide into the atmosphere, alongside aggressive steps to capture and sequester whatever emissions cannot be avoided. Breaking our dependence on fossil fuels — especially coal, but also oil and natural gas — is key.
Fortunately, there are energy and transportation options increasingly available to the world that don't emit carbon dioxide, and we must move quickly to bring them to market.
But reducing carbon dioxide is only part of the job. To slow the rate of warming quickly, we must also take aggressive steps to reduce a second set of greenhouse gases known as "short-lived climate forcers."
As their name implies, they don't last long in the atmosphere, but they are far more powerful at driving warming than carbon dioxide itself. The most abundant of these short-lived climate villains is methane.
Why reducing this greenhouse gas is critical
Methane — the main component of natural gas — has over 80 times the warming power of carbon dioxide for the first 20 years after release.
An emphatic report last year by the Intergovernmental Panel on Climate Change made it clear that reducing near-term pressure on global temperatures is critical to avoid dangerous thresholds.
Research has shown that the fastest, most cost-effective way to start reducing these emissions is by tackling the vast amounts of methane escaping from the world's oil and gas operations.
A ministerial event hosted by the U.N. Climate and Clean Air Coalition ahead of September's Climate Action Summit put oil and gas methane at center stage, launching a new Global Methane Alliance to help countries — both producers and consumers of oil and gas — integrate methane reductions into their Paris Agreement commitments next year.
At the event, EDF President Fred Krupp invited countries to join the alliance and make methane an explicit part of those commitments.
Here's where we see progress and opportunity
Methane will be a key topic at the global climate conference now underway in Madrid. Several country events hosted by China, Nigeria and the European Union will spotlight the global significance of reducing oil and gas methane emissions, and how countries can increase their ambition by incorporating oil and gas methane abatement into their Paris Agreement commitments before the next round of global climate talks in Glasgow, Scotland, next year.
Also at the Madrid conference, you can expect to hear about the next frontier of the climate fight: space. Just last week, the European Space Agency received 14.4 billion euros ($15.9 billion) from the European Union to expand its space program with a climate focus.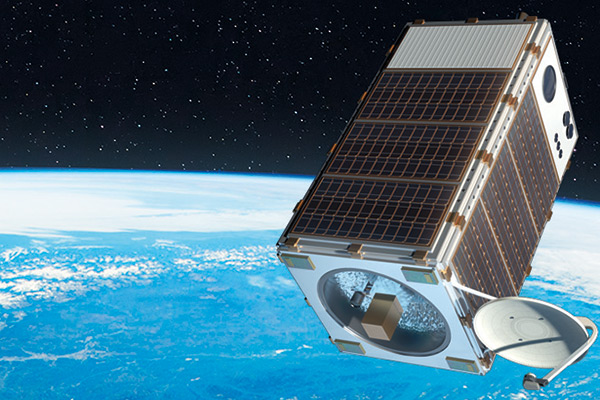 This follows New Zealand's recent announcement that it will enter space for the first time by becoming part of MethaneSAT, a unique satellite mission that aims to identify and monitor methane emissions from space — a tool we intend to use to speed oil and gas methane reductions worldwide.
At the same time oil and gas methane is hitting the Madrid agenda, it's also moving to center stage in Brussels, where methane legislation is gaining momentum in the newly seated European Parliament. Italian regulators are also addressing emissions from transport, storage and gas distribution.
Worldwide, oil and gas companies release an estimated 75 million metric tons of methane each year. The International Energy Agency estimates these emissions can be cut by 75% using existing technologies, and that two-thirds of that can be achieved at no net cost.
The no-cost reductions alone would have the same climate benefit as immediately shutting all the coal-fired power plants in China.
The bottom line is this: While the world must dramatically accelerate efforts to reduce carbon dioxide pollution, including a move away from fossil fuel dependence, there is a step we can take to have a major impact on the rate of warming now.
Reducing oil and gas methane emissions is simple, it is feasible and it is cheap. It is time countries realize this, make commitments and take action. We don't have a moment to lose.