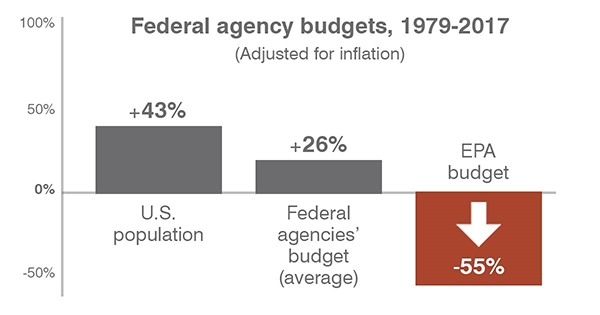 Editor's note: A longer version of this post first appeared in The Hill.
When Donald Trump rolled out his budget, which cut the U.S. Environmental Protection Agency more than any other department, he said his goal was to shrink our "bloated federal bureaucracy."
He clearly meant to leave the impression that the EPA had gotten too big and costly. Not surprisingly for a president who just told his 2,000th lie in less than a year in office, this rationale is flat-out wrong.
Far from growing too big, EPA's budget has been devastated. Other than a bump in the early Obama administration, the agency's funding has been in a downward spiral for the past four decades.
100 million more Americans – but a decimated EPA
Contrary to Trump's implication, EPA's budget in real dollars is now less than half of what it was in the late 1970s – even as our population since then increased by 100 million people and our economy doubled in size.
It means that with many more people and businesses, the agency has far fewer resources to protect clean air and water, deal with toxic waste and chemicals and protect our health.
Not only that, Congress has repeatedly added to the agency's responsibilities. Since 1979, there have been at least a dozen major new and necessary laws the agency must enforce – such as the Superfund to clean up toxic waste, the Oil Pollution Act, the Food Quality Protection Act, as well as updates to laws on safe drinking water and clean water.
The Office of the President grew by 43%
Meanwhile, the EPA's funding dropped 55 percent in real dollars. These cuts are not merely the result of general reductions in government. Over the same period – 1979 to 2017 – the average federal agency's budget has increased by 26 percent.
Overall, 18 agencies, departments or branches of government saw real increases. The Executive Office of the President, for example, grew by 43 percent, the Department of Commerce by 29 percent, and the Department of Justice by 117 percent.
All do important work, but the discrepancy in agency funding levels illustrates what's happening at the EPA.
EPA now at a breaking point
The fact that the EPA has managed to make our environment dramatically cleaner, helped states provide clean drinking water, and saved 100,000 lives a year by reducing pollution is remarkable.
It's done so by implementing efficient safeguards, holding polluters accountable, and by working closely with states and business to find the best way to protect human health. But there comes a point where money can't stretch any further.
The idea that the Trump administration now wants to reduce the agency's budget another 30 percent – as the House and Senate are also considering serious cuts – is reckless.
Reducing funding for clean air monitors, state anti-pollution programs, and toxic waste cleanup would be a disaster. It would lead directly to more smog and asthma attacks, more toxic chemicals and cancer in our lives, and more climate pollution threatening our future.
Our leaders need to tell the American people the truth: The EPA's budget has been devastated for decades and it's time to fully fund the agency on which we all depend.
Get policy and political updates
Friday digests from our staff keep you up to date on the week's events.
Thanks for subscribing to In case you missed it