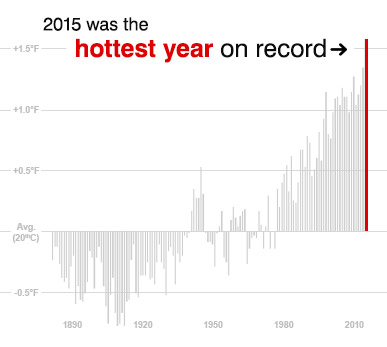 This post was co-authored by Scott Weaver, a senior climate scientist and expert on climate variability and extreme weather events. It was updated on Jan. 20, 2016, when the U.S. National Oceanic and Atmospheric Administration and NASA reported that 2015 was the hottest year since record-keeping began. 
We just came off an exceptionally warm December in what was Earth's hottest year in recorded history. Is climate change finally hitting us full force?
As so often with science, it's more complex – especially with a strong El Niño in the mix. Here's what's going on, and why.
2015: A year of climate firsts
Scientists announced on Jan. 20, 2016, that 2015 was without a doubt the hottest year on record. It was also the first year that global average temperatures exceeded 1 degree Celsius (1.8 degrees Fahrenheit) above preindustrial times, and the first year that carbon dioxide concentrations exceeded 400 parts per million.
As the climate warms, the odds for extreme heat events increase.
During the summer of 2015, a nearly two-month long heat wave killed more than 2,300 people in India, while on July 31, the Iranian city of Bandar Mahshahr recorded a heat index of 163 degrees Fahrenheit, a staggering number.
While El Niño contributed to the warming…it only played a minor role in the end.
More recently, in December, there were about 3,000 record daily highs tied or broken across the United States, dashing hopes of a white Christmas. More alarming, the North Pole finished the month experiencing temperatures that were 50 degrees Fahrenheit above average.
The record heat has also led to more moisture in the atmosphere, which fuels extreme events such as the recent heavy downpours, flooding and snowstorms in the U.S.
But natural cycles are also playing a role.
El Niño gave warming a boost
What's going on now, in fact, is the opposite of the so-called "warming hiatus" a few years ago, a temporary dampening of global surface temperatures that was partly the product of natural climate cycles enduring cold phases.
While increasing greenhouse gas emissions from human activities have relentlessly continued to trap more and more energy in the climate system, natural climate cycles can slow warming – just as they will switch from a cold to a warm phase, causing the rate of global warming to suddenly accelerate.
This acceleration is exactly what we experienced in 2015: The development of a strong El Niño – a natural climate cycle that is associated with a warm eastern Pacific and overall warmer world-wide temperatures – gave human-caused global warming a boost.
When natural variability and climate change work together, they can also produce extreme events. One study linked the extreme flooding in Texas in May to both natural and human influences, where El Niño and a warming climate combined to supercharge the El Niño effects over the southern U.S.
El Niño brought just 5% of warming
Here's our reality check: Even with this most recent, natural climate cycle, human emissions of greenhouse gases accounted for 95 percent of last year's record heat. (Look for more of an influence in 2016 as El Niño has a delayed impact on global temperatures.)
So while El Niño contributed to the warming this past year, it only played a minor role in the end.
What's more, El Niño has virtually no temperature signal in northeastern U.S., so the record-breaking warm weather in this region during the Christmas week is highly consistent with expected impacts from human-caused climate change.
The fact that human-emitted greenhouse gases dominate the warming signal means that the warming is here to stay – unless we set ourselves on a better path.

A breakthrough amid the alarm
Thankfully, 2015 was also the first year that 195 countries and the European Union committed to an unprecedented global agreement to tackle climate change.
There are many reasons to be hopeful, and with the Paris climate agreement setting the tone, 2016 is already poised to be a landmark year for environmental action.
Here are the top five reasons why we expect this new year will accelerate progress.