I recently had the pleasure and privilege of attending Google's Geo for Good User Summit, where a smattering of geography and mapping professionals from various non-profit institutions gathered for training on some of the latest game-changing mapping products. Thanks to the folks at Google Earth Outreach, one of the fascinating new tools we explored was Google Earth Engine's timelapse viewer, which uses captivating satellite images covering a 28-year period to dramatically illustrate changes on our planet. Below you'll find a few of the more shocking and interesting sights I've found using the tool. I created these using Randy Sargent/Gigapan's excellent timelapse tour editor.
Our first stop will be the state of Rondônia in Brazil, where we will look at deforestation, a serious and global environmental problem exacerbating the impacts of climate change, biodiversity loss and soil erosion. Brazil has made great strides in the past decade to reduce Amazonian deforestation; nonetheless this region's rainforest underwent massive logging in prior years, losing roughly 33% to date of its initial 208,000km2 area. A large portion of this can be observed through timelapse (Note: The timelapse videos below work best in Chrome and other fully updated browsers):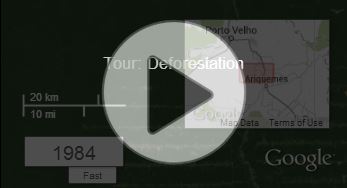 The next stop is Martin County in Kentucky. In this region as well as in many neighboring states, coal is mined using a method called mountaintop removal. As the method's less-than-subtle name implies, coal is obtained by, yes, unearthing and sifting through entire mountains. The timelapse below allows us to see what this aggressive extraction technique looks like from space: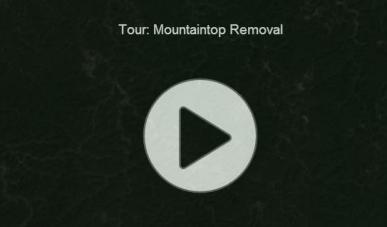 For the following sequence, we will remain in the USA and head over to the west coast: Grant County in the state of Washington. My work to date on rice farming has taught me a great deal about the dynamic nature and complexity of managing croplands. Seeing examples of this such as crop rotations, in such a beautiful and artistic way from the skies, is quite enthralling: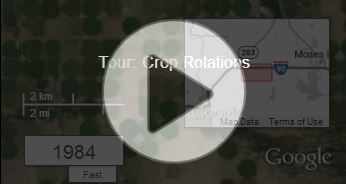 Finally, for the last scene I'd like to hearken back to a recent post exploring some of the intricate patterns of human settlements and growth in natural systems. A nice complement can be seen in the following timelapse and image of Shanghai, China, showing how quickly this city has developed since the 1980s: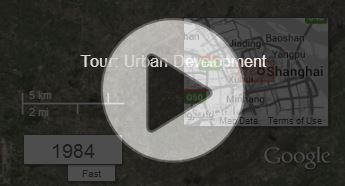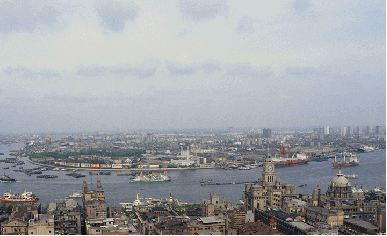 What is clear from these images is that we are changing the planet in more ways than one. Seeing the Earth from space not only provides visual confirmation of these changes, but also importantly underlines the need to find ways to have a more sustainable relationship with our one and only home.