Keeping the lights on: Can batteries save California?
Quick takes:
After a bone-dry winter and hot spring, Californians are once again facing a summer of heightened wildfire threat. 
The hot, dry conditions that fuel wildfires also threaten to disrupt electricity service for millions.
A 2010 law requiring California utilities to beef up their battery capacity is finally paying off. 
But more batteries are needed, fast, to move away from fossil fuels and help keep the lights on.  
Climate change is making heat waves and drought the new norm for California. The hot, dry weather fuels wildfires and puts unprecedented pressure on the electric grid. Will blackouts also become the new normal?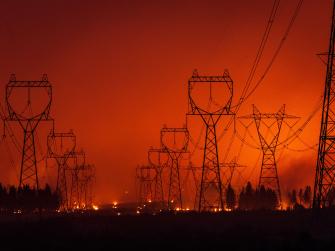 An estimated 2.5 million people lost power in October 2019, when dry, windy conditions prompted the state's largest utility to preemptively shut off service to avoid sparking wildfires from downed transmission lines. In August 2020, a widespread heat wave led to rolling blackouts affecting 1 million California customers, as imported electricity supplies waned and demand soared. 
But just a year later, under similar pressure in July 2021, California was able to keep the lights on.
What made the difference? A near ten-fold increase in battery storage. 
How batteries prevented a blackout
California passed legislation back in 2010 to spur utilities to increase their battery storage capacity. It took a decade for the technology to take root, but last summer, batteries proved their worth.
In June 2021, a heat wave sent electricity demand soaring once again. To make matters worse, Oregon's Bootleg Fire disabled three of the four major transmission lines that deliver power to California. But this time, as grid operators scoured the state for juice, they found it. 
On cue, batteries parked in warehouses, substations and solar farms drove 1,000 megawatts of power back to the grid — enough to meet the immediate need of more than 750,000 homes, staving off disaster.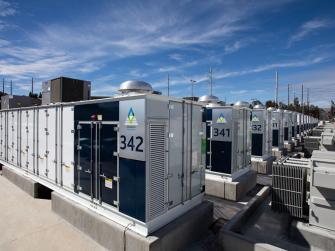 This summer, California is expected to double its 2021 battery capacity to almost 5,000 megawatts, but still, state energy planners recently warned that under extreme conditions, more power outages are likely, possibly for several years to come. Even though California's battery growth is accelerating, so are the impacts of climate change. 
Some folks are taking matters into their own hands.
The Warnecke family of Kensington, California, installed a rooftop solar and battery system in their home in 2019, after their utility announced it would introduce public safety power shut offs due to wildfires.
Their system powers the family's 3,000-square-foot home, charges an electric car and sells excess energy back to the grid. 
"We'd been thinking about solar for a while, but those public safety outages were the push," says Edna Warnecke. "Now we feel more secure. And our house can be the one where neighbors go to charge their phones or refrigerate their medication." 
Building a 100% clean grid for all 
Batteries do more than provide backup power. They help bring more renewable energy onto the grid. That's because batteries even out the intermittent flow of power from renewable energy. They fill up and store charge when wind and solar production is plentiful and cheap, and discharge electricity when demand is high. 
As California moves toward its goal of a 100% clean electric system by 2045, it will need even more battery power, from utilities as well as residential systems like the Warnecke's. But not everyone can afford the up front costs. After state and federal rebates, the Warneckes still paid nearly $14,000 for their system.
Michael Colvin, who directs California energy policy for EDF, helped design a state grant program to help lower-income customers install batteries. Another program he's working on would allow customers to pay back the cost of a battery directly on their utility bills — an affordable, bank-free loan that also helps clean up and fortify the grid.
"Everyone should have access to affordable, clean, safe, reliable electricity," he says.
As climate change brings the western U.S. into its 22nd year of drought, California is accelerating its clean energy transition, with a new target of 80% clean electricity by 2030. Batteries and and other technologies like clean heating and cooling, and even electric vehicles, can help reach that goal. 
"Smart technologies can both improve grid reliability and bring more clean energy onto the grid," says Pamela MacDougall, who leads grid strategy for EDF. "But people are already facing power outages. We need to act now to deploy these solutions where they're most needed."
A version of this article appears in the Summer 2022 issue of EDF's Solutions magazine. Join EDF and receive the magazine for free!