It's the biggest climate conference of the year. But what does COP actually accomplish?
A conversation with climate policy expert Angela Churie Kallhauge
Date updated:
Right now, 200 world leaders are in Egypt for the United Nations' 27th annual climate conference, often referred to as COP.  
But as we experience a growing number of climate-related disasters, and scientists tell us we're not on track to limit warming in line with the goal of the Paris Agreement, it's natural to wonder: Do these talks actually accomplish anything?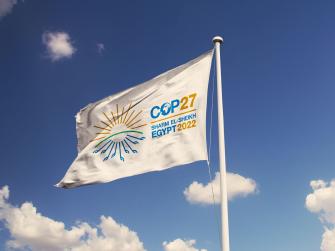 We asked Angela Churie Kallhauge, head of impact for Environmental Defense Fund, that question – and more – to give you a behind-the-scenes look at the biggest climate conference of the year.
Prior to joining EDF, Kallhauge negotiated at COP on behalf of Sweden and the European Union. She also led the World Bank's leadership coalition on carbon pricing.  
Let's start with the basics. What happens at COP?
COP stands for the Conference of the Parties to the UN Framework Convention on Climate Change. It's a meeting where governments get together to discuss progress on climate change action and agree on specific targets and goals. In addition to the political negotiations, non-state organizations and the business community also gather to showcase what they are doing on issues pertinent to their constituency, and to pressure governments to do more. So, over the years, it's grown from being all about the negotiations to being a forum where the whole world meets together to focus on what we can collectively do about climate change.
Critics see this meeting as a gathering of world leaders who are all talk but no action. Is that a fair assessment? What has been accomplished because of these talks?
It's a gathering of world leaders to discuss and consider what action needs to be taken, that's true. But it's also incumbent upon each of these leaders to go back to their home countries and do something. This meeting is an important way to hold leaders accountable, and we've seen countries raise their ambition because of these talks – not least the U.S. with the Inflation Reduction Act, Australia also has a new climate change plan, and South Africa is in the process of finalizing the details of a just energy transition. So I think it's a bit unfair to say it's just a gathering of talking but no action.
This year's event is in Sharm El Sheikh, Egypt. How does the location influence the tone and agenda of the meeting?
The ravages of climate change are already being felt all over Africa. Just this year, there were devastating floods in Nigeria and in Cameroon. Those floods didn't make international headlines, but they are in the headlines for the people in those countries. Having COP in Africa helps us focus on those issues and gives us an opportunity to address issues around adaptation and the loss and damage caused by climate change.  
What does "loss and damage" mean?
Loss and damage refers to the impacts of climate change that we are unable to recover from after we've done everything we can do to reduce emissions and adapt. The reality is that climate change will cause damage that we will be unable to recover from. For some countries, like small island nations, this is going to be very, very significant. We will lose ecosystems and valuable infrastructure. Areas will become uninhabitable, which will mean economic losses and a loss of culture and heritage.
If the world had done more to mitigate climate change a decade ago, we could have minimized the scale of these losses. But, at the point we're at now, we have to contend with the fact that there will be some permanent losses. When this happens, what needs to be done to help these communities and economies cope? Where will they resettle their populations? This issue is contentious because we are struggling with what can be done in such a context. How do we help the most affected countries cope?
What will it take for nations to come together and make progress on loss and damage?
We need to do three things simultaneously. First and foremost, countries need to honor their mitigation commitments before the risks of a changing climate increase to a point that we will be unable to cope, and therefore face significant permanent loss. Second, we need to equip vulnerable countries with the tools they need to assess their risk and help them respond. And third, we need to strengthen global solidarity to help countries as they try to recover and deal with losses.
Will America's midterm election have any influence on the meeting?
Ideally, no, given that the U.S. has already made a very bold step forward with the Inflation Reduction Act, which includes $369 billion to fight climate change. That is unprecedented in scale in recent years, and shows a strong commitment from the U.S.
What is EDF's role at COP27?
EDF is there to bring attention to the solutions that can help us accelerate the energy transition by 2030, as well as solutions that ensure resilient livelihoods. It's also an opportunity to meet with different stakeholders and explore areas of collaboration so we can make a bigger impact. And, of course, we'll follow the governments' negotiations closely and identify areas where we can contribute or give context to the questions on the table.
What's the best way for activists to push for more just and ambitious goals and implementation programs at COP27?
Activists play an important role by bringing an on-the-ground perspective to COP so people understand the context in which all this political conversation is going to deliver action. They provide a reality check and raise attention on key issues. COP is also an opportunity for activists to learn from one another and take that wisdom back to their home countries, where it can help them take action locally.
What would make this year's meeting a success?
I think it will be considered a success if governments make forward-looking decisions that scale up finance for adaptation and ensure meaningful support for loss and damage. And we need a clear plan to recalibrate emissions goals to the levels needed to put us back on track to meet the Paris objectives by 2030.