A game-changing partnership takes on air pollution in Latin America and the Caribbean
Sergio Sánchez is an unwavering optimist. 
It's a quality that will serve him well as he takes on a Herculean task: Tackling air pollution across 33 Latin American and Caribbean countries. Sánchez, senior policy director for global clean air at Environmental Defense Fund, is leading an ambitious partnership with the UN Environment Programme (UNEP) to achieve this goal.
We caught up with him just as he wrapped up a visit to Bogotá, Colombia — the site of EDF and UNEP's first conference — which brought together nearly 200 prominent leaders.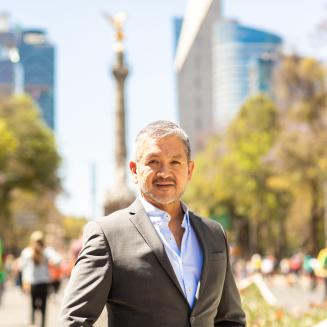 What makes Latin America's air pollution problems unique?
Around 80% of people in Latin America live in cities. And because pollution in those cities is high, it means about 500 million people are breathing air that exceeds the World Health Organization's guidelines for pollutants like nitrogen dioxide, soot and ground-level ozone. That exposes them to health problems ranging from asthma to cancer, which lead to hundreds of thousands of premature deaths. It's a major problem, but it's also an opportunity, because just a few changes would help a lot of people breathe cleaner, healthier air. 
What kinds of changes?
Improving public transportation, as well as setting and enforcing stricter regulations on emissions, are among the fastest routes to reducing air pollution. But to take advantage of this low-hanging fruit, countries and cities need to increase funding and investments. 
So EDF has partnered with UNEP to help national and subnational governments access the resources they need, while also amplifying the demand for action. Our two organizations aim to build collaborative clean air solutions across 33 Latin American and Caribbean countries over the next four years. 
That sounds daunting. How are you approaching it?
We are emphasizing regional cooperation across Latin America. So, we are initially focusing on developing networks to share knowledge and discuss opportunities to collaborate. Our second goal is to help countries and cities develop pilot projects that cut air pollution by, for example, reducing short-lived climate pollutants like soot, methane and tropospheric ozone, that harm human health and warm our planet. I hope that we can build successful case studies all over Latin America and the Caribbean that serve as an inspiration for other cities, generate more funding and show that transformational change is possible. 
What's happened so far?
Last October, EDF and UNEP hosted an international workshop in Bogotá, Colombia, which brought together nearly 200 leaders of countries, cities and civil society, as well as development partners from across Latin America and the Caribbean to discuss the current situation. We asked questions like: What have been the most important developments to control air pollution around the world? Can they be replicated? Why are efforts to combat air pollution so underfunded? What can we do to get more resources?
Our goal is to listen to local and national leaders to find out what they need, and why — and assist them to build collaborative, high-impact solutions. Some of the needs that rose to the top included strengthening air quality monitoring systems and helping countries to develop clean air actions to simultaneously achieve health and climate goals. These are the kinds of things EDF's scientists and policy experts can support, while UNEP focuses on organizing regional cooperation across cities and nations. 
What keeps you up at night?
There are still many gaps in knowledge when it comes to air quality in Latin America. Not all countries are even measuring air pollution. And, of those that are, not all are reporting it right. Without good data we can't even begin to address the problem. You can't manage what you can't measure. 
What's next?
We are moving forward. Later this year, EDF will select 10 projects to provide with technical assistance and will mobilize resources to support their implementation. As the selected projects are developed and implemented, I hope they serve as examples of what works and build excitement to spark the mobilization of funding and technical resources to help reduce air pollution all over Latin America and the Caribbean.