3 Trends in India's Climate Tech Movement
India is on a pathway toward a shared, sustainable prosperity, with the potential to be the first major economy to industrialize without increasing harm to the climate and people's health. 
 
Striking the balance between development and the environment is key. As India seeks to double most sectors of its economy, climate technology will be an important lever to avoid the doubling of emissions. 
Our local partners in India are seeing a growing movement toward climate tech innovation and identified some key contributors to continue the trend:
Unlocking pathways for private climate investment
Greater collaboration through public-private partnerships and 
A rise in technology transfers and innovation hubs.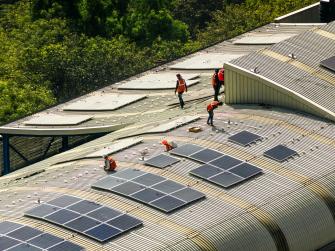 Pathways for Private Climate Investment
Prompt climate action could gain India $11 trillion in economic value, yet only $1 billion of venture capital was invested in Indian climate tech between 2016-2021. To realize the full potential of scaling climate tech, pathways for private investment must be unlocked to ensure effective and prosperous outcomes. India is starting to see more investments from international investors, including TPG Rise Climate investment in Tata Motors and Bank of America's investment in Fourth Partner Energy. As more climate funds emerge through VCs and corporate arms, India seems to be a growing part of portfolios.
Collaboration and Partnerships
Among the climate concerns in India, air quality poses a significant threat to health and quality of life. India is home to 22 of the 30 most polluted cities in the world. And yet, this environmental challenge is not experiencing the same level of innovation due to an unclear business opportunity for entrepreneurs and investors. This is where collaboration can provide great value. For example, the India Clean Air Challenge is a collaboration with the government and startup community to "identify and support solutions that can monitor, manage and mitigate air pollution at scale." State governments helped define problem statements that aligned with local priorities, and startup communities engaged innovators to deliver solutions. This type of ecosystem building is something we're seeing emerge more and more.
Tech Transfers and Innovation Hubs
Local partners mention growing demand for technical support and technology transfers around key priority areas including transportation, agriculture, and industrial processes. The emergence of corporate alliances is helping to provide a demand signal to innovators. For example, AB InBev, Coca-Cola, Colgate-Palmolive and Unilever have joined forces through the 100+ Accelerator to fund and pilot sustainable innovation in supply chains. The initiative is global, and more solutions are beginning to come from India-based startups. Additionally, innovation hubs are growing communities of entrepreneurs and showcasing more solutions for a range of climate challenges.