Check out these tips based on how we push through our own climate anxiety, so we can keep fighting climate change every day.
Cecile Brown, ​​Communications Manager, Political Affairs, Climate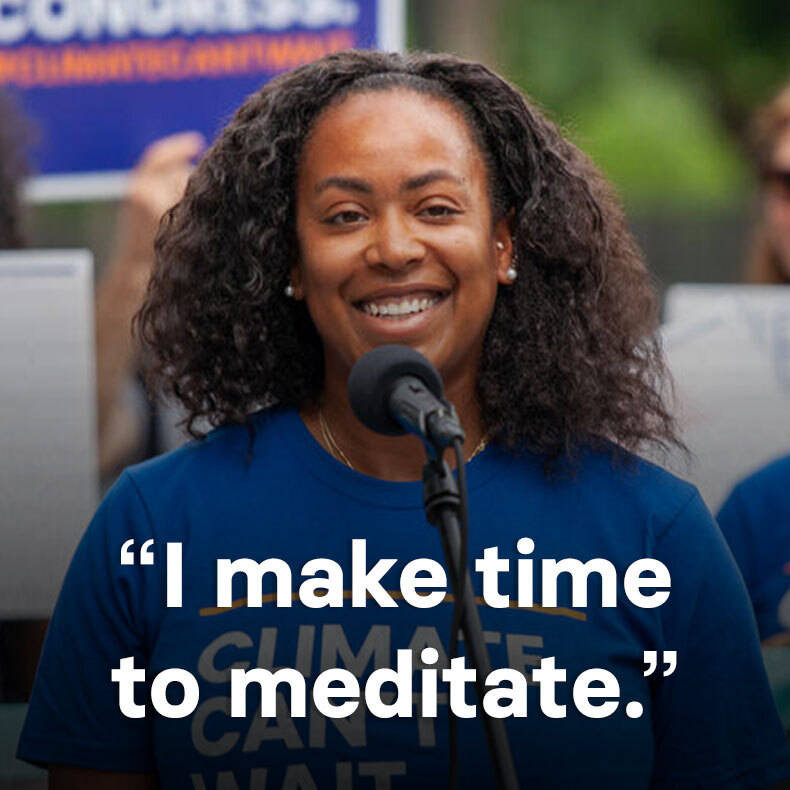 At times when I feel my eco-anxiety get out of control, I like to take a moment to close my eyes, center my thoughts and focus on my breath. This gives me a chance to enjoy the calm of being in the moment rather than worry about what may or may not happen.
I find that when I regularly practice meditation — and focus on the joys of my everyday life — it takes away from my stressors and gives me the ability to focus on my work, tackling climate change.
Matthew Welch, Executive Assistant, Office of the Chief Scientist
With the news cycle out of control, I shift my attention toward making positive change, like spending time with projects that give back to the earth. I set an intention, get my hands dirty and reflect on the feeling after having given back.
The easiest are at-home projects like composting, gardening or reusing trash in creative ways. Bigger projects, like volunteering at a beach cleanup day, provide a lasting feeling of calm and accomplishment.
Margot Brown, ​​Vice President, Environmental Justice and Equity Initiatives
I focus on educating people about the climate crisis, explaining why we must act now and vote for elected officials who believe in science. Prior to EDF, I developed climate curricula with Scholastic Inc. for the EPA.
I find speaking publicly about the climate crisis to be very therapeutic. I believe that the more we invest in establishing an educated and informed electorate, no matter their beliefs around guns and abortion rights, we can come together to address the climate crisis.
Elizabeth Gore, Senior Vice President, Political Affairs
My climate anxiety comes from the lack of urgency policymakers have around the climate crisis. My strategy is to take a step back when I start to feel like I'm cycling down the drain of despair. I don't read every terrible story or "doom scroll."
I do get outside. I do read pieces that are positive about the wonder of nature and the beauty of the world around us. I also take pride in the fact that I am doing a lot to solve the problem, not sitting on the sidelines.
Yesh Pavlik Slenk, Manager at Climate Corps and host of Degrees podcast
I use my career, through the Degrees podcast and Climate Corps fellowship program, to support professionals who promote sustainability and fighting climate change. When my girls ask me what I did about climate change, I'm going to have an answer I can be proud of.
Most importantly, I am hugging my two little girls a lot… like a lot, a lot. I can't save them from what's to come but I can make sure they feel loved and supported to do the hard work that needs to be done.
Ali DySard, Florida Programs Specialist
I surround myself with others in the community, whether at work, on local environmental boards, volunteering or contacting my representatives. This reminds me that despite the doom and gloom, there is daily progress!
Additionally, distracting oneself with reality TV like "The Real Housewives" really helps — with all its petty/laughable arguments, fancy vacations and over-the-top fashion. Climate anxiety, what?
One final tip…
When we embrace what we're fighting for rather than what we're against, we can make more progress toward our goals, like those below.
For more about climate change and mental health, read this fact sheet.
Join young people defending our climate future

Defend Our Future is building a movement of young people advancing climate change solutions to protect the world for future generations.

Fight for clean air for kids

Moms Clean Air Force is a growing and powerful team of mothers, fathers and other concerned people who fight for children's right to breathe clean air.

Stop climate misinformation

Join our Misinformation Brigade and get emails about how to spot and stop the spread of dangerous climate myths.

Get a green job to make a difference

Want to get paid to save the planet? Subscribe to our Degrees podcast to hear advice from young changemakers on how to do it.