Solutions newsletter
EDF's quarterly publication, for our members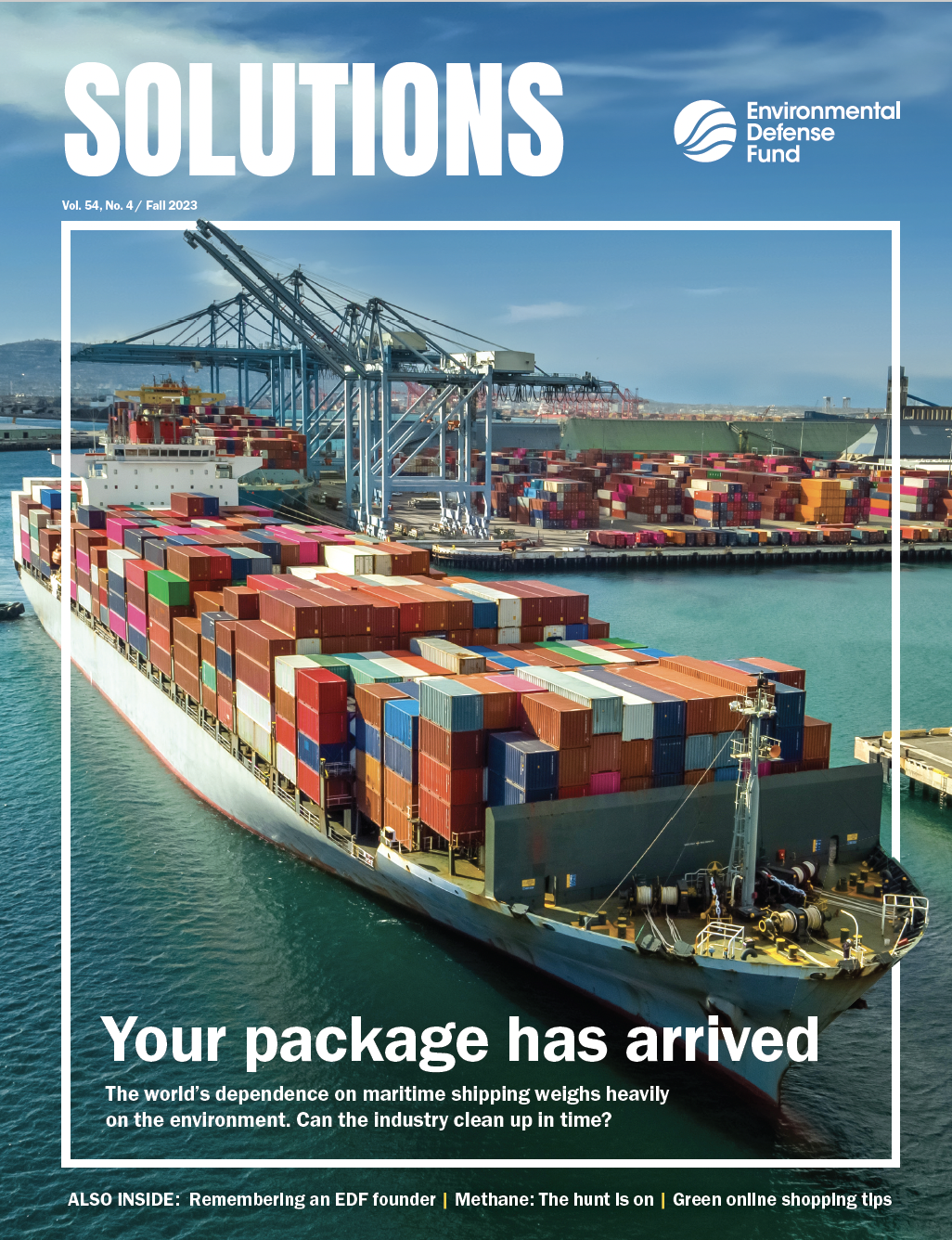 The Wilson column: Planting new hope
Also in this issue:
Field Notes: Rocky Mountain high
Setting sail toward sustainability
Green Living: Eco-conscious online shopping
Archives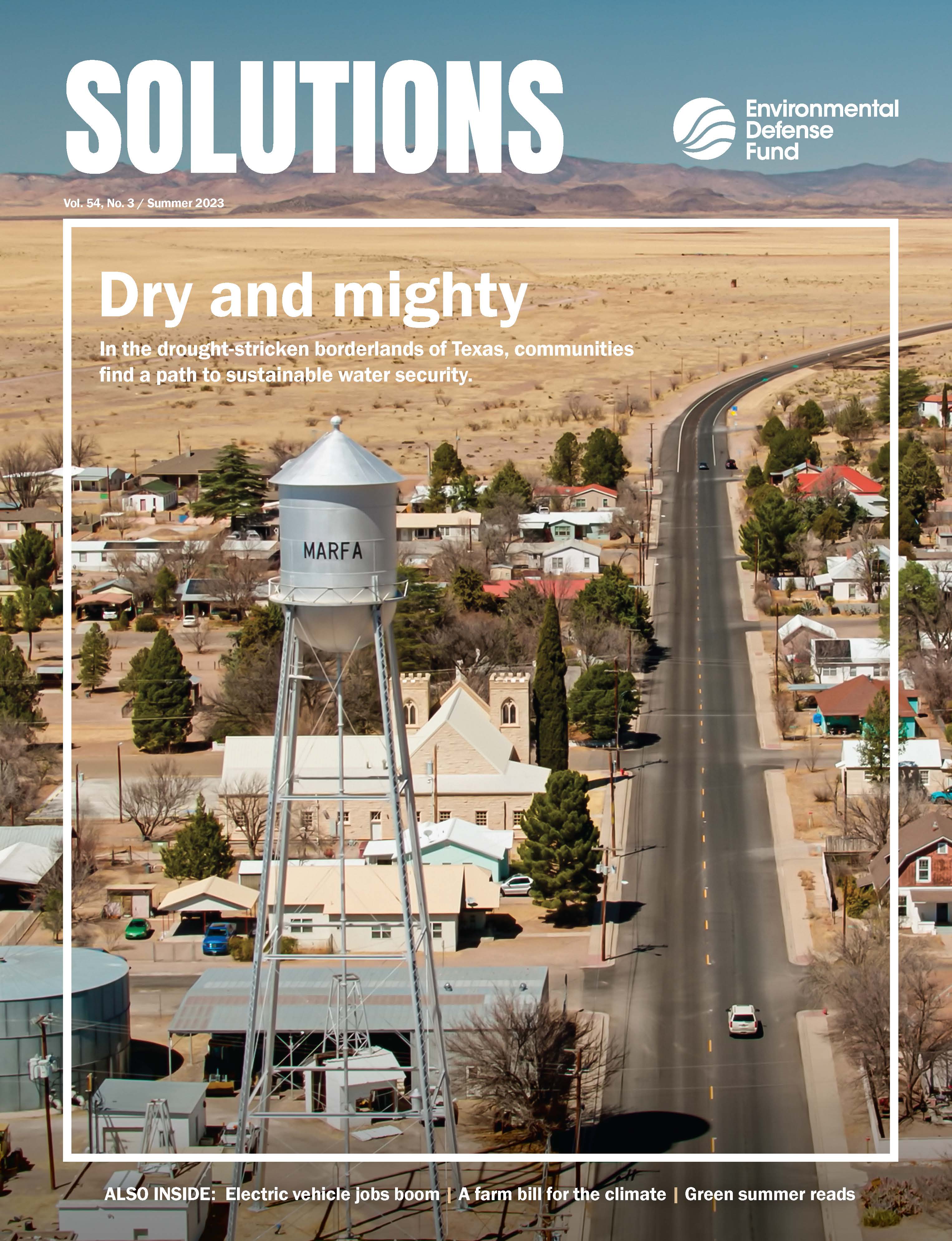 Summer 2023
In the drought-stricken borderlands of Texas, communities find a path to sustainable water security.
---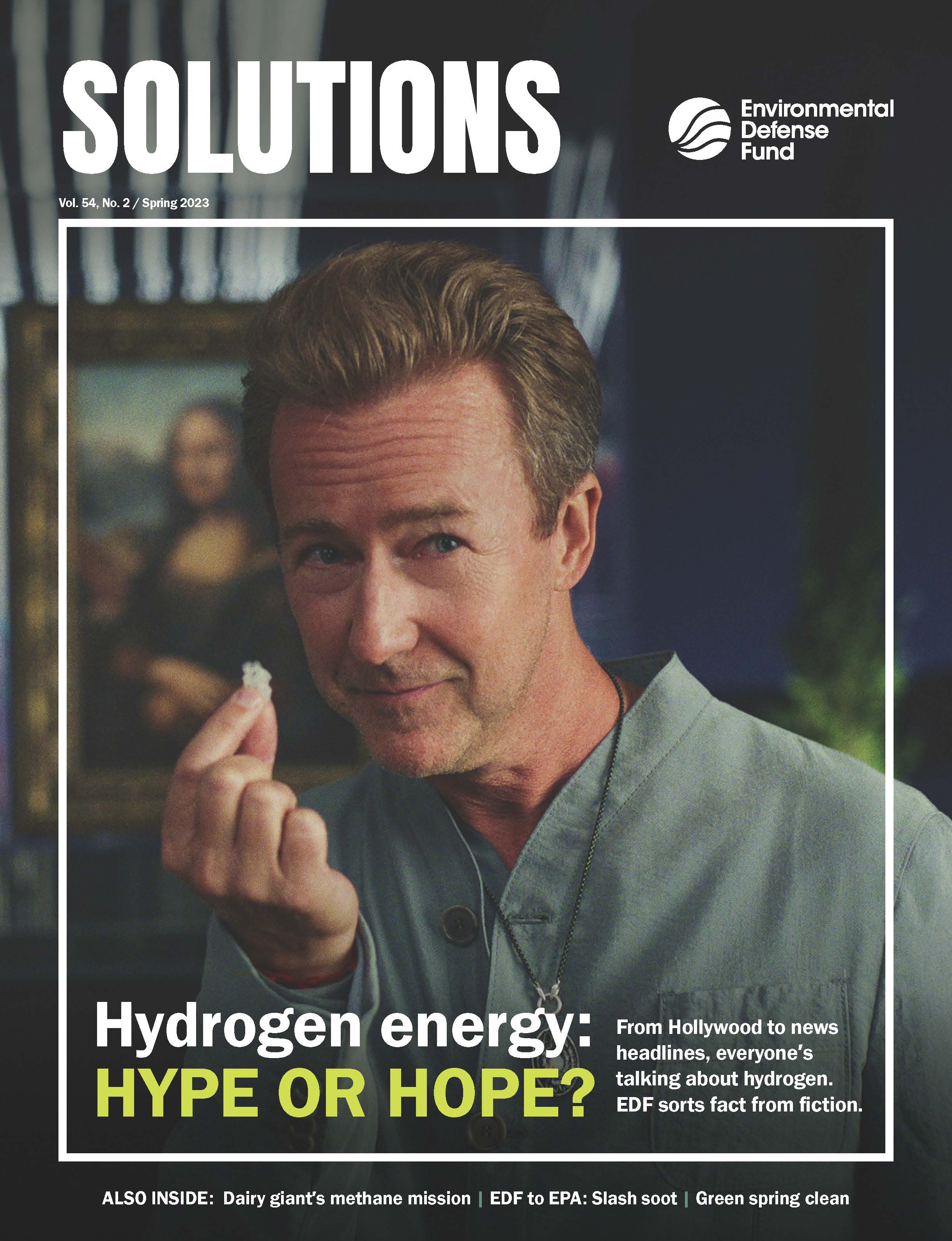 Spring 2023
From Hollywood to news headlines, everyone's talking about hydrogen. EDF sorts fact from fiction.
---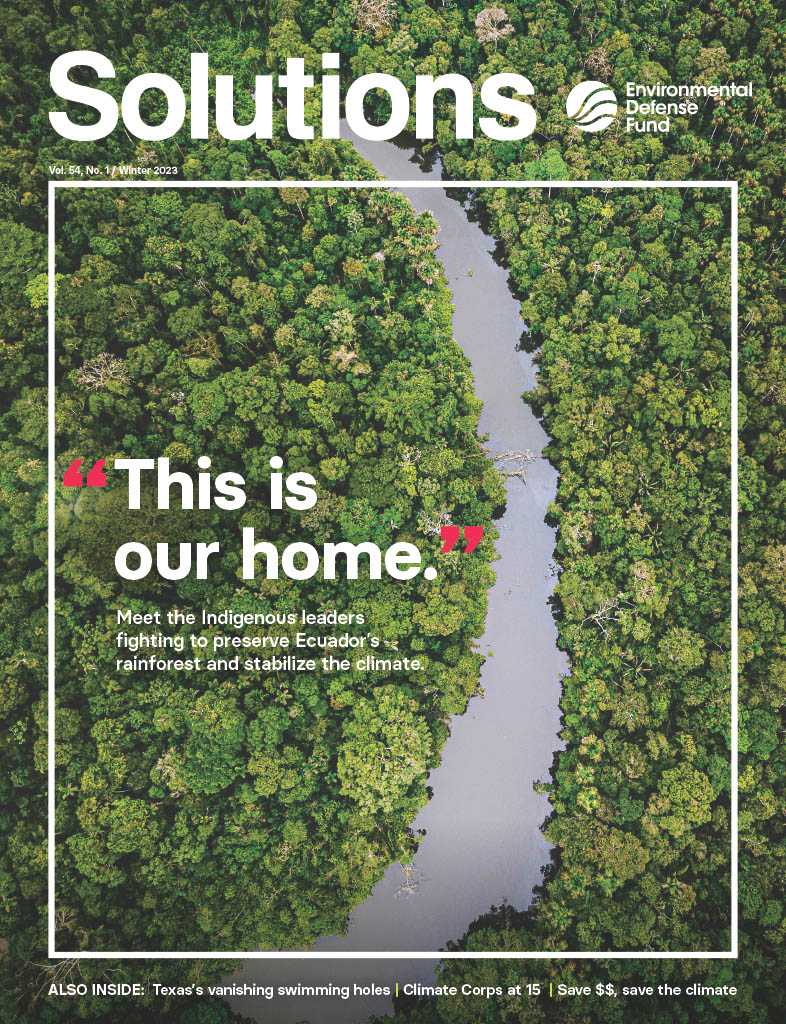 Winter 2023
Meet the Indigenous leaders fighting to preserve Ecuador's rainforest and stabilize the climate.
---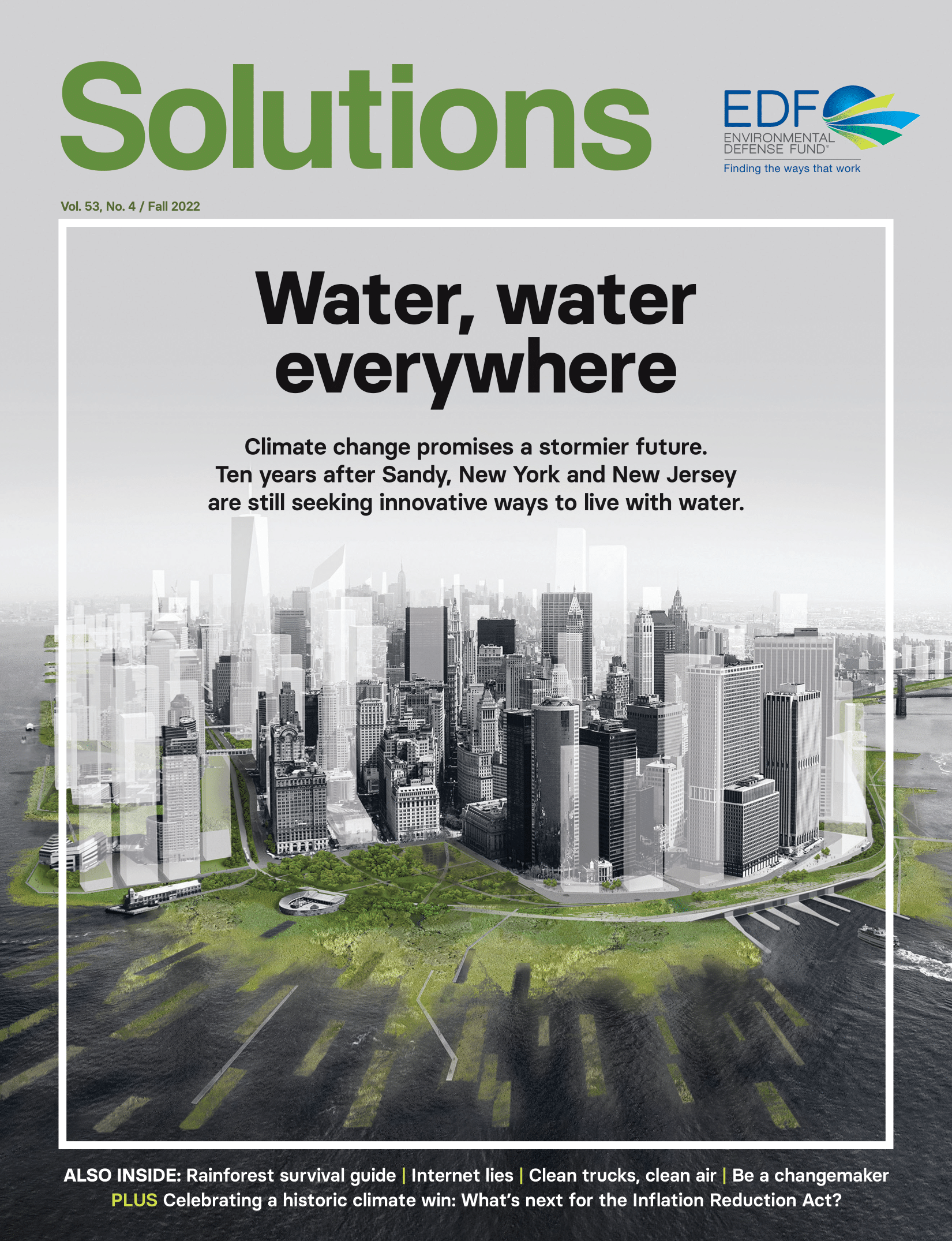 Fall 2022
Climate change promises a stormier future. Ten years after Sandy, New York and New Jersey are still seeking innovative ways to live with water
---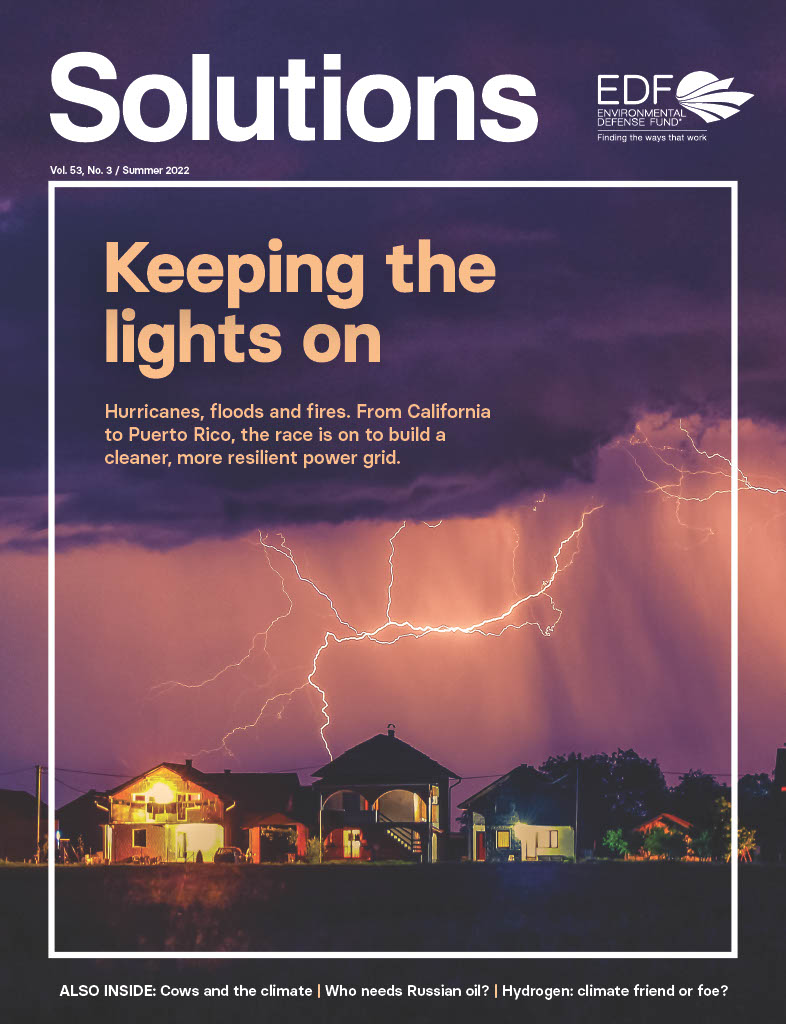 Summer 2022
Hurricanes, floods and fires. From California to Puerto Rico, the race is on to build a cleaner, more resilient power grid.
---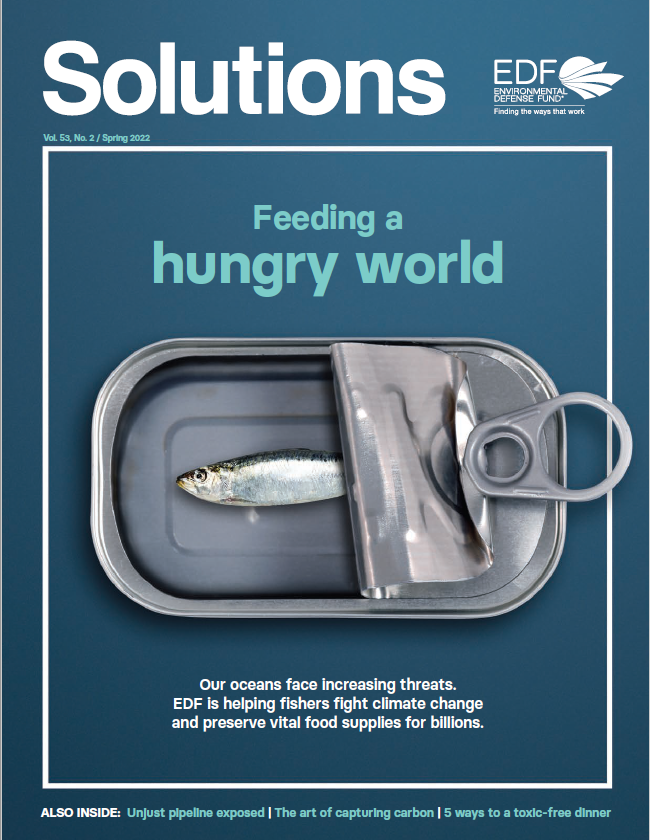 Spring 2022
Our oceans face increasing threats. EDF is helping fishers fight climate change and preserve vital food supplies for billions.
---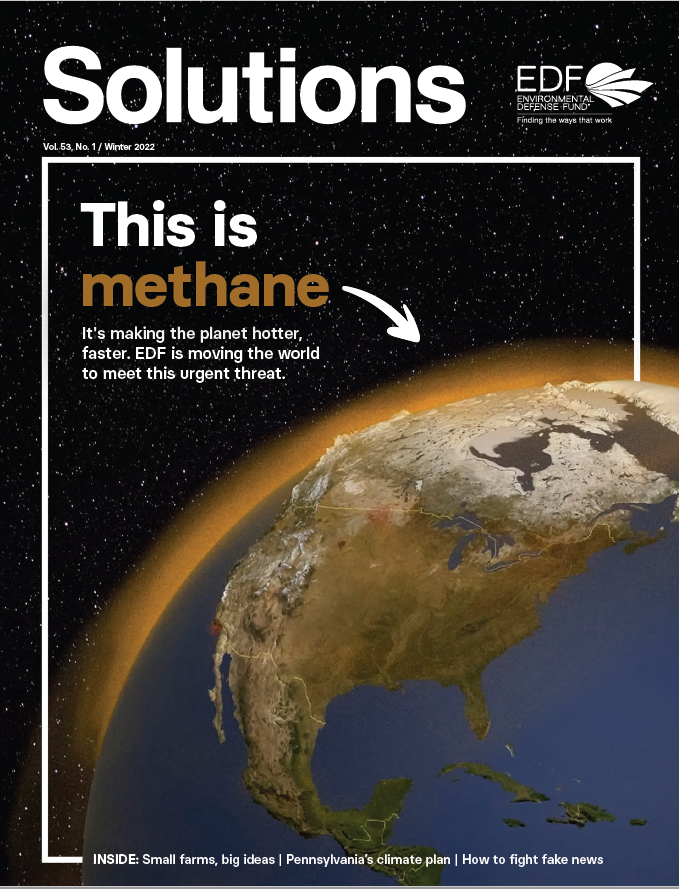 Winter 2022
It's making the planet hotter, faster. EDF is moving the world to meet this urgent threat.
---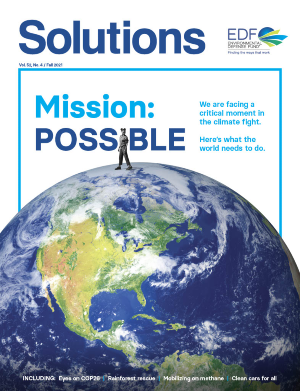 Fall 2021
We are facing a critical moment in the climate fight.
---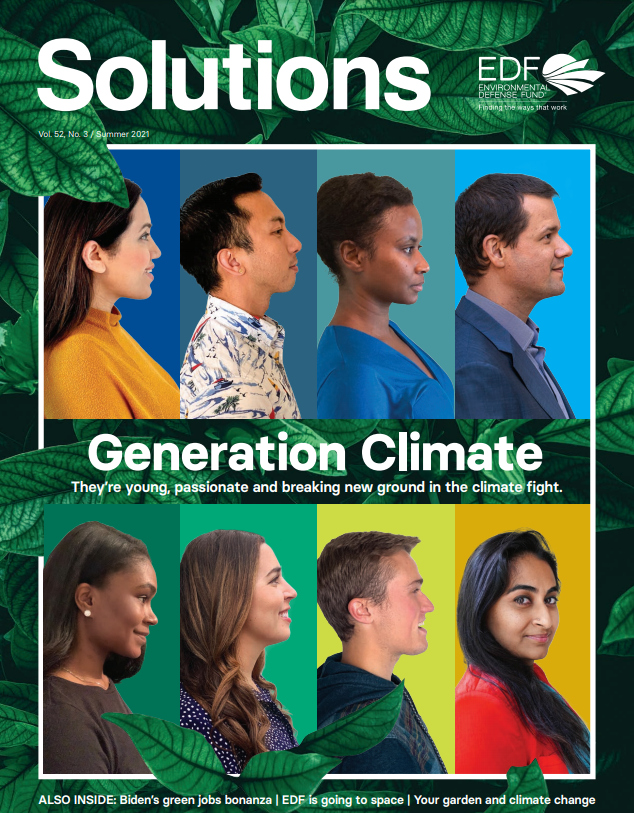 Summer 2021
They're young, passionate and breaking new ground in the climate fight.
---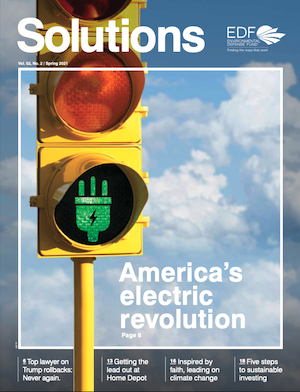 Spring 2021
A clean, modern electric grid, millions of electric vehicles — and millions of jobs to build them. EDF is racing to make this future a reality.
---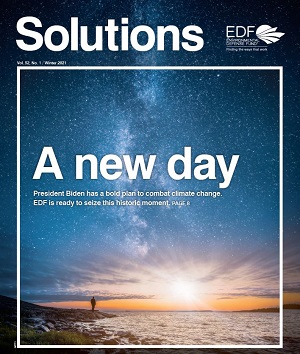 Winter 2021
President Biden has a bold plan to combat climate change. EDF is ready to seize this historic moment.
---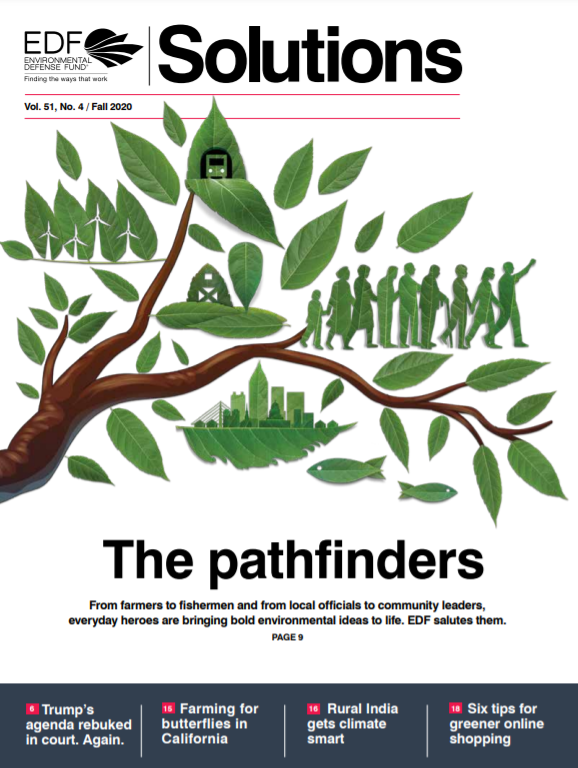 Fall 2020
From farmers to fishermen and from local officials to community leaders, everyday heroes are bringing bold environmental ideas to life. EDF salutes them.
---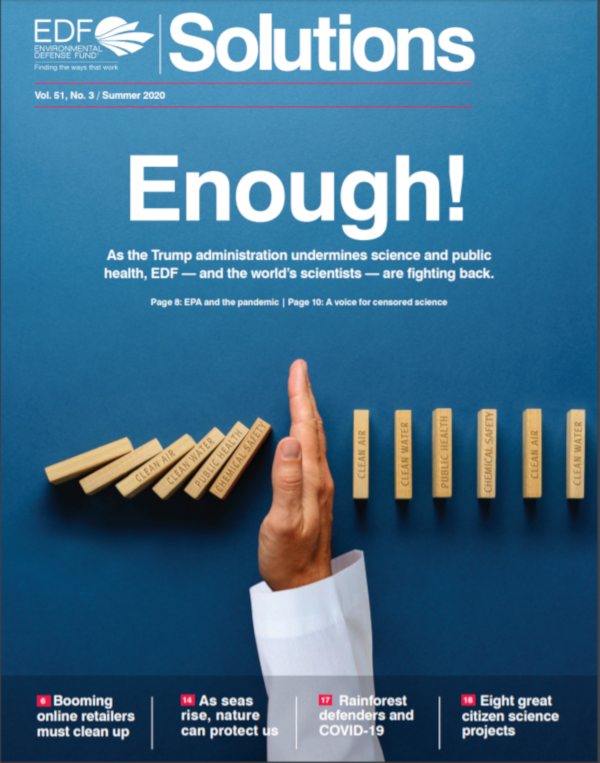 Summer 2020
As the Trump administration undermines science and public health, EDF — and the world's scientists — are fighting back.
---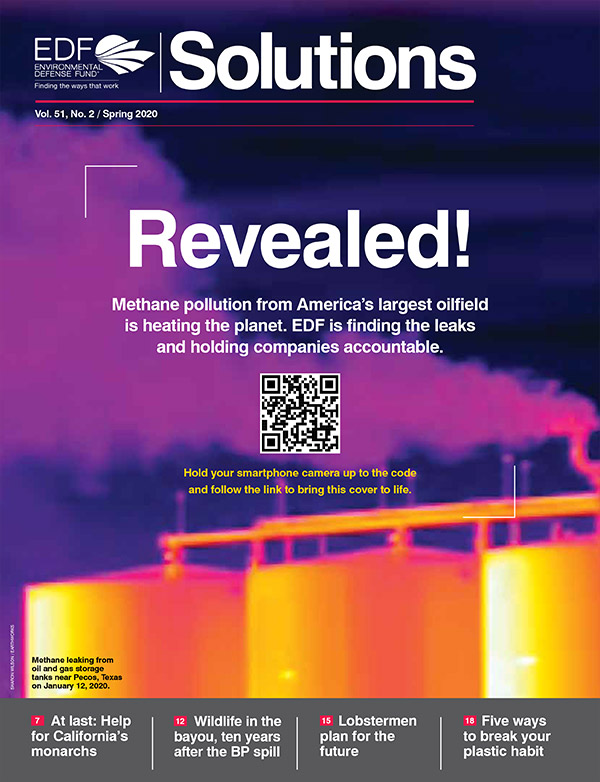 Spring 2020
Methane pollution from America's largest oilfield is heating the planet. EDF is finding the leaks and holding companies accountable.
---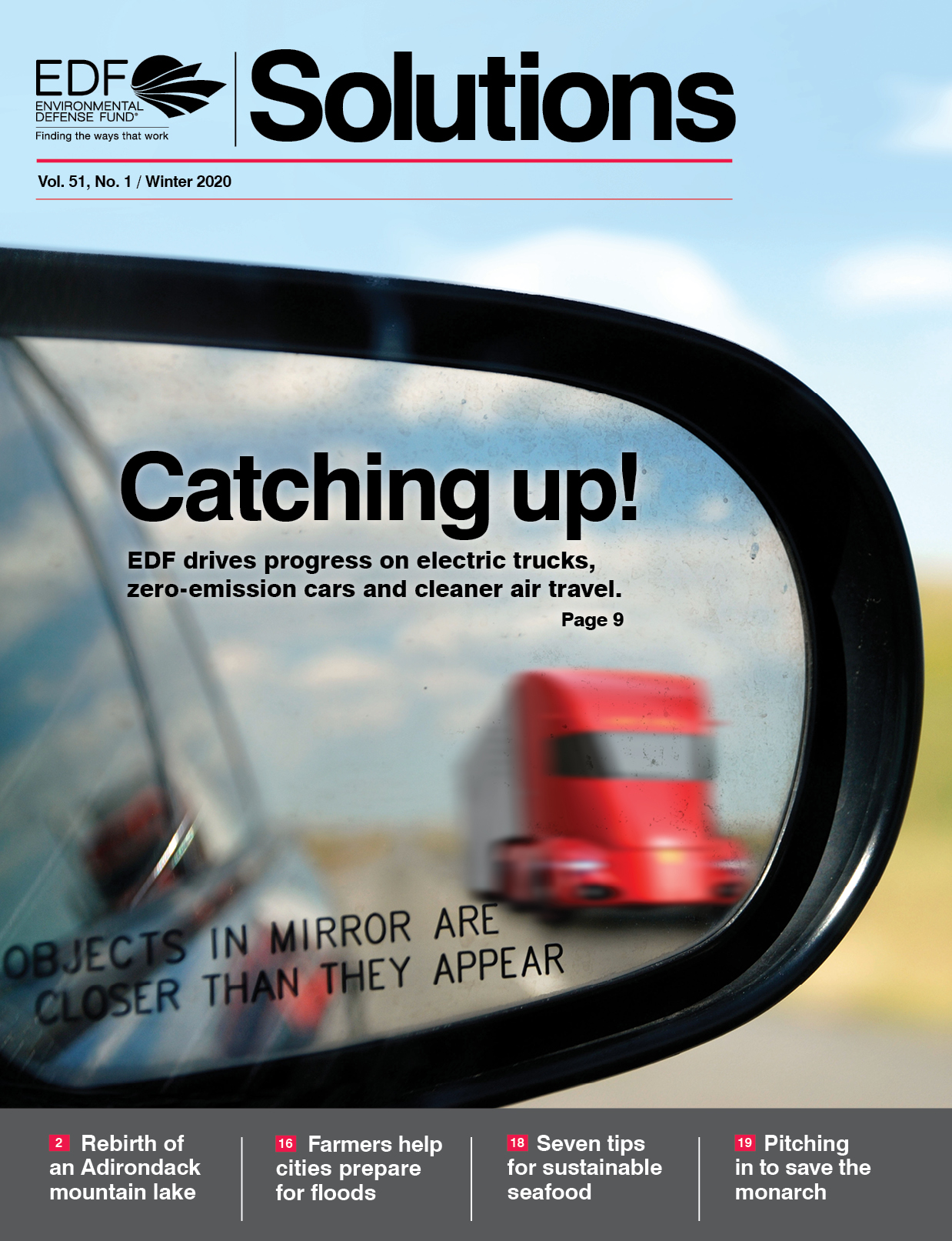 Winter 2020
EDF drives progress on electric trucks, zero-emission cars and cleaner air travel.
---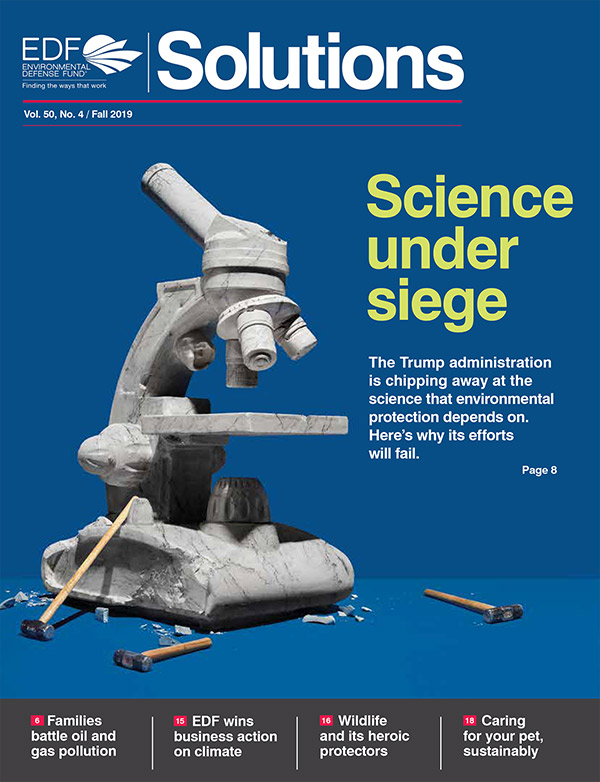 Fall 2019
The Trump administration is chipping away at the science that environmental protection depends on. Here's why its efforts will fail.
---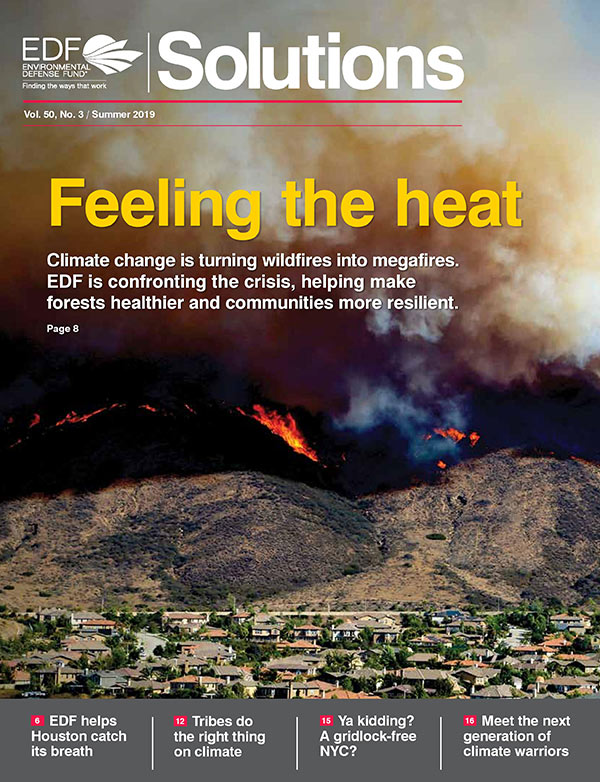 Summer 2019
Climate change is turning wildfires into megafires. EDF is confronting the crisis, helping make forests healthier and communities more resilient.
---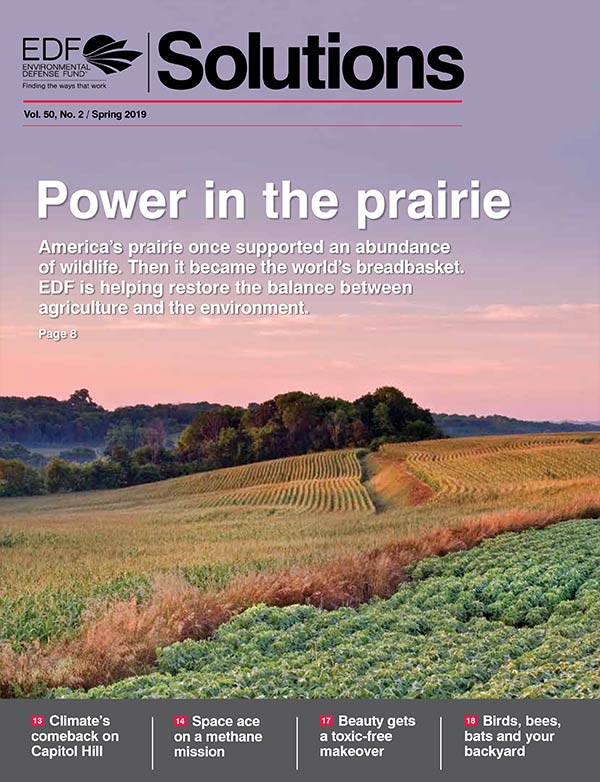 Spring 2019
America's prairie once supported an abundance of wildlife. Then it became the world's breadbasket. EDF is helping restore the balance between agriculture and the environment
---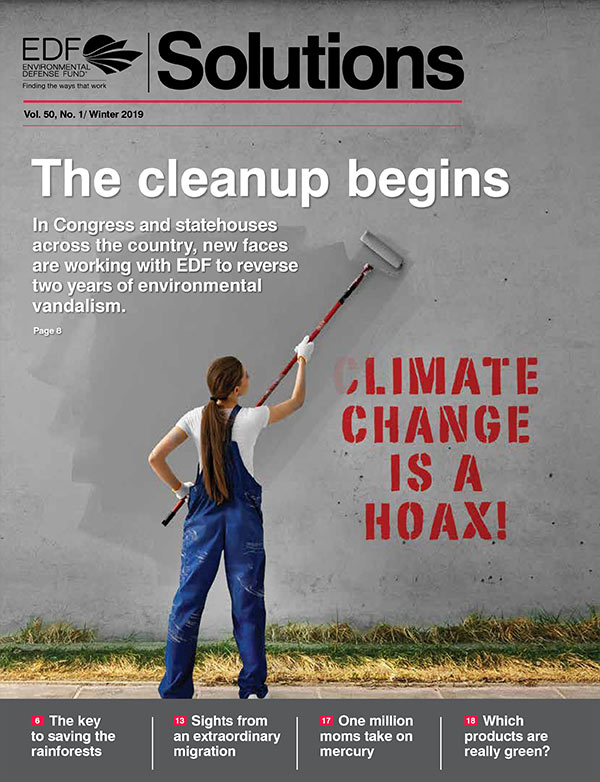 Winter 2019
In Congress and statehouses across the country, new faces are working with EDF to reverse two years of environmental vandalism.
---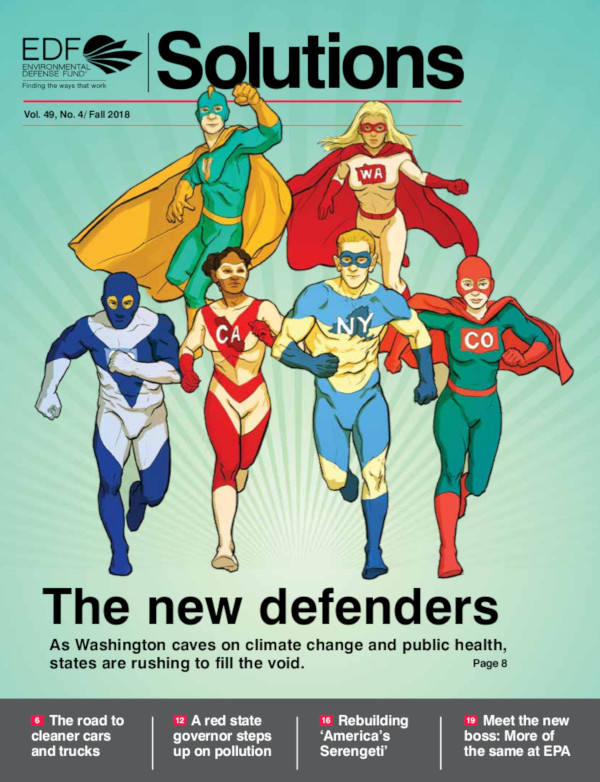 Fall 2018
As Washington caves on climate change and public health, states are rushing to fill the void.
---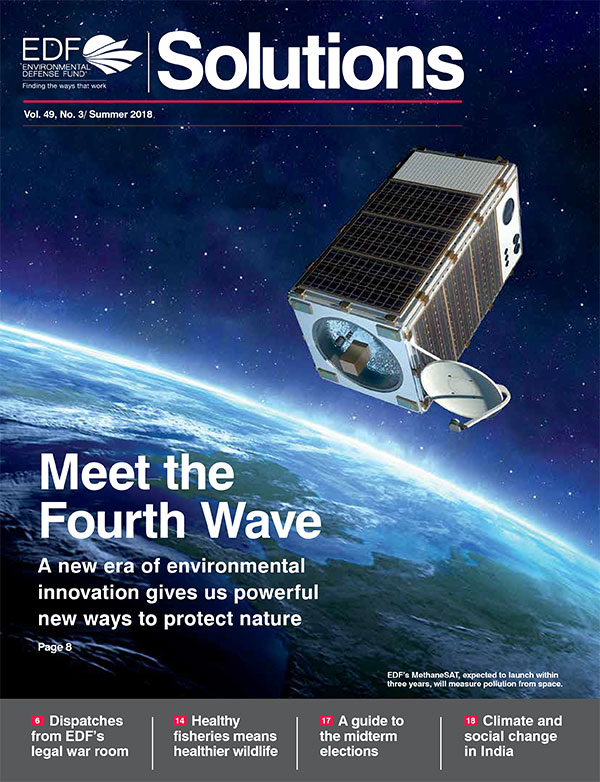 Summer 2018
A new era of environmental innovation gives us powerful new ways to protect nature.
---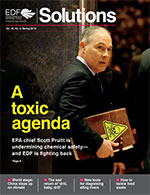 Spring 2018
EPA chief Scott Pruitt is undermining chemical safety — and EDF is fighting back.
---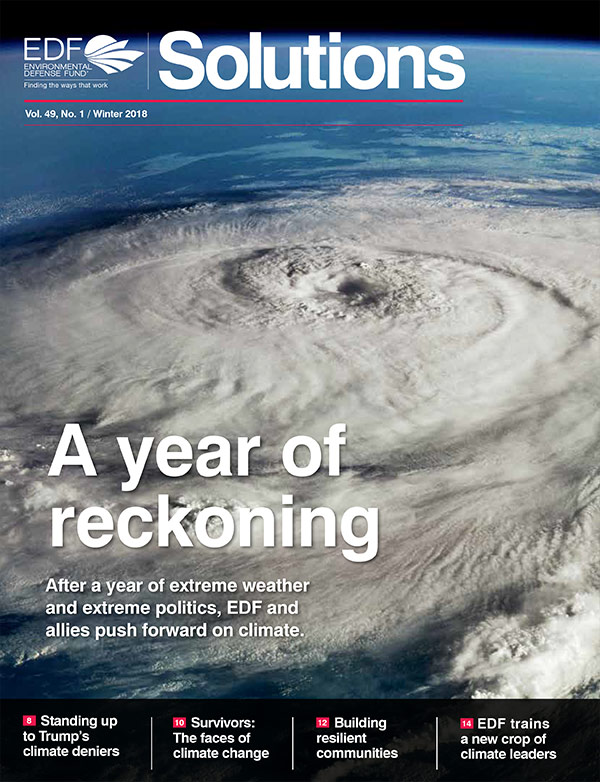 Winter 2018
After a year of extreme weather and extreme politics, EDF and allies push forward on climate.
---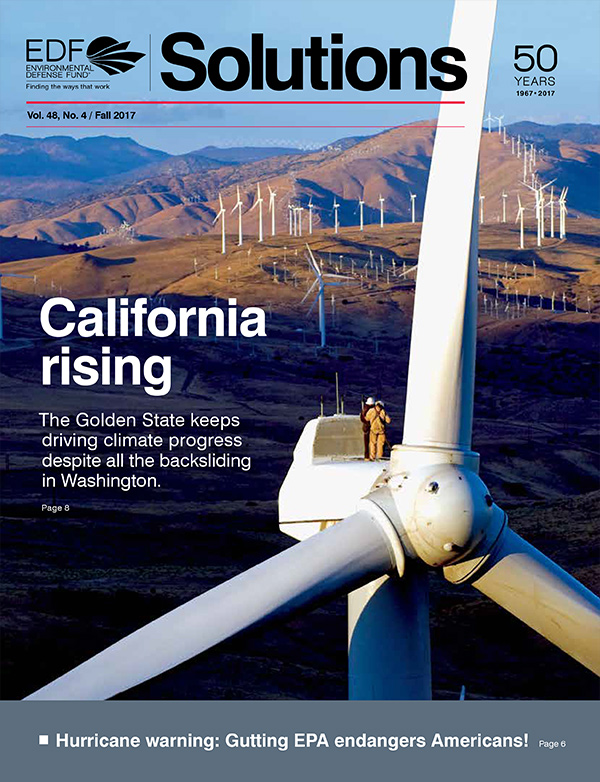 Fall 2017
The Golden State keeps driving climate progress despite all the backsliding in Washington.
---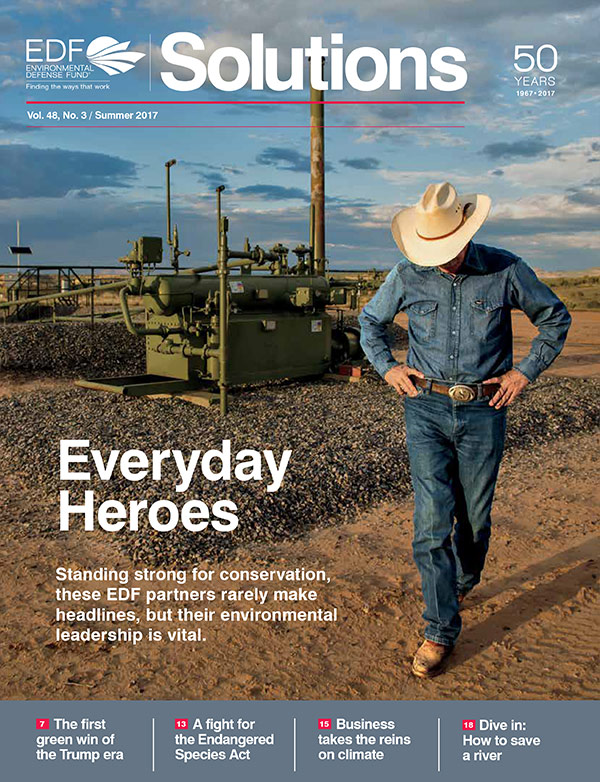 Summer 2017
Standing strong for conservation, these EDF partners rarely make headlines, but their environmental leadership is vital.
---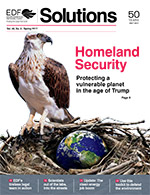 Spring 2017
Protecting a vulnerable planet in the age of Trump.
---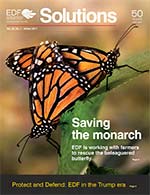 Winter 2017
EDF is working with farmers to rescue the beleaguered butterfly.
---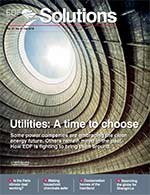 Fall 2016
Some power companies are embracing the clean energy future. Others remain mired in the past. How EDF is fighting to bring them around.
---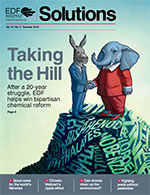 Summer 2016
After a 20-year struggle, EDF helps win bipartisan chemical reform
---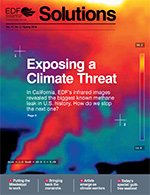 Spring 2016
In California, EDF's infrared images revealed the biggest known methane leak in U.S. history. How do we stop the next one?
---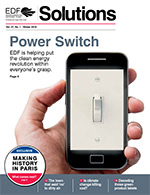 Winter 2016
EDF is helping put the clean energy revolution within everyone's grasp.
---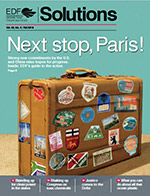 Fall 2015
Strong new commitments by the U.S. and China raise hopes for progress.
---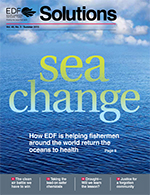 Summer 2015
How EDF is helping fishermen around the world return the oceans to health.
---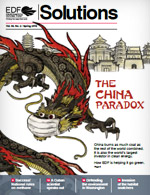 Spring 2015
China burns as much coal as the rest of the world combined. It is also the world's largest investor in clean energy. See how EDF is helping it go green.
---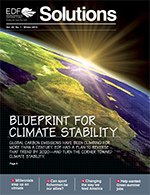 Winter 2015
Global carbon emissions have been climbing for more than a century. EDF has a plan to reverse that trend by 2020 — and turn the corner toward climate stability.
---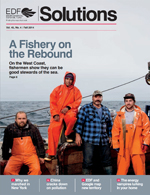 Fall 2014
On the West Coast, fishermen show they can be good stewards of the sea.
---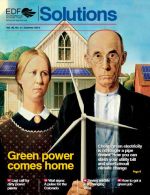 Summer 2014
Cheap green electricity is no longer a pipe dream. How you can slash your utility bill and short-circuit climate change.
---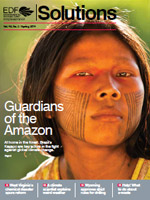 Spring 2014
At home in the forest, Brazil's Kayapo are key actors in the fight against global climate change.
---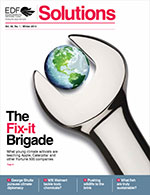 Winter 2014
What young climate activists are teaching Apple, Caterpillar and other Fortune 500 companies.
---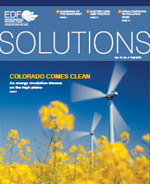 Fall 2013
The state has transformed into a testing ground for a low-carbon future.
---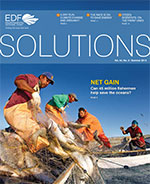 Summer 2013
Can 45 million fishermen help save the oceans?
---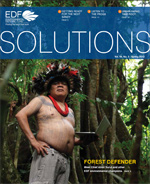 Spring 2013
Today's environmental challenges are different from those of the 20th century. So are the people solving them.
---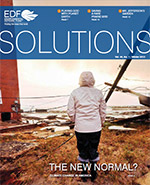 Winter 2013
A season of extreme weather triggers a national debate on climate resilience—and action.
---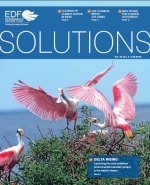 Fall 2012
Launching the most ambitious environmental restoration project in the nation's history.
---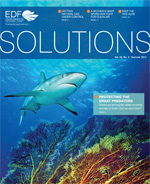 Summer 2012
Sharks are among the oldest surviving animals on Earth. Can we save them?
---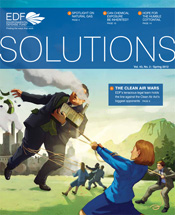 Spring 2012
EDF's tenacious legal team holds the line against the Clean Air Act's biggest opponents.
---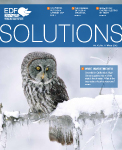 Winter 2012
Snowfall in California's High Sierra supplies much of the state's fresh water. What is the true value of such a resource?
---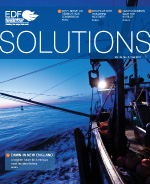 Fall 2011
A brighter future for america's most troubled fishery.
---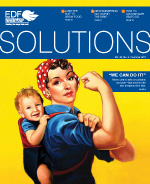 Summer 2011
Moms unite to take on polluters and politicians — and anyone else who threatens their kids.
---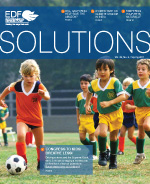 Spring 2011
Defying science and the Supreme Court, the U.S. House is waging a reckless war on America's clean air protections. But at what cost to our children?
---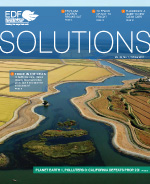 Winter 2011
In California, water makes deserts bloom and cities grow. Can it now save the environment?
---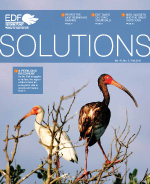 Fall 2010
As the Gulf struggles to its feet, the region unites to save an ecosystem vital to people and nature.
---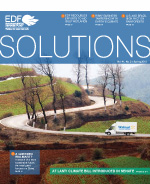 Spring 2010
In search of a more sustainable future, the retail giant focuses on China.
---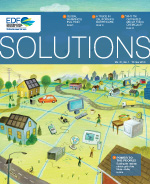 Winter 2010
Building the national electric grid of the future — today!
---
Fall 2009
Fishermen embrace a new approach to solve overfishing.