About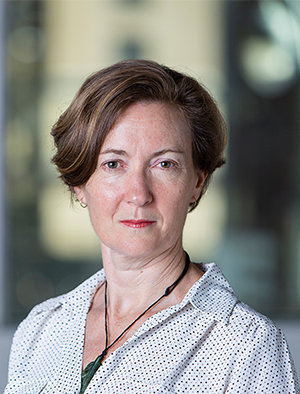 Suzi Kerr
Senior Vice President, Chief Economist
Work
Areas of expertise:
Emissions pricing, Climate change policy, Land use, International climate cooperation and collaborative policy research processes
Description
Suzi ensures the economic integrity of EDF's positions and programs. Leading a group of economists and analysts, she collaborates with economists and other researchers and stakeholders from a variety of organizations around world to produce research and policy guidance relevant to EDF's mission. Suzi's own research focuses on emissions pricing and international cooperation but mostly she works to support the wide range of work within, or facilitated by, the team in the Office of the Chief Economist.
Read more about Suzi's previous work
Suzi founded and later served as a Senior Fellow at Motu Economic and Public Policy Research in Wellington, New Zealand, which has produced respected, nonpartisan research on the environment, agriculture, labor, productivity and human rights among other areas of focus. Suzi worked closely with government, donors and private sector CEOs seeking market-based solutions to environmental challenges. In addition to her work at Motu, Suzi made contributions to the evolution of modern Reducing Emissions Deforestation and forest Degradation (REDD) efforts and played a central role in the design of the New Zealand Emissions Trading System, which led to her appointment to the country's interim Climate Change Committee. Suzi has also co-led three international programs on emissions trading: the design of a roadmap to ETS in Chile, the Handbook 'Emissions Trading in Practice' and design of an ETS for Colombia. She has participated in several international science steering groups.
Suzi has served as a Visiting Professor at the University of the Andes in Bogotá, Colombia and at Stanford University. She's also worked as a Visiting Scholar at the Massachusetts Institute of Technology's Center for Energy and Environmental Policy and Research and Joint Program on the Science and Policy of Global Change and as a Visiting Researcher at Resources for the Future. She taught for several years at both Victoria University of Wellington and the University of Maryland at College Park.
Education
Harvard University, Ph.D., Economics Harvard University, M.S., Economics University of Canterbury, B.Sc. Economics, honors (first class)
Leining, Catherine, Suzi Kerr, Bronwyn Bruce-Brand. 2020 'The New Zealand Emissions Trading Scheme: Critical Review and Future Outlook for Three Design Innovations' Climate Policy, Volume 20, Issue 2
Kerr, Suzi. 2020 'Overcoming the tragedy of distance – cooperating with our friends' friends' in Living with the Climate Crisis ed. Tom Doig. Bridget Williams Books, Wellington, New Zealand.
New Zealand Interim Climate Change Committee. 2019. 'Action on agricultural emissions: Evidence, analysis and recommendations' New Zealand Government, Wellington. 30 April. Suzi Kerr was a member of the Committee.
Kerr, Suzi, Ruben Lubowski and Robert Heilmayr. 2018 'Climate Teams: A New Model for Investor-Host Climate Cooperation' pp.73-76 in Stavins, Robert N., and Robert C. Stowe, eds. International Cooperation in East Asia to Address Climate Change. Cambridge, Mass.: Harvard Project on Climate Agreements.
Dorner, Zack and Suzi Kerr. 2017 'Implications of global emission policy scenarios for domestic agriculture: A New Zealand case study' Climate Policy Volume 17 - Issue 8
World Bank Partnership for Market Readiness; International Carbon Action Partnership. 2016. Emissions Trading in Practice: A Handbook on Design and Implementation. World Bank, Washington, DC. Co-led by Suzi Kerr and Ruben Lubowski.
Jaffe, Adam B., and Suzi Kerr. 2015. "The Science, Economics and Politics of Global Climate Change," review of The Climate Casino by W. Nordhaus, Journal of Economic Literature. Vol. 53, Issue 1, March
Anastasiadis, Simon, Suzi Kerr Marie-Laure Nauleau, Tim Cox, and Kit Rutherford. 2014. 'Does complex hydrology require complex water quality policy?' Australian Journal of Agricultural and Resource Economics Volume 58, Issue 1, pages 130–145, January
Van Benthem, Arthur and Suzi Kerr. 2013. 'Scale and Transfers in International Emissions Offset Programs' Journal of Public Economics Volume 107, November, pp. 31-46
Cox, Timothy J., Suzi C. Kerr, J. C. Rutherford, Duncan C. Smeaton, Chris. C. Palliser. 2013 "An integrated model for simulating nitrogen trading in an agricultural catchment with complex hydrogeology" Journal of Environmental Management (2013), pp. 268-277
Kerr, Suzi C. 2013. "The Economics of International Policy Agreements to Reduce Emissions from Deforestation and Degradation", Review of Environmental Economics and Policy 7:1, pp. 47–66.
Kerr, Suzi and Adam Millard-Ball 2012. "Cooperation to reduce developing country emissions." Climate Change Economics Vol. 3, No. 4
Pfaff, Alexander, Suzi Kerr, Leslie Lipper, Romina Cavatassi, Benjamin Davis, Joanna Hendy, G. Arturo Sanchez-Azofeifa, (2007) 'Will buying tropical forest carbon benefit the poor? Evidence from Costa Rica' Land Use Policy 24 600–610
Newell, Richard G., James N. Sanchirico, and Suzi Kerr (2005) "Fishing Quota Markets" Journal of Environmental Economics and Management Vol. 49 pp. 437-462
Kerr, Suzi and Richard G. Newell, (2003) "Policy-Induced Technology Adoption: Evidence from the U.S Lead Phasedown" Journal of Industrial Economics. Vol. LI, No. 3
Cramton, Peter and Suzi Kerr (2002)"Tradeable carbon permit auctions: How and why to auction not grandfather" Energy Policy 30 pp: 333-345
Read more of Suzi Kerr's work on Google Scholar.